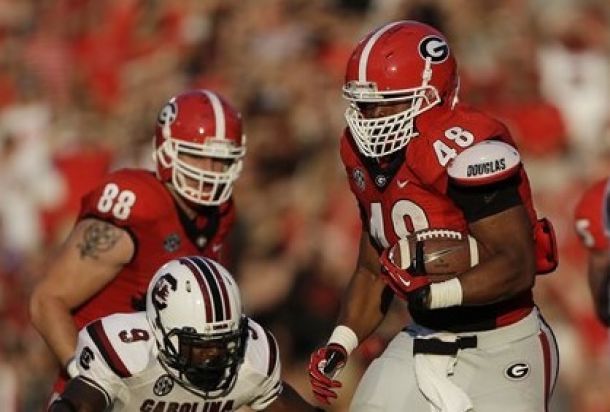 In recent years, elaborate facemasks have become more and more noticeable in all levels of football. In the NFL, these special facemasks became nearly commonplace until a ruling last year led to them being outlawed. College football is now following suit, limiting how "built" a facemask is allowed to be. This is the most notable rule change to be released this week.
The standard facemask will not be affected by this new ruling, but it will become more common once again. There are many styles which will still be available to players, featuring designs with multiple vertical and horizontal bars. However, facemasks with a larger number of bars (i.e. five horizontals bars or numerous vertical bars spanning the width of the facemask) are now outlawed. This ruling comes in reaction to the NFL's similar rule change last season, which cited safety concerns as the reason for outlawing certain styles of facemask.
While the facemask ruling is the biggest headline for this seasons changes, other amendments and new points of emphasis have been determined for the upcoming college football season. Included in this is a previously-announced ruling on banning players from wearing their jerseys as "crop-tops" (as made famous by Ezekiel Elliott and Shawn Oakman; this falls under the "illegal equipment" category) and modifications to penalty calls. Under this category are changes such as the addition of another reason to throw a flag for Unsportsmanlike Conduct (pushing or pulling a player off of a pile during a dead ball) and a modification to rules about the length of the play clock when a defensive player's helmet comes off during a play.
It should also be noted that an experiment used by several conferences last season is now officially in the general college football rulebook. Games can now have up to eight officials on the field of play, a system which was used by conferences such as the Big 12 and the ACC last season.
The document contaning this year's changes can be found , as can a document containing situational applications for the rules.