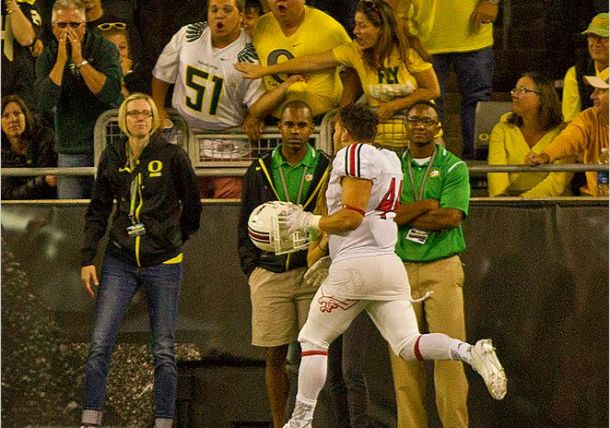 Late into Saturday's game between the Eastern Washington Eagles and Oregon Ducks, ex-Eastern Washington QB Vernon Adams ran up the middle of the field. As he was sliding, linebacker John Kreifels left his feet and dove, colliding helmet-to-helmet with Adams. Adams struggled to get up and subsequently left the game, and Kreifels was ejected.
Kreifels apologized via Twitter over the hit.
"I have to admit the taunting at the end of the game was immature on my part and in poor taste," said Kreifels, via Twitter. "However, I must say that it is never my intention to take a cheap shot, but to always try my best while going 100% for my team. By the time he was sliding, I had already begun to dive. My goal was never to harm anyone but to go for the ball. Football is my life and I always give it everything I have."
It must be remembered that football is a contact sport. Was it a late-hit? Yes. Should John have dove head-first? No. Was it acceptable for an ejection? Likely.
But if you feel like you can determine if someone is cheap shotting another, then you don't know John Kreifels. This writer does. This writer graduated high school with John, has known him for years, and knnows that Kreifels doesn't play that way. John Kreifels is a class act; always has been, and he plays football with his heart in the game.
Nobody in the media knows John well enough as a person to decide that his motives in the hit were all but positive. Nobody on Oregon's team, in the Oregon Ducks' media, or the national media. If you did know him, you would not consider John to be that sort of player.
We need to remember that this is football - not basketball where if you take someone out it's an immediate flagrant. You put pads on and you train to hit someone. Let's not attack a college athlete for playing the game and trying to make a play for his team. John wants to win and it's a hard thing to judge when running full-speed.
Keep in mind that it's unfair to judge Kreifels as a person solely on the hit he made late in Saturday's game. If you consider John to be a dirty player due to the play he made on Adams, then you don't know John.