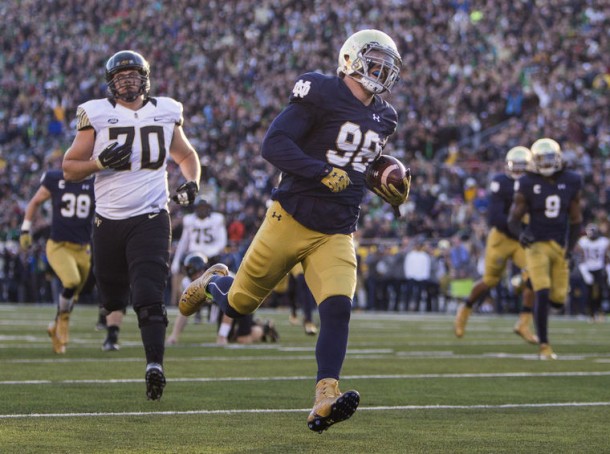 The Notre Dame Fighting Irish beat up on the Wake Forest Demon Deacons 28-7 at Notre Dame Stadium. Today was senior day for the Irish and the seniors played well in this game. With the win the Irish improved to 8-1 on the season and 6-0 at home. With the loss the Deacons fall to 3-7 on the season and 2-3 on the road.
The Demon Deacons on their first possession had a turnover on downs. Notre Dame got the ball back and Deshone Kizer ran it in himself from 12 yards out and put Notre Dame up 7-0. On the next drive for Wake Forest, QB Jake Wolford was getting sacked by Sheldon Day, and the ball slipped out of his hand and right into the hands of Andrew Trumbetti, who ran it 28 yards for the pick six. The very next drive, Wake Forest failed to convert on 4th and goal on the Notre Dame 1. Notre Dame scored two players later when Josh Adams took the ball 98 yards for a touchdown. That TD run was the longest in Notre Dame Stadium history. The previous longest run in ND Stadium history was a few weeks ago in Notre Dame's win over Georgia Tech, whrn CJ Prosise ran 91 yards for a TD.
At the end of the first half. the Wake Forest kicker missed a field goal attempt wide right. Wake Forest's second drive of the second half, John Wolford ran it in for the 1 yard touchdown to make it a 21-7 game. Two drives later Deshone Kizer kept it himself for the 5 yard TD run to make it a 28-7 ballgame.
Wake Forest had lots of opportunities to do better than they did. They controlled the ball for 35:48 - 11 minutes more than the Irish. They also had 340 yards compared to Notre Dame's 282 yards. Notre Dame won the turnover battle getting one and not turning the ball over once. The Demon Deacons also went 1-4 in their trips to the end zone.
According to ESPN.com Josh Adams talked about his 98 yard run, "When I broke it, all I could see was Chris Brown running down faster than I was down the sidelines, so I was like, I gotta catch up.' He did a great job blocking downfield." Deshone Kizer talked about the game saying "Now being off the field and realizing that it's November and we just came out with a 21-point win, it's huge for us. We're moving forward. We have a win streak going."