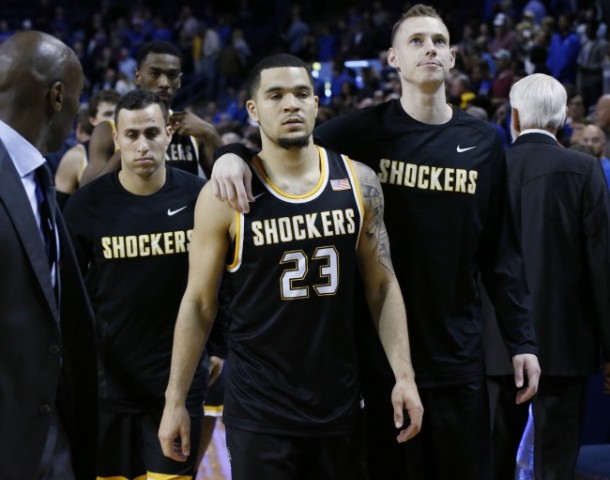 TULSA, OKLAHOMA---"You don't want to go to war with the Shockers! Don't start no stuff, won't be no stuff!"
Unless you are the Tulsa Golden Hurricane. In that case, go ahead and challenge them.
When the Wichita State Shockers and Tulsa Golden Hurricane took the court this evening in Tulsa, Oklahoma, two of the best backcourts in the country set their sights toward one goal: Win and advance to 2-0. Naturally, one was denied.
Right out of the gate, specifically when Ron Baker took the opening tip in for a slam dunk, fans knew immediately tonight's Missouri Valley/American showdown would be of the up-tempo variety. In fact, only 4 minutes and 43 seconds into the game, Wichita State had 12 points and Tulsa had 11! That is unfathomable!
Without a reasonable excuse, Tulsa guard James Woodard was left off the first Wooden watch list while Shocker guards Fred Van Vleet and Ron Baker were included. Following the first TV timeout, Woodard decided to introduce himself personally to the opposition by going on a quick 5-0 spurt to supply his team a 16-12 lead. Though Baker and sophomore Rashard Kelly each threw four points onto their team's score, Marquel Curtis took the baton for Tulsa by scoring eight of his sixteen points in a two-minute span to swirl their advantage to eight (30-22). The Golden Hurricane looked as though they would take the lead into halftime. Unfortunately for the home faithful, Fred Van Vleet had other plans.
With 2:55 left in the first half, the Shockers' offense looked completely stagnant. Explicitly, they had only two points in the last 90 seconds while Tulsa posted 6. Luckily for head coach Gregg Marshall, his floor general Fred Van Vleet decided to put his teammates on his back with not one, not two, but three three-pointers, which closed the half and stole a one point lead from the Golden Hurricane.
Exiting halftime, Wichita State increased their momentum and lead with another personal run, this time of four points by Anton Grady, to move their advantage to 5. Were the Shockers about to pull away for good? To quote Lee Corso, "Not so fast my friend!" As those donning "black and yellow" tried to pull away, a Rashad Ray trey and Pat Birt deuce evened the game at 35.
For the next eight minutes, the two traded blow after blow and score after score until Birt knocked down a three from downtown. A three pointer? That's it? Not exactly. The junior was fouled by Landry Shamet and ended up converting a four point play with a made free throw.
But that's still not all! Birt's "and one" from beyond the arc started a 16-6 run that ballooned Tulsa's lead to 69-57 at the under four TV timeout!
Not to be cliché, but the Shockers were completely "shocked." Ron Baker, Fred Van Vleet, and Anton Grady all personally looked stunned for the final 3:51 since the reality of defeat was soaking in. Yet, the fact is, the three did all they could to win this contest as they combined for 51 of the team's 67 (Baker with a game-high 23, Grady chipped in 18, and Van Vleet 11). In other words, their teammates did not come ready to play, considering the highest scorer outside the aforementioned had only four points.
Moving Forward
While a defeat as early as the second game of the season is anything but normal for Wichita State, the Shockers are presented with a great opportunity to get back on track next week in Orlando at the Advocare Invitational. For the Tulsa Golden Hurricane, they already have a high quality win on their resume, and it is only November 16! James Woodard, Shaquille Harrison, and the group have a very quick turn around though, and will travel to the U.S Virgin Islands to compete in the Paradise Jam.