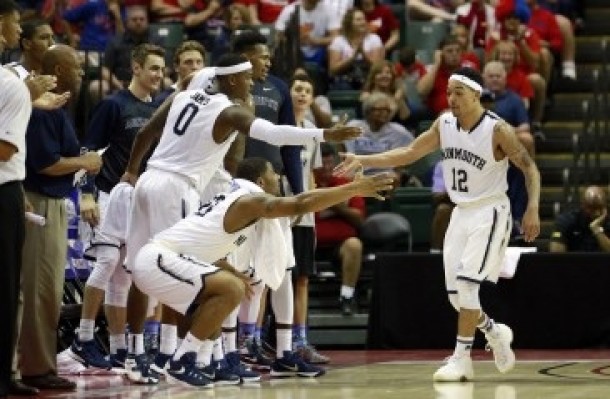 LAKE BUENA VISTA, FLORIDA---13 days ago, the Monmouth Hawks were finishing up a two-game west coast road trip at USC after a very impressive upset victory at Pauley Pavilion over UCLA. Ultimately King Rice's squad was defeated 101-90 as superstar Justin Robinson's 28 points were not enough because of the Trojans' Jordan McLaughlin, Elijah Stewart, Nikola Jovanovic, and Julian Jacobs combining for a whopping 81 points.
This afternoon, USC could not rely on such a contribution from the four.
In a rematch that some considered to be the 7th place game at the 2015 Advocare Invitational, "stud sophomore" Jordan McLaughlin and "jazzy junior" Justin Robinson were pitted against each other, once again, in the 3rd place game at HP Field House this afternoon.
Led by a quick ten total points from Elijah Stewart and Julian Jacobs (6 from Jacobs and 4 by Stewart), USC marched on to a 15-9 lead with just under 12 minutes remaining in the first half. However, as a common theme for their time at Disney's Wide World Sports, Monmouth hung close and eventually stole the lead with back-to-back threes from Je'lon Hornbeak (20-17 MON). Additionally, after the Trojans took a small 24-22 lead on a Bennie Boatwright jumper, superstar Justin Robinson put the Hawks on his back with a personal 10-2 run, which gave his team back the lead in addition to causing the scoreboard to read: "Monmouth 38, USC 29" at the intermission.
Starting the second half, the Hawks started where they left off in the first twenty minutes for Robinson banged his third trey of the game while Micah Seaborn followed with another to extend their winning deficit to a game-high 14.
Although it took the majority of the remaining time, Julian Jacobs and Katin Reinhardt eventually did pull USC within one possession on a pair of free throws made by the prior with 2:02 remaining.
Unfortunately for the fans that made the long flight across country, on this day Deon Jones threw down the dunk of the tournament to extend the gap to five prior to Robinson knocking down his fifth trey of the game. The Monmouth Hawks had achieved their revenge.
Jordan, Where Did You Go?
Entering the tournament averaging 20.3 points per game, USC's Jordan McLaughlin's time in Orlando did not end well. Despite posting a solid 15 points on Ron Baker's Wichita State Shockers, the 6'1" guard was held to a total of 11 points in his last two (Friday against Xavier and today) on a combined 4 for 13 shooting from the floor. The Trojans will head back to Pasadena for practice and classes before making a short road trip to UC Santa Barbara.
Stiring Up A Case For Most Valuable Player
Entering the Advocare Invitational as the MAAC representative normally does not warrant much attention. Nonetheless, Justin Robinson has gained it. Robinson, who was an All-MAAC first team selection as a sophomore, broke the record for points scored in the event today with a game-high 27. Without the 5'8" guard's play, there is absolutely no way the Monmouth Hawks would have won a game, yet alone two. Robinson's squad will continue their journey filled non-conference schedule with two road matches (Canisius and Niagara) before playing their home opener on December 13 against Wagner.
Sunday's Advocare Invitational Action Schedule
4:30 PM EST
6-0 23. Xavier - 5-0 Dayton (ESPN2)
***2015 Advocare Invitational Championship Game
How They Have Faired In Orlando:
Xavier:
64-45 Win - Alabama
87-77 Win - USC
Dayton:
82-77 Win - Iowa
73-70 Win - Monmouth
7:00 PM EST
3-2 Alabama - 4-1 17. Notre Dame (ESPNU)
***2015 Advocare Invitational Consolation Championship
How They Have Faired In Orlando:
Alabama:
64-45 Loss - 23. Xavier
64-60 Win - 20. Wichita State
Notre Dame:
70-68 Loss - Monmouth
68-62 Win - Iowa
Coverage of Sunday's games from the HP Field House in Lake Buena Vista, Florida, can and will be found on VAVEL US.