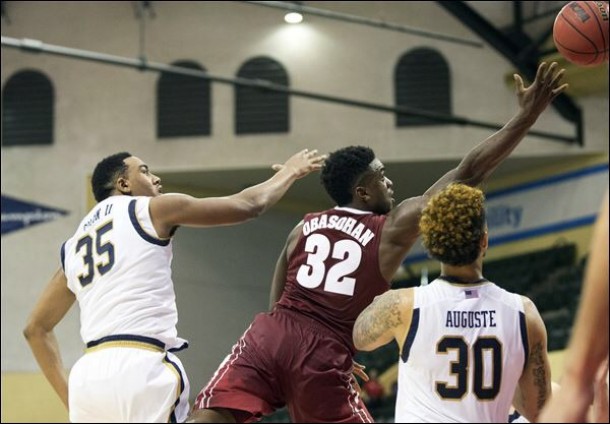 LAKE BUENA VISTA, FLORIDA---Mickey Mouse had presented the trophy, the crowd had thinned out drastically, and the Xavier Musketeers were most likely on their way to Orlando International Airport when the last game and consolation championship of the 2015 Advocare Invitational tipped off between the Alabama Crimson Tide and Notre Dame Fighting Irish.
Coached by Avery Johnson, Alabama had arguably the three toughest games at ESPN's Wide World of Sports, for they took on all three ranked teams in the tournament. Nevertheless, besides losing to 23rd ranked Xavier, the Crimson Tide was able to come away with upset victories against a Fred Van Vleet-less 20th ranked Wichita State squad as well as the 17th ranked Notre Dame Fighting Irish tonight.
Coming out of the gates like a herd of elephants, the Crimson Tide threw the first unmatched punch of the contest with a 21-8 run to begin the game, 18 of which came from Arthur Edwards (11 points) and Shannon Hale (7 points). Yet, thanks to big first half performances from V.J. Beachem (11 points and 3 rebounds) and Steve Vasturia (12 points, 3 rebounds, and 2 assists), Notre Dame was able to pull within striking distance (43-39 ALA) when the horn sounded, signifying halftime.
Exiting their locker room, the Fighting Irish built onto their end of first half momentum with a 10-2 mini spurt to experience their first lead since the 18:23 mark in the first half! However, like against Monmouth and Iowa, Mike Brey's team was unable to ultimately pull away as the two traded baskets before Zach Auguste was fouled with 28 seconds remaining and Notre Dame up 1. The 6'10" center, who shot 63.6% from the free throw line a year ago, stepped to the charity stripe with a chance to, at most, cause the opposition to have to make a trey on their ensuing possession to tie the game. Clank! Still a one point game! Auguste stepped away from the line, took a deep breath, and seeked to make their advantage two points. Clank! He missed both!
Following two timeouts in an eleven second span from Avery Johnson, there were 13 tics on the clock for his team to leave HP Field House with a 2-1 record.
Inbounded to senior Retin Obasohan, the former leading scorer of the team drove through traffic and made a layup with six seconds left in regulation! Having no timeouts, the Fighting Irish pushed the ball up court on the legs of "jazzy junior" Demetrius Jackson. Jackson, who was exactly the man Notre Dame fans wanted with the ball, drove to his left and fired a game-winning layup for the win. He couldn't finish! Alabama had their second upset of the tournament!
Look Who Decided To Join Us
Entering the Advocare Invitational as Alabama's leading scorer, fans looked forward to seeing how Retin Obasohan would perform against very good competition. Sadly, it was nothing to hang your hat on until this evening. Scoring a total of nine points in his first two contests (2 against Xavier and 7 versus Wichita State), the 6'1" senior finally broke out of his scoring slump by producing a season-high 19 points against the Fighting Irish. Obasohan and the Crimson Tide will be back in action against winless Southern Mississippi Friday.
A Disappointing Time Nonetheless
Arriving in Orlando as the favorite, to not only play in the championship, but be the champion, the Notre Dame Fighting Irish's time in "City Beautiful" can be chalked up as an unsuccessful business trip. Starting with an upset loss at the hands of Monmouth, Notre Dame was able to hold off rallying Iowa to avoid the 7th place game. With tonight's heart breaking defeat, the 4-2 team will now head to Champaign for a matchup with an injury-stricken Illinois squad as a part of the ACC/Big Ten Challenge.
All-Tournament Team
Justin Robinson (Monmouth)
***Most Valuable Player
***Tournament Record 77 points
---25.7 PPG, 4.7 RPG, 3.0 APG, & 1.7 SPG,
Schoochie Smith (Dayton)
---14.3 PPG, 6.3 RPG, 4.3 APG, & 1.0 SPG.
Trevon Bluiett (Xavier)
---14.3 PPG, 4.7 RPG, & 2.0 APG.
Jarrod Uthoff (Iowa)
---20.0 PPG, 5.7 RPG, 2.7 BPG, & 1.7 SPG.
Jalen Reynolds (Xavier)
---9.7 PPG, 7.0 RPG, & 1.0 BPG.