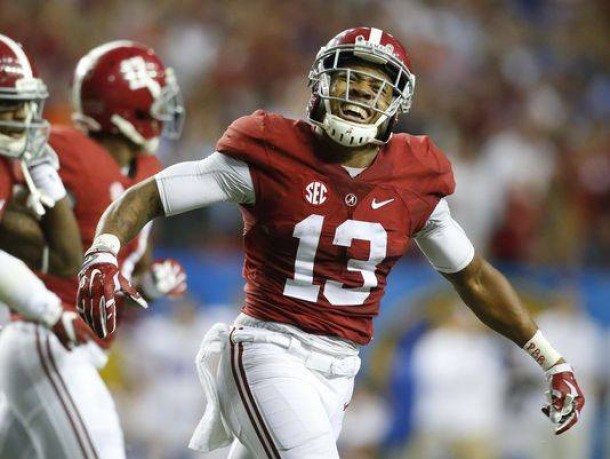 The Alabama Crimson Tide won the SEC Championship after defeating the Florida Gators 29-15 at the Georgia Dome in Atlanta, Georgia. With the win, the Tide improved to 12-1 and 7-1 in the SEC, potentially solidifying their number two ranking and a spot in the College Football Playoff. With the loss, the Gator's dream of squeaking into the CFP dies as they fall to 10-3 and 7-1 in the SEC.
The Alabama Crimson Tide got on the board first when Keith Holcombe blocked a Florida Punt that went to the end zone for the safety to put Alabama up 2-0. After a few turnovers, Antonio Callaway for Florida got the ball off a punt and took the ball 85 yards for the touchdown to put the Gators up 7-2. After a lengthy Bama drive, Adam Griffith hit the field goal to make it a 7-5 game. Derrick Henry ran it from two yards out to take the 12-7 lead after a Florida punt. The lead was solidified for good after that Henry touchdown.
Griffith nailed another field goal early in the second half to put the Tide up 15-7. Alabama quarterback Jake Coker found ArDarius Smith for a 32 yard touchdown to make it a 22-7 game as Florida looked helpless as they could not stop the relentless Tide offense. Two Alabama drives later, Coker threw it nine yards to Richard Mullaney to make it a 29-7. Treon Harris of Florida threw it deep to CJ Worton for the 46 yard score and then Harris ran the two-point conversion in to make it a 29-15 ballgame to put the Gators down two scores, but that wasn't enough to bring back the Florida.
According to ESPN.com Alabama quarterback Jake Coker said "As tight as this group is and how hard we play together and how we have each other's backs, I'm real confident in this team. I think we can do whatever we want to do, based on how we practice and prepare. It's going to be an exciting playoff." Alabama head coach Nick Saban talked about his team saying, "I'm very proud of this team. They wanted to do something special. And probably more than any other time I've ever coached, I wanted to see these guys succeed."
Derrick Henry carried Alabama in this one. On the ground, he finished with with 189 yards on 44 carries. Henry tied the SEC record for most touchdowns in a single season and most rushing yards in a single season. The Alabama defense played phenomenally only allowing 21 yards rushing all game long. Earlier this week, defensive coordinator Kirby Smart accepted the Georgia head coaching position after they had fired Mark Richt.
Alabama will face Michigan State in the Cotton Bowl on New Year's Eve in a battle of the second and third ranked teams in this year's respective CFP.