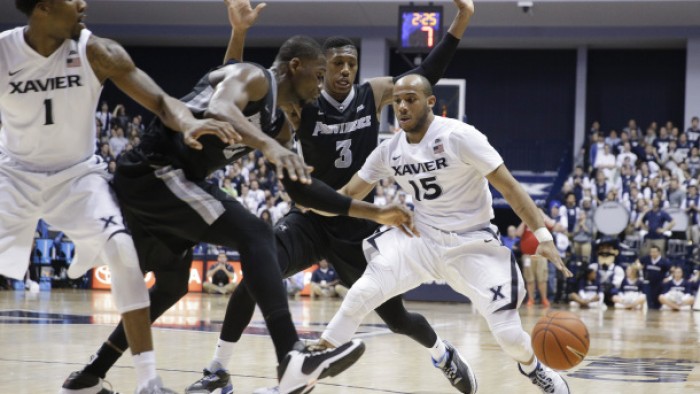 The No. 8 ranked Xavier Musketeers (23-3, 11-3 Big East) held on for an 85-74 victory over the No. 23 ranked Providence Friars (19-8, 7-7) at the Cintas Center in Cincinnati. Xavier led from the start, and Providence could not catch up all game. The win makes Xavier 2-0 at home against Top 25 ranked teams this season, while Providence drops to 4-4 against Top 25 teams this season.
Myles Davis's Terrific Game
Myles Davis poured in a fantastic game for the Musketeers. Davis finished with a triple-double, including 11 points, 12 rebounds, and 12 assists. Davis earned his tenth point at the free throw line with 37 seconds off on the clock, as it must have been a huge sign of relief for the junior. It was the first time since February 19, 2011 a Musketeer completed a triple double, which was accomplished by Tu Holloway.
"It's one of those things when you're trying hard not to pay attention to it," Davis joked. "It's amazing. It's a great feeling to have it. It's something you try to knock off your bucket list as a basketball player."
Davis was clearly thinking about it towards the end of the game. Xavier got out to a very fast start. Xavier began the first eight minutes of the game 24-10, and did not look back. Xavier led 52-37 at halftime, including a big scoring outburst from Trevon Bluiett, who would score 17 of his 23 points in the first half. Xavier showed no signs of looking back.
Game of Runs
However, Providence came out to play in the second half. Providence went on a 13-2 run, and made the score 54-47. Projected NBA lottery pick Kris Dunn was sensational, finishing with 23 points, 11 rebounds, and six assists. Providence has been known for beginning games with slow starts, but they usually seem to get right back into it.
But shortly after, Xavier found its rhythm once again. The game began to turn into a game of big runs, and Xavier got the best of it. Xavier responded with 12 straight points, and opened the game up to 66-47 with 11:06 to play. Providence went on a huge run of their own right after, going on a 18-3 run to make the game 72-66 with less than four minutes remaining. In the crucial moments of the game, Xavier converted, largely from their numbers at the free throw line. Xavier went 9-11 from the line in the last three minutes, and secured their strong 85-74 victory.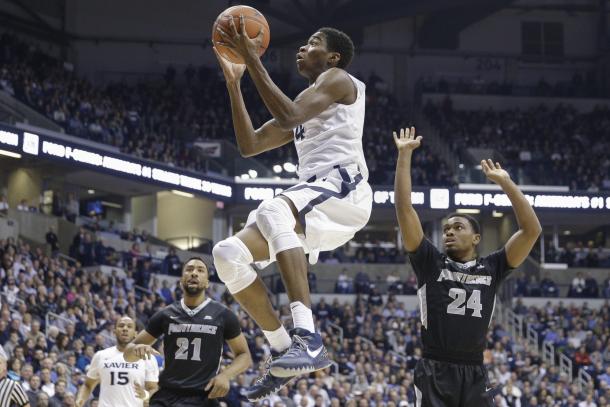 Providence was led by the duo of Dunn and Ben Bentil, as which seems to be the case for most games. Bentil finished with 17 points and six rebounds, shooting 5-14. Rodney Bullock also pitched in with 13 points and eight rebounds. Besides Davis and Bleuiett for Xavier, the Musketeers received contributions from Jalen Reynolds and Edmond Sumner. Reynolds and Sumner accounted for 10 points and 15 rebounds, and 11 points and two steals, respectively.
What's Next for the Two Teams?
For Providence, this is likely the last week in the Top 25 rankings. After climbing up all the way to No. 8, Providence has suffered bad losses. After starting 15-1 with just a loss to No. 1 at the time Michigan State, Providence lost to DePaul, Marquette twice, and Seton Hall, as well as two losses against Xavier and a loss at home against No. 1 Villanova. Providence will be an interesting team in March, as they beat Villanova on the road earlier this season, Butler twice, as well as Arizona in a tournament game. As of now, it looks as if Providence will secure a seven or eight seed. They play Seton Hall in Newark, New Jersey on February 25.
For Xavier, this was a huge win. Xavier has now defeated Providence twice, as well as wins versus Butler twice, Michigan, and Cincinnati. Xavier's only losses have come against Villanova on the road, Georgetown at home, and Creighton on the road. Things are looking up for Xavier, and they have a huge battle against No. 1 Villanova on February 24, but not before a game this Saturday against Georgetown. As of now, Xavier could be a lock for a two seed. It will be fun to see this play out and how the Selection Committee views the Big East.