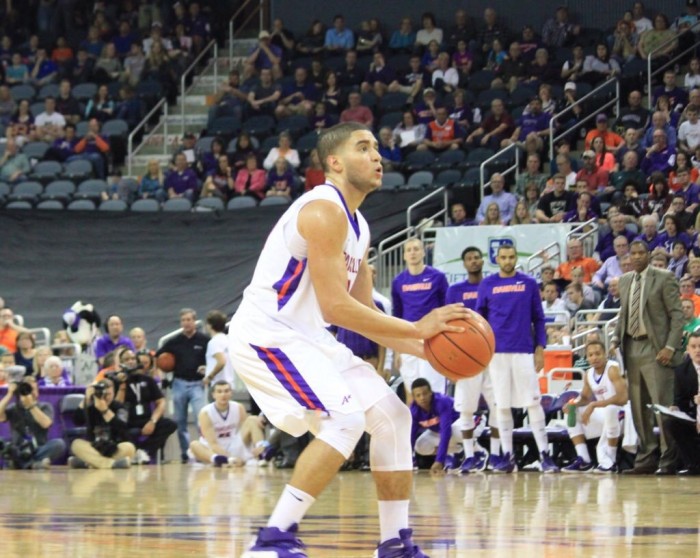 EVANSVILLE, INDIANA---Rewinding to nine days ago, the Evansville Purple Aces had an opportunity to grab second place in the Missouri Valley Conference when hosting the Illinois State Redbirds.
Today, D.J. Balentine and Egidijus Mockevicius had a chance to solely seize third place in a matchup with the Southern Illinois Salukis.
They DID NOT squander it.
Playing tenacious defense throughout and receiving great offensive performances from D.J. Balentine as well as Jaylon Brown, the Purple Aces put away a pesky Salukis team by the score of 83-71.
Evansville, fueled by the energy from "Jim Byers Day," was on fire from the get-go as they jumped out to a 6-0 lead less than 100 seconds in.
However, Southern Illinois' sharp-shooter Tyler Smithpeters silenced the rocking Ford Center with a triple that would result in back-and-forth action going into the first media timeout (10-9 UE).
Nevertheless, the Purple Aces' Jaylon Brown spurred a 9-0 domination that turned a one-point edge into a ten-point advantage (21-11 UE). Later, the "jazzy junior" added two more of his nineteen, this time in the form of a monster one handed jam in traffic, to pace the offense. Moreover, Blake Simmons rolled off five straight points to produce a half-high 16 point lead at the 7:20 mark (34-18 UE).
Though, the Dawgs didn't go to their cage quietly. Led by an eight-point outburst by the MVC's second leading scorer Anthony Beane, Southern Illinois sprinted back into the game and headed into the halftime locker room down only nine (45-36 UE).
Scoring one over half of Evansville's points in the first half, Balentine and Brown had a firm grasp on a favorable result for their group. And they refused to let it go.
The backcourt tandem, immediately posting a combined six to propel SIU head coach Barry Hinson to burn a timeout less than four minutes in, continued to have their fingerprint on the contest, for they advanced the gap between the two to 23 following the under 12 media timeout (70-47 UE). Evansville looked unstoppable!
Although a 10-0 spurt pulled the Salukis within 13 with 7:04 remaining, the Purple Aces fought off the oncoming charge through the use of momentum draining baskets. For example, after two of Bola Olaniyan's thirteen, Evansville's Mislav Brzoja drew the foul and canned a jumper to induce cheers from the crowd. Also, JB struck again for the purple and orange as he jumped the passing lane and slammed the ball through the cylinder unopposed. But, if one can point to the last nail in the Salukis coffin, it has to be a corner triple at the end of the shot clock by Brzoja, which re-upped the Purple Aces' lead to 13 (79-66 UE, 1:52 remaining in the second half). This one was over!
Shaved Head, New Mislav
When one arrived at the Ford Center on Saturday afternoon, he or she discovered something different with Mislav Brzoja. What was it? His hair!
Brzoja, a second-year Purple Ace (transfer from Villanova), had shaved his head. Why? One can only speculate; though, if this journalist was to bet, it would be because of the junior's past play on the court. Struggling since 13 points at home versus Missouri State, Brzoja had collected a total of 11 points in his last three contests on 3-for-11 shooting. Is that bad? It's not good!
Today though, the Croatian was back to being his old self for he was clutch down the stretch in route to 10 points. Additionally, he grabbed four rebounds and dished out a pair of assists.
"He was great! He was great! He was great! He gives us energy. I have said it for two years: He is like a 6th starter. He plays those kind of minutes. He has that kind of role on our team, similar to kind of (Leo) Vincent on Southern's (Illinois) team. The three he hit there late was huge. We were struggling to get a basket and really the charge he took--putting him back in the game when they went small to match-up late in the first half--was huge as well. That's the way he plays. He plays hard, instinctively, and he really helps us."
---Evansville head coach Marty Simmons on Brzoja's outing.
22-7 (11-5) Evansville will take on the freshman-filled Bradley Braves on Tuesday prior to a showdown with Northern Iowa. VAVEL USA will provide post-game coverage from the Ford Center next Saturday.
O'No, O'Brien!
Following what would be considered a sophomore slump of a second season in Carbondale, now junior Sean O'Brien has solidified himself as a legitimate second scoring option behind Beane. In fact, with "Batman" ice cold this past Wednesday versus Bradley, "Robin" swished 24 points in the victory. In Southern INDIANA, he had no such luck.
Frustrated on the perimeter in addition to the paint, O'Brien had a measly seven points on 3-of-11 shooting. The 6'7" stretch forward was guarded tough on the wing by a combination of Mislav Brzoja and Adam Wing while being smothered in the paint by 6'11" Egidijus Mockevicius, who had another double-double (11 points and 12 rebounds).
21-6 (10-6) Southern Illinois will take on currently tied for second place Illinois State in Normal, Illinois, on Wednesday.
Beane - Balentine
1st versus 2nd. 20.5 PPG versus 19.9 PPG. Evansville's D.J. Balentine versus Southern Illinois' Anthony Beane.
This afternoon, the two highest scoring players in "The Valley" met for possibly the last time.
Neither disappointed.
While Balentine was the better of the two considering his higher point total of 27 points on a very good shooting day (10-16), Beane has nothing to be ashamed of. Yes, he made only 8-of-21 attempts, but he did have 22 points in the loss, which is much higher than his 6 versus Bradley.
In addition, the two-time All-MVC first teamer of the Purple Aces had his hand in getting teammates involved and finished the forty minutes with six assists (Beane had five).
If this is the last time the two face-off head-to-head, then the series will end with Balentine leading 6-2. But who says this matchup won't happen for a ninth and final at "Arch Madness?"
He Said It (Part I)
"We didn't go away from the inside game because we missed 11 layups in the first half. 11! We missed 11 layups in the first half! And it wasn't like the big fella (Egidijus Mockevicius) was trying to block everything. As a matter of fact he blocked Bola's (Olaniyan) shot on his feet! He just put his hands up. He didn't even jump!"
---Southern Illinois head coach Barry Hinson on whether he abandoned the ball going into the paint and attacking the lane.
He Said It (Part II)
"Well he is pretty good. And he was really good in the first half when we didn't guard him. You're really good when no one is guarding you. I mean his first dunk, no one picked him up for 94 feet. He had a highlight ESPN dunk because nobody guarded him. I really believe, had I played today, I could have gotten double-figures against us--not against Evansville."
---Barry Hinson on Evansville's Jaylon Brown's performance.
He Said It (Part III)
"I thought Bola (Olaniyan) did something today that he hasn't done in a long time. He got up on a rebound and raised his hands--and I know the crowd was upset--but the kid flopped. He flopped! He faked it out and got Bola a foul. In the past, Bola would have lost his composure and got a technical. It shows we are making progress with him. I do think he played well today. He has got to score for us to be successful."
---Barry Hinson on Bola Olaniyan's foul trouble and double-double performance (13 points and 12 rebounds).
He Said It (Part IV)
"I think today Balentine showed he is certainly one of the better players. But, I am still going to stick with my kid. We were picked ninth and we still have a chance to finish third. I think that speaks a lot of Anthony Beane."
---Barry Hinson on his vote for Missouri Valley Conference Player of the Year.
He Said It (Part V)
"Lock in on Beane. Obviously, if he can get it going, it will be deadly. Contain Smithpeters and Bola (Olaniyan) down low. Close out to their shooters. I think we really did really well in the game plan and I think coach would be happy with that."
---Evansville's D.J. Balentine on his team's defensive thought process versus SIU.
He Said It (Part VI)
"It is really important. I think he understands it. He understands that he will have opportunities to score. I guess if they (the opposing defense) disrespects him in any way, he is going to make a fool out of them and score. He has been doing good all year with that. And it is really important for St. Louis because they are going to obviously key in on certain things. If we can have another guy that can really put a rest to it like he can, it will be good for us."
---D.J. Balentine on the importance of Jaylon Brown's scoring prowess to complement him in the backcourt.
He Said It (Part VII)
"He is a resilient son of a gun man! He just keeps on playing. He has grown up a lot. He doesn't let things bother him. I thought he was outstanding. We all make mistakes out there, but he just stays with it, and he made a lot of big plays for us."
---Evansville head coach Marty Simmons on Jaylon Brown's performance.
He Said It (Part VIII)
"It's not easy. When he (Anthony Beane) has the ball in his hands, you want all eyes on him. There is no doubt about it. There are certain guys you want to recover to a certain way. In the first half we were not very discipline. They shot faked us and drove by. They are fundamentally sound. That's a good team. It seems like we did a little better job in the second half."
---Marty Simmons on the challenges of guarding a team with so many weapons around a phenomenal scorer like Anthony Beane.