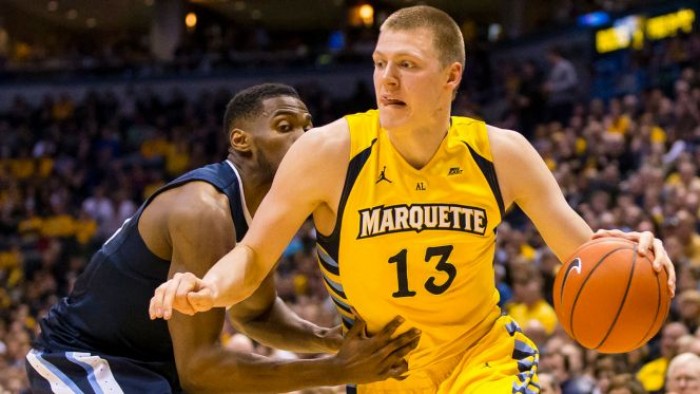 Milwaukee—The Marquette Golden Eagles have all but had their NCAA Tournament dreams ended. With Saturday's 89-79 loss at the hands of the Villanova Wildcats on Saturday, the Golden Eagles will know that they must win both remaining regular season games and have a strong showing in the Big East Tournament to have any hopes of dancing as March rolls on.
Who Led The Way?
Villanova was led by their veteran core with four players scoring in double figures. Kris Jenkins and Josh Hart both had 19 points, mixing clutch outside jump shots with vital free throws down the stretch. Big man Daniel Ochefu was thoroughly unguardable all afternoon, posting 18 points and 12 rebounds while causing Marquette endless defensive problems. And, last but not least, reigning co-Big East Player of the Year Ryan Arcidiacono had 10 points while providing his invaluable senior leadership.
Although they came up short, Marquette got fantastic performances from both Jajuan Johnson and Haanif Cheatham, who had 19 points each. Both Ellenson brothers scored in double figures as Henry had 13 while setting a new Marquette freshman scoring record and Wally had 11, with the elder knocking down two important three-pointers to keep Marquette in the game down the stretch. Yet, in spite of the impressive showing, turnover problems and interior defensive issues condemned the Golden Eagles to a ninth conference loss.
Crackling Atmosphere
Saturday's game got off to a start typical of a high energy college basketball game. Marquette, buoyed by a raucous home crowd on hand for National Marquette Day, began by defending Villanova tight on defense, and forced turnovers on the Wildcats' opening possessions. However, they found themselves unable to turn those into points, and quickly fell behind 11-4.
Yet, Johnson, who had a stellar first half with 11 points on 5-5 shooting, keyed the response. When he stole the ball and finished a fast break with a dunk to cut the lead to 13-10, he brought the crowd to their feet for the first time of the day.
Marquette Playing Catch-Up
The game developed a healthy ebb and flow over the remainder of the first half, before Villanova built up their largest lead of the half when a three from Jenkins gave them a 31-19 advantage with 6:43 on the clock. Yet, as they did a number of times on Saturday, Marquette responded. Johnson scored five of their next seven points to cut the lead to 31-26. When the teams headed down the tunnel, the Wildcats held a 42-37 advantage, leaving the game wonderfully poised for an exciting second period.
Coming out from the break, Villanova's 1-2 punch of Jenkins and Arcidiacono were determined to try and put the game away as quickly as possible. Both hit threes within two minutes of the restart to stretch their lead to 50-39. However, Marquette refused to go away, and had cut the lead back to six points before reaching the first media timeout of the second period.
Villanova Builds Up An Insurmountable Advantage
The game's ebb and flow continued as Villanova rattled off an 11-3 run, building up a 61-47 lead. Marquette seemed incapable of slowing them down on the defensive end, and could not manage to break down the Wildcats' suffocating defense at the other end of the court. The run left those clad in blue and gold fretting that they would go a third year straight year without appearing in the NCAA Tournament. Those fears proved well founded as Villanova held the Golden Eagles at arm's length for the remainder of the game. The Wildcats were never able to truly put them away, as their lead never got to more than 17 points, but they also never let Marquette back into the game. Every time the Golden Eagles hit a big shot, and they hit several, as three pointers from Wally Ellenson and an and-1 from Johnson brought the crowd to their feet, Villanova responded with either a big basket or some clutch free throws.
After the game, VAVEL USA's Liam McMahon asked Villanova head coach about the run and its importance.
Wright said, "That was big because-as I said, when you come into this place, you can feel when they get it going, it's loud and they can get on a roll. They got it back to six, and we got a couple stops, got a couple steals and got out in transition and got some easy buckets, created a little bit of a cushion. I think that was really important."
Twice within the game's final two minutes the lead shrank to eight points, but each time Villanova illustrated why they are the nation's top team, and were deserving of their 89-79 victory.
What's Up Next?
With the loss, Marquette drops to 18-11 (7-9 Big East) and must try and regroup before a vital game at home to Georgetown on Tuesday night. Meanwhile, Villanova improves to 25-4 (14-2 Big East) and will get ready to host DePaul on Tuesday night, knowing that a victory would guarantee them a share of the Big East title.