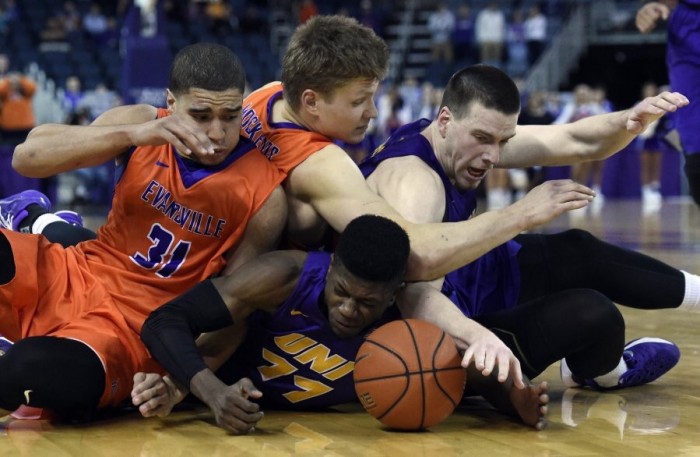 EVANSVILLE, INDIANA---In Southern Indiana, people aren't fans of the Indiana Hooisers or the Kentucky Wildcats. No, those who are loyal to the region are fans of the Evansville Purple Aces. And today, three of the greatest in the history of the program, D.J. Balentine, Egidijus Mockevicius, and Adam Wing, played possibly their last game in front of the home crowd.
Very sadly, the Northern Iowa Panthers played keep away with the happy ending at the end of the three's "Senior Day" in a defensive slugfest, which they won 54-52.
Starting the matchup with a bang--or maybe the better term is a "bangarang"--"star senior" and the Missouri Valley Conference's leading scorer D.J. Balentine nailed his first shot of the contest, a three-pointer, to give his squad a 3-0 lead.
Then all of a sudden, the Purple Aces' offense became quiet. Really quiet. More specifically, they went scoreless for almost five minutes while the Panthers pounced on the opportunity with nine straight points, four of which came from Bennett Koch (9-3 UNI). However, then the roles reversed resulting in a 9-4 Evansville run that made the score 13-12 in favor of Northern Iowa at the under eight media timeout.
Here comes the Purple Aces!
Or not.
As if someone slipped a lid on the basket during the stoppage, Marty Simmons' crew did not score another point until after the next media timeout! However, one must realize, as good as Northern Iowa's defense is and was on this day, Evansville was simply missing open shots.
And the worse part?
The Panthers tickled the twine on four consecutive possessions for ten straight points. 23-12 UNI!
The Ford Center was a church--a thought that was almost unthinkable an hour before. How could the team with the best scorer and post player in the conference have only 12 points in a half?
Well, they actually had 16 points, but failed to seize momentum since "the human highlight reel" named Wes Washpun drove the lane and swished a floater for Northern Iowa just before the first half horn.
The second half would be a different story.
After scoring just three points for the last 18:40 of the first half, superstar D.J. Balentine walked out from the halftime locker room with a look of determination on his face. So did "team quarterback" Adam Wing and double-double machine Egidijus Mockevicius. In other words, this game was not the Panthers' property quite yet.
Right from the get-go, the Purple Aces were able to "put the biscuit in the basket" with the big fella Mockevicius (25-18 UNI). Actually, on the ensuing Evansville possession, the ball went right back to him, yet Bennett Koch fouled him. And somehow "Iggy" fouled the UNI sophomore as well!
Posting hard, the 6'11" Lithuanian seemed to inadvertently elbow Koch in the head considering the latter was rubbing his temple. And upon further review, he did, so much so that Mockevicius was given a technical foul and the Panthers' Matt Bohannon swished a pair of free throws (27-18 UNI).
Furthermore, Northern Iowa lengthened the gap between their opponent to a game-high 12 on a Paul Jesperson triple at the 17:35 mark (30-18 UNI). Yet, the previous did not deter Evansville as Mockevicius started dominating the paint with six consecutive prior to Balentine grabbing the scoring baton and posting eight of his game-high 19 points (37-34 UNI). What did this mean?
We didn't just have ourselves a ballgame; we had our a one-possession barn-burner with 7:15 remaining in regulation!
At this moment in time, a double-figures lead had evaporated right before Ben Jacobson's very eyes. Nonetheless, the Panthers showed their veteran leadership and composure by staying calm and "jazzy junior" Jeremy Morgan getting to the free throw for what would be a pair of makes at the charity stripe. Moreover, Washpun went right at Mockevicius, not like he did in Cedar Falls but still impressively, and through contact to add a layup and increase the advantage to seven (41-34 UNI).
Working once again from behind, the Purple Aces swiftly countered with two of Mockevicius's 14 points and a trey by Balentine at the 4:44 mark (41-39 UNI).
After exiting the media timeout with the score: Northern Iowa 47, Evansville 44, all fans knew the ending of this one would be a wild ride.
And wild it was.
Fouled prior to the last media timeout, the Panthers' Washpun headed to the free throw line, where he has struggled in the past, and swiftly made two. The lead was back to five.
But not for long as the Purple Aces' Wing tickled the twine from the corner and withered the deficit to two. Following the same sequence of events (2 Washpun made free throws and a Wing three-pointer), the Panthers had possession with under a minute on the scoreboard.
The ball was in the hands of Washpun (who else would it be?) and he was sent to a place he was 4-for-4 on the day and due for a miss.
Cash money! Washpun made both free throws, and now Evansville found themselves down three with 32 seconds left.
The possession quickly went to the all-time leading scorer in the University of Evansville's history, for he crossed the lane off a screen and curl. Balentine caught the ball in the paint, took a dribble, and powered the ball for two. 53-52 UNI!
The ball was taken out of the net by Bohannon and he in-bounded it to Morgan. Two orange jerseys quickly smothered him. He was trapped! But he called a timeout, and the Panthers were temporarily out of trouble.
Unable to get the trap a second time, the Purple Aces were forced to foul Morgan, an 81.8% percent free throw shooter.
Swish! Boink! He missed the second! Mockevicius grabbed the rebound, his 16th, and put it in the hands of a guard before head coach Marty Simmons burned a timeout to set up a play.
Balentine caught it at the top of the key, hesitated for a moment, and rose into the air for the game-winner.
Swat! Wes Washpun blocked the shot! Yet, Balentine, as the heady player he is, went after the ball, and found an open Mislav Brzoja for three. The attempt soared through the air while the whole stadium hopped out its seats. It looked on line!
Clank! But it didn't fall through.
The Northern Iowa Panthers had swept the season series with the Evansville Purple Aces.
Winning Against the Best
"We just hit a little rut there. Some guys were hurt. Some guys were sick. We hit a little two week stretch there where nothing was really working for us. Give credit to the coaches for changing the offense up a little bit and getting everything together for us. Keeping our spirits high. They said all it takes is one, and when we got that one we went on a little streak and have been rolling ever since."
---Northern Iowa's Wes Washpun
A little over a month ago, not just the weather in Cedar Falls, Iowa, was cold but their beloved Panthers were as well. Northern Iowa, fighting through injuries and the flu, had dropped four straight, and any chances of obtaining an at-large bid on Selection Sunday had evaporated.
Nevertheless, the season was not lost and Jacobson's group refused to concede resulting in eight victories in their last nine, including a spectacular triumph over the notorious Wichita State Shockers at "The Roundhouse." Now, they have added Evansville to their resume of defeating top MVC teams on the road.
Drawing connections between this afternoon's showdown and that of two weeks ago, both were defensive slugfests that featured the Panthers pulling away to a double-figures lead in the first half and frustrating their opponent's best players. Furthermore, Klint Carlson has been a catalyst. Carlson, an Iowa native, has been HUGE when needed by his teammates. On February 13, he had a game-high 12 points and 5 rebounds and today he posted 10 points and 4 rebounds in 25 minutes of action.
Also stuffing the stat-sheet for Northern Iowa was none other than Wes Washpun, who had a team-high 14 points, 5 rebounds, 5 assists, 3 blocks, and 3 steals (what a mouth-full) and Jeremy Morgan, who had 9 points, 6 rebounds, and 3 assists. Paul Jesperson added 8 points on the day while Matt Bohannon snuck into the paint for 7 rebounds to go along with 7 points.
19-12 (11-7) Northern Iowa will face-off with the Southern Illinois Salukis in an "Arch Madness" semi-final Friday at 3:30 PM EST. VAVEL USA will have full coverage from the Scottrade Center.
No Deja Vu
The only team to hold the best scorer in all of college basketball, D.J. Balentine, to single-digits this season was the Northern Iowa Panthers. Not again!
Although he was contained to six in the first half, the 6'3" guard regrouped at halftime, resulting in an overall very good performance. In fact, there were times Saturday afternoon that UNI found no answer to stop him. For example, his 8-2 run in the second half, thrust the Purple Aces in a position to win for the final 8:26!
Complementing Balentine's 19 points and 5 assists was Egidijus Mockevicius, as he had 14 points and 16 rebounds, good enough for his 26th double-double of the season, and Adam Wing's 10 points.
Although 23-8 (12-6) Evansville fell to defeat, so did Illinois State to Wichita State, meaning the Purple Aces will be the 2nd seed next weekend in St. Louis (RPI was the deciding tiebreaker). Game time is at 7:05 PM EST on Friday. VAVEL USA will have full coverage of D.J. Balentine and the Purple Aces, as well as all games from the 2015-16 Missouri Valley Conference Tournament.
He Said It (Part I)
"He's there go-to guy. He has been making plays for them all year and gets 20 a game. I kind of figured it would go either to him or inside to the big guy (Mockevicius)."
---Wes Washpun on who he expected Evansville to go to on the final possession.
He Said It (Part II)
"It gives this group a lot of confidence, especially for a lot of the younger guys. It proves we can win anywhere against anyone."
---Wes Washpun commenting on what it means to beat the best two Missouri Valley Conference teams on the road.
He Said It (Part III)
"It was pretty physical. But I like that."
---Northern Iowa's Klint Carlson on the physicality in the paint against Evansville's Egidijus Mockevicius
He Said It (Part IV)
"When Wes got that block that was big, and then Brzoja had that wide-open three and I said, 'Oh no!'" Hopefully I would get the rebound, so I was just worried about blocking Big Mock out. Luckily it didn't go their way, and instead our way."
---Klint Carlson on the sequence of the final possession.
He Said It (Part V)
"We talked about this being a pride game for us, understanding seeding-wise ours isn't changing."
---Northern Iowa head coach Ben Jacobson.
He Said It (Part VI)
"I don't think it will" said Ben Jacobson upon being asked if the pressure heading into "Arch Madness" as the defending champions will affect the team. "I think the way we have played now for five weeks--we're playing great. We got a lot of momentum."
He Said It (Part VII)
"I kind of bobbled the ball just a little bit to allow him (Wes Washpun) to catch up and block it. Luckily I got it back, and I was going to shoot it again but Morgan came over there and doubled. Mis (Brzoja) was open and Mis had a great look. He has knocked that shot down many times for us."
---Evansville's D.J. Balentine on the final play of the game.
He Said It (Part VIII)
"That's the type of player he is. He had those open looks that just didn't fall for him in the first half. We didn't fret about that or anything. He's going knock them down. I kept looking for him and he kept telling me, 'I'll be in the corner.' That's his favorite spot."
---D.J. Balentine on fellow senior Adam Wing's clutchness down the stretch.
He Said It (Part IX)
"I really felt like in the first half even though we shot a low percentage--other than the turnovers--we got some good looks. And we have got to keep taking those. You just got to keep taking them. There are too many times when you pass those up and you are not going to get maybe as good of one later in the clock. I believe in all these guys. They've done a great job."
---Evansville head coach Marty Simmons
He Said It (Part X)
"We plan on staying until Sunday!" said D.J. Balentine at the end of his "Senior Day" speech to the fans.