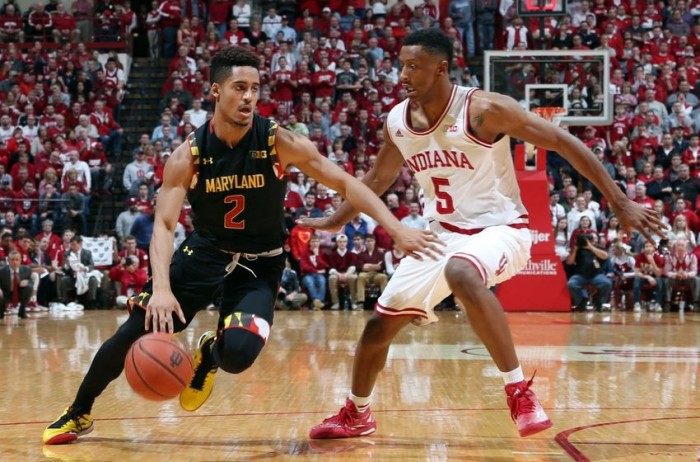 The Indiana Hoosiers may have already wrapped up regular season Big Ten title and the top seed in next week's Big Ten tournament, but they have one more test before the postseason with the Maryland Terrapins coming to town.
It will sure be an emotional day in Bloomington on Sunday as it is the final home game for five seniors including Yogi Ferrell who is finishing an incredible four-year career as a Hoosier.
Last Time Out
On Tuesday, the Hoosiers traveled to Iowa City to face the Hawkeyes and got an 81-78 win to capture the Big Ten regular season title. Ferrell came up with a clutch three pointer with under a minute left and the Hoosiers were able to hold on to capture their 22nd Big Ten title.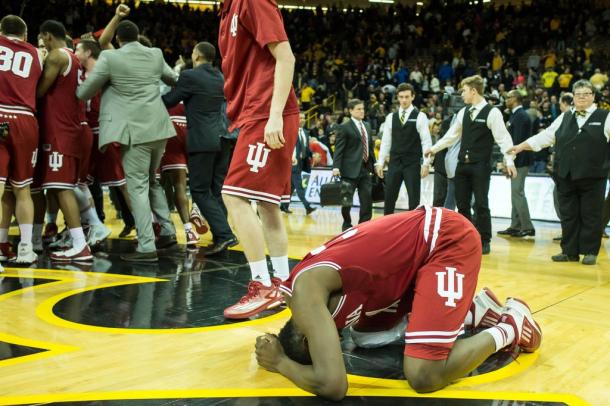 As for Maryland, they didn't have much trouble at all as they took care of Illinois on Thursday by a score of 81-55. They finally seemed to get back on track after some rough performances in the past few weeks. Melo Trimble and Jake Layman both finished with 18 points for the Terps.
This will be the first matchup between these two sides this season. Last season, the two teams split their regular season meetings with the home teams winning both before the Terps knocked Indiana out of the Big Ten tournament in Chicago.
Scouting Report: Maryland
Maryland comes into Sunday's game in Bloomington having won three of their last five games which comes on the tails of five game winning streak. Mark Turgeon's Terps looked at one point like the class of the Big Ten, but haven't quite had that same vigor as of late. With a win at Indiana on Sunday, however, they can start to gain some momentum heading into the Big Ten tournament and the Big Dance right around the corner, but that won't be easy.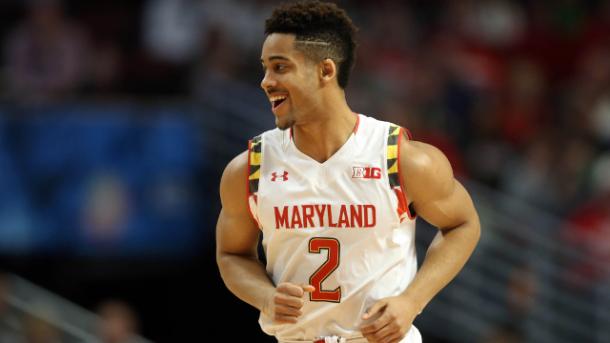 When you look at this Maryland team, the focus immediately focuses on Big Ten preseason player of the year Melo Trimble. The sophomore point guard leads the team with 14.3 points per game along with 5.2 assists per game. Trimble is one of the best playmakers in the country, but has gone through his fair share of struggles this season. If he is shooting the ball well and working the pick and roll, however, he can be very tough to stop.
Joining Trimble in the backcourt is senior transfer Rasheed Sulaimon. Sulaimon comes from Duke after being dismissed from the team, but is thriving in College Park for the Terrapins. He is averaging 11.4 points per game and has been a great addition to this team this season. If Sulaimon gets going from deep, that spells trouble for whoever they are playing as he is shooting 47 percent from the field including 44.8 percent from behind the arc.
Up front is where this team has some great playmakers in freshman Phenom Diamond Stone along with junior Robert Carter. Stone has had a great freshman season for the Terps as he is the team's second leading scorer with 12.7 points per game and grabs 5.4 rebounds per contest. As for Carter, he can do it all as he averages 12.5 points per game and a team high 6.8 rebounds per game.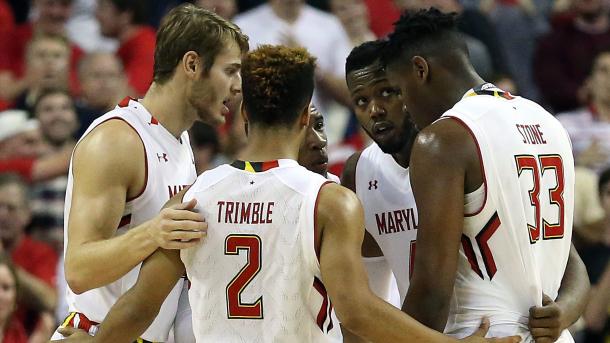 Also up front is 6-9 forward Jake Layman who is a threat from behind the arc and does a great job of stretching the floor for Maryland. Layman averages 10.9 points per game and is shooting 38.2 percent from behind the arc.
This is a Maryland team that owns the best defense in the Big Ten, but has struggled some on the road with that defense. The Hoosiers are one of the best offensive teams in the conference, which should make for an exciting matchup at Assembly Hall.
What Indiana Needs to Do
Sunday will no doubt be an emotional day at Assembly Hall with it being senior day in Bloomington for seniors Yogi Ferrell, Jackson Tharp, Nick Zeisloft, Ryan Burton, and Max Bielfeldt.
Even though Indiana has already won the Big Ten title outright, this is still an important game for the Hoosiers for a few reasons. One, this would be a big Top 50 win for whoever wins, two, momentum is a big thing in March, and three, the Hoosiers will not want to lose this game on Senior Day as they are looking to wrap up an undefeated home record at Assembly Hall.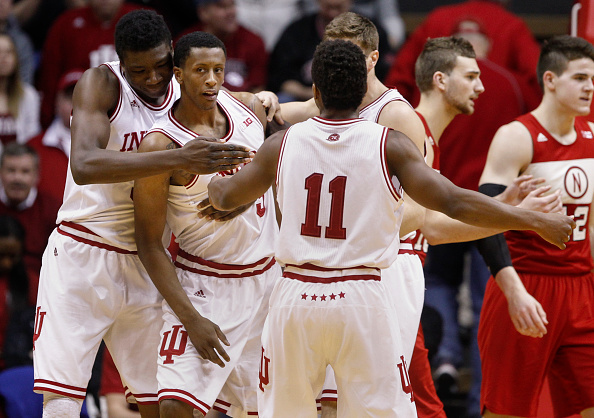 Indiana will look to run the court in this game so scoring in transition and scoring off of turnovers will be a big key. Maryland does tend to turn it over a bit, so if the Hoosiers can capitalize and take advantage of those turnovers, they should be in a good place to secure a victory.
They may or may not have Robert Johnson back in the lineup as he is still dealing with an ankle sprain. He hasn't played in the last two games in which Nick Zeisloft has filled the void in the starting lineup. Look for the bench to be very involved if Johnson is unable to go again.
What to Expect
The Hoosiers haven't lost at Assembly Hall this season, but this Maryland team is arguably the best opponent to face them at home. KenPom likes the Hoosiers to win 77-71 with a 71 percent chance of victory.
There will definitely be some very tough matchups with the size that Maryland presents, but if the Hoosiers are hitting their shots, which they tend to do at home, they might be able to negate that size. Indiana is also riding some fantastic momentum especially coming off of Tuesday night's emotional win that clinched them the Big Ten title. Don't expect a lapse from this Hoosiers team as they have played their best basketball at home this season.
Coach Tom Crean preached Tuesday after the win that they would shift their attention to get the job done Sunday, and it would be expected that this team would follow his word as they have been doing all season long.
Prediction:
Indiana 82, Maryland 77
Game Info:
First tip is scheduled for 4:30 pm EST on CBS (Ian Eagle, Bill Raftery, & Tracy Wolfson) at Assembly Hall.