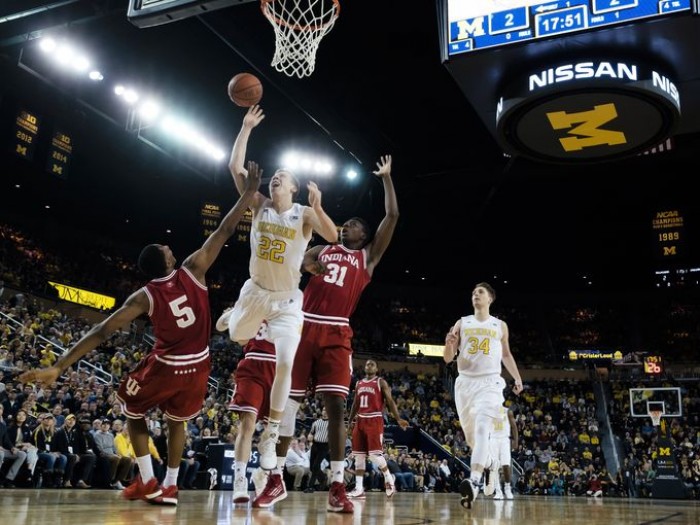 The Indiana Hoosiers are riding high into the Big Ten tournament coming off of a win versus Maryland on Sunday. Their victories include four RPI top-25 wins in the past three weeks.
The Hoosiers will now try to carry that momentum into the Big Ten Tournament against a Michigan team coming off of an overtime win against Northwestern just hours before.
Last Time Out
Indiana has been off since Sunday because of a double-bye in the Big Ten Tournament, but last time they took the floor, they had a fairly easy team taking care of Maryland at Assembly Hall, 80-62. It was an emotional day in Bloomington as the Hoosiers celebrated Senior Day along with their Big Ten regular season championship.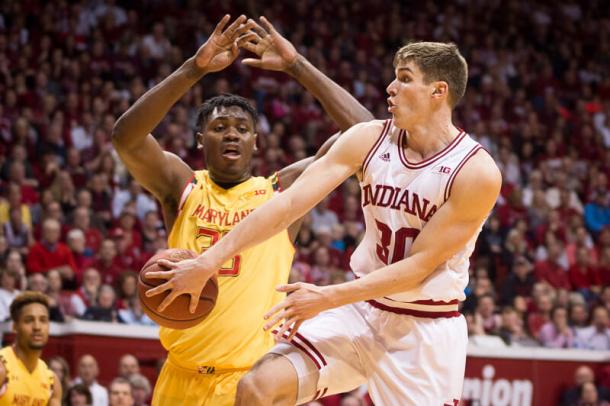 As for Michigan, they are coming off of an emotional second round victory against Northwestern that took overtime to finish. Zak Irvin's game winning jump shot with three seconds left gave Michigan the victory against a Northwestern team that wouldn't go away until the very end.
These teams met just once during the regular season, but in that meeting in Ann Arbor, the Hoosiers used a 25-0 run at one point in the game to come away with a 13-point victory.
Scouting Report: Michigan
This is a Michigan team that is squarely on the bubble and a win over Indiana would most seemingly cement themselves in the tournament. They have an RPI in the sixties and just three wins over top-50 teams, but right now, they are in that First Four Out or Last Four In portion of the projections. Without a win over Indiana, they'll be sweating out Selection Sunday.
The Wolverines have been without star Caris LeVert all conference season long, but have still been able to turn in a solid season without arguably their best player.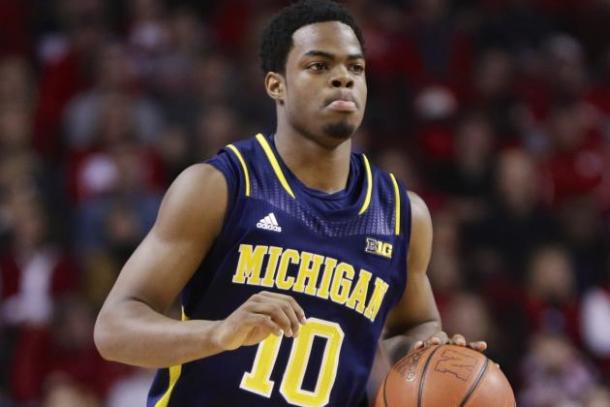 Besides LeVert, the Wolverines' point guard Derek Walton Jr. is a big time player for Michigan and does a lot for this team. He averages 12.3 points per game and leads the team in rebounding (5.7 rpg), assists (4.1 apg), and steals (1.6 spg). He also shoots the three ball at a rate of 41 percent.
Joining Walton in the backcourt are guards Duncan Robinson and Muhammad-Ali Abdur-Rahkman. Robinson is a sharpshooter shooting nearly 46 percent from behind the arc and if he can get going, is a major weapon for Michigan as he averages 11.1 points per game. As for Abdur-Rahkman, he has the capability of getting going from the field, but is just averaging 7.6 points per game.
This Michigan team doesn't have a whole lot of size, but in the front court are forwards Mark Donnal and Zak Irvin. Irvin is a fairly significant scorer for Michigan, averaging 11.3 points per game including 4.5 rebounds per game. As for Donnal, he has had his moments, like his game at Maryland where he scored 20+ points, but usually averages around eight points per game.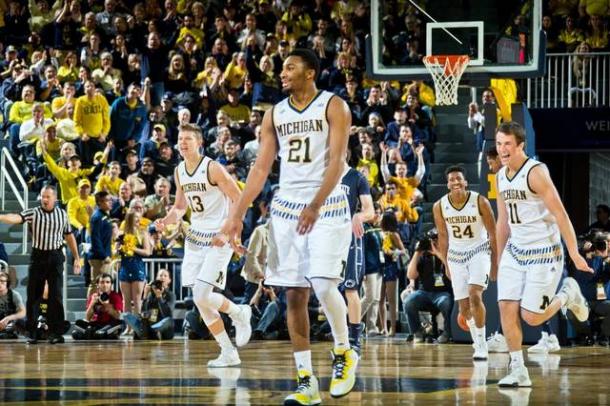 Coming off the bench for coach John Beilein are guards Aubrey Dawkins and Andrew Dakich along with big man Ricky Doyle.
This team does not have a whole lot of size and that shows in their rebounding, as they are 323rd in rebounds per game with just 32.2 per game. This team, however, is a solid defensive team and can score the basketball, which makes them fairly balanced. This was a Michigan team that had high expectations this season, but hasn't lived up to them mostly because of the injury to LeVert.
What The Hoosiers Need To Do
Indiana has not had a whole lot of success in the Big Ten tournament as they hold just a 10-17 record all-time in this tournament, but this year is a chance to change that a bit. This team is peaking at the right time, and will no doubt be the favorites to knock off Michigan and move to the next round.
One thing that is vital for Indiana in this game is to limit the threes from the Wolverines. If this Michigan team gets going, they can be a hard team to slow down, but at the same time, so can Indiana.
The Wolverines don't have a whole lot of size, which means this could be a big game for freshman Thomas Bryant, who is also playing some great basketball as of late for the Hoosiers. Senior transfer Max Bielfeldt will also get a chance to face his former team once again.
This team seems to go wherever Yogi Ferrell takes them, and you have to look to Ferrell to have a big game for the Big Ten champions. Ferrell has been a tremendous leader for Indiana all season long, so expect a big game from the senior as his illustrious Indiana career slowly comes to an end.
What To Expect
As the number one seed, Indiana is given a favorable matchup and they will look to take advantage of that along with their double-bye. With Michigan playing just 24 hours prior, and then having to turnaround and play Indiana team that likes to run, that could spell big trouble for the Wolverines.
Michigan is potentially fighting for their tournament lives and are going to leave everything out on the floor, which could make this game competitive. Having gone to overtime against Northwestern could be a big factor with tired legs come the end of the game and that will be interesting to watch.
With Indiana playing virtually at home in Indianapolis and with them playing at the top of their game, look for the Hoosiers to take control of this game early on and wear down a Michigan team that just isn't up to par like a team like Indiana. But, if Michigan is shooting the ball well, this game could be a back and forth affair.
Prediction
Indiana 74, Michigan 67
Game Info
First tip of this Big Ten tournament quarterfinal is scheduled for right around 12:00 pm EST on ESPN (Mike Tirico, Dan Dakich, & Quint Kessenich) at BankersLife Fieldhouse.