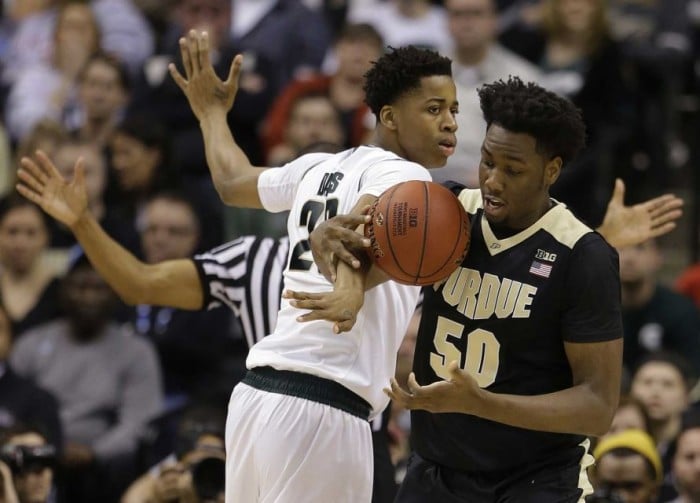 The Big Ten Title Game was set for 3:00 P.M. EST, and the brackets were set to be released at 5:30 P.M. EST. In the co-last game of the college basketball regular season, the Spartans beat the Purdue Boilermakers by a score of 66-62 at Bankers Life Fieldhouse in Indianapolis on Sunday afternoon.
This game was absolutely thrilling from start to finish. Purdue led for the first 10 minutes of the first half, but Michigan State stormed back to take the lead going into halftime.
Denzel Valentine Loves Crunch Time
Denzel Valentine, one of the candidates for National Player of the Year, was excellent against Purdue on Sunday afternoon. The senior guard finished with 15 points on 6-10 shooting, adding 10 boards and nine assists as well to go with a blocked shot. Valentine was the only Spartan to score in double figures, but the Spartans always play team basketball.
Tom Izzo's bunch had 11 players score at least one basket and played seven guys off of their bench. Bryn Forbes hit a huge three late in the game and finished with nine points on 2-8 from the field. Matt Costello had eight points on a 4-8 clip, including a huge block in the final minutes of the game. Costello also added four boards and four blocked shots.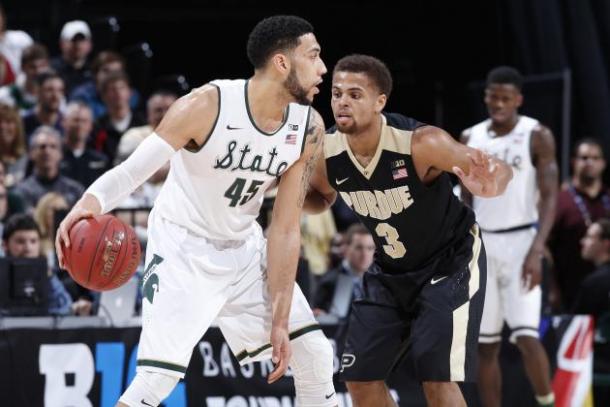 For the Spartans, this win ensured them of a high seed brackets were released on Sunday afternoon. MSU ended up with a 2 seed for the NCAA Tournament.
Purdue Fights But Falls Just Short
Purdue was down 36-26 at the half but outscored the Spartans 36-30 in the second half. Purdue was within a bucket with under a minute to go, but Caleb Swanigan took an ill-advised three with plenty of time left on the shot clock and down by just two. Swanigan finished the contest with 11 points on 4-11 from the field to go with five boards and two steals.
A.J. Hammons was just 4-10 from the field to finish with 11 points and nine boards, while Vince Edwards led all scorers with a game-high 19 points on 6-18 shooting. Purdue was outshot by the Spartans, as the Boilermakers finished with an overall shooting percentage of 38 percent to the Spartans 41 percent. Purdue struggled from three all afternoon, going just 3-15 from beyond the arc to finish just 20 percent from deep.
Matt Painter's team is solidly in the tournament, though, and will be a force to be reckoned with.