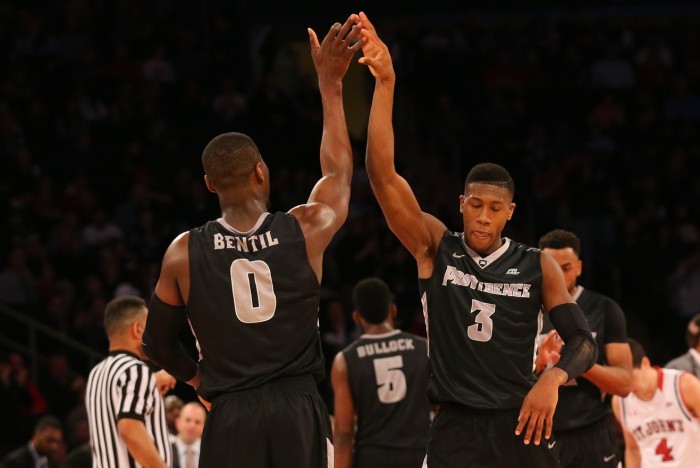 Ben Bentil and Kris Dunn both had tremendous seasons at Providence College, and this week they both announced they would be taking their talents to the NBA Draft in June. Dunn decided to hire an agent, while Bentil will head to the workouts without one. Therefore by rule, Bentil could still eventually drop out of the draft and return to Providence, but it is very unlikely he would do so.
The duo was perhaps the best in the nation this past season, and led the Friars to the Round of 32 as well as climbing up to No. 8 in the AP Poll on January 4th, tied for the highest ever in school history. They truly will change Providence basketball forever, and the program will now enter a rebuild to make up for the lost talent.
Bentil's Stock At This Point Up In The Air
Bentil was named the Big East's Most Improved Player of the Year, and many believe he is the most improved player in the nation. After averaging 6.4 points and 4.9 rebounds as a freshman, Bentil exploded his sophomore campaign to average 21.1 points per game as well as developing a three point shot, connecting with 52 treys after just nine in his freshman campaign.
There is no doubt Bentil was a terrific college player. However, most of Bentil's touches did come to the terrific point guard play from Kris Dunn. Dunn seems to be one of those players to make even the worse look great, and Bentil strived in that role.
Bentil's work should still not be taken for granted. Towards the end of the season, Dunn found himself in early foul trouble and was forced to exit the majority of the first half in both their NCAA Tournament games. The Friars then were forced to count on Bentil, and those games in particular gave everybody a chance to see what Bentil can do without Dunn on the court. Bentil also had everything clicking for him one February 10 against Marquette, and had a career-high 42 points to go along with 12 rebounds, six three pointers, and thriving at the free throw line, going 14 for 17.
As of now, it is unknown when the Delaware native will hear his name in the draft. According to Chad Ford of ESPN, Bentil will likely be drafted anywhere from pick 20-35. However, Bentil has the opportunity to thrive during the workouts and combine, and he could soon be viewed as a lock to be a first round pick.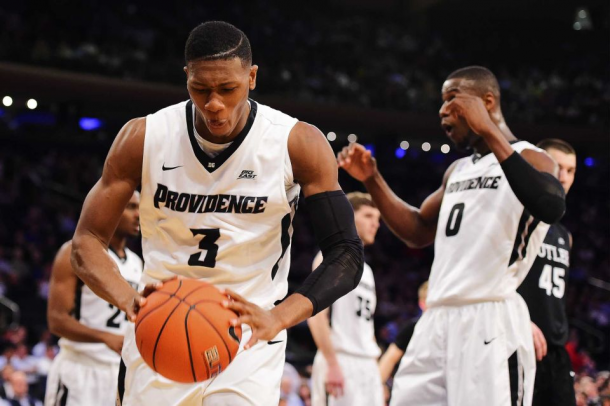 Kris Dunn Looks To Be One Of The Best Prospects In The Class
As for Dunn, the case looks to be very different. Dunn came into the season viewed by many to be the best player in the nation. Dunn had a lot of pressure on himself, and although he was not named a finalist for the Naismith Award, he still had a tremendous season. He was named the Big East Player of the Year, and he was also named a finalist for the Bob Cousy Award, which goes out to the best point guard in the nation. Dunn finished the season averaging 16.4 points per game, 6.2 assists per game, 5.3 rebounds per game, and 2.5 steals per game.
Last year, Dunn was projected to be a sure lottery pick after another great season. Not many people believed that Dunn would return to Providence for his junior campaign, and thought it would only hurt him. As we all know, Dunn did return to school, and helped him tremendously. Dunn went from a sure lottery pick to anywhere from 3-8 according to Ford. Dunn used his junior season to improve his scoring approach as well as taking a big leadership role at Providence. He will likely be either the highest or second highest drafted guard in the draft, flirting with Kentucky's Jamal Murray.
Dunn has the size, athleticism, and explosiveness that scouts love. The Connecticut native made many highlight reel plays this season, including many alley-oop finishes, tremendous passes, and stellar defense. There is no doubt that scouts believe those talents will translate well to the NBA, and many believe he has the potential to become a star in the NBA.
As of now, Dunn's most likely landing spots may be the Celtics, Timberwolves, Pelicans, Kings, or Nuggets. Of course he will have to wait and see how the NBA Draft Lottery unfolds, but most believe Minnesota will be the most ideal spot for him. Dunn has a bright future in front of him, and with a great combine, he could find himself as a Top 5 pick in the draft.