 In a Sweet Sixteen matchup many people were looking forward to, the Villanova Wildcats' offense came out hot, and it stayed that way the entire game.
Villanova defeated the Miami Hurricanes Thursday night 92-69, and clinched their first Elite Eight birth since 2009. Although the scoreboard shows differently, it was a battle most of the way, and Villanova prevailed at the end.
Tremendous Offensive Game For Both Teams
Villanova had a fantastic all around game offensively. 92 points is impressive enough, but they shot 62.7%, including 66.7% from deep and an outstanding 18-19 from the free throw line. The offense has been hot the entire tournament, as they are the first team to score 85+ points in their first three tournament games since Connecticut in 1995.
Miami did not disappoint one bit though. They finished at a respectable 53.2%, and were also firing from deep, making 10-17 from that range; Sheldon McClellan had five of those threes. The teams combined for 58.2%, which is good for the third best shooting Sweet Sixteen game since 1985.
Ryan Arcidiacono stepped up for a tremendous scoring outburst, dropping 21 along with four assists and three rebounds. Kris Jenkins had another terrific game himself, getting 21 points, grabbing nine rebounds, and dishing four assists. Daniel Ochefu and Josh Hart also contributed with 17 points and 14 points, respectively. McClellan led the Hurricanes with 26 points, while Angel Rodriguez contributed with 13 points and eight assists.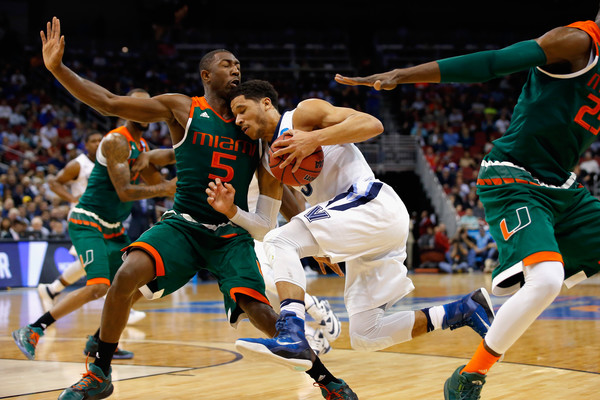 Strong Second Half Fueled Wildcats
The Wildcats had a very strong second half, but walked into the break with a 43-37 lead. Arcidiacono had 13 of his teams 20 points, and Villanova got out to a 29-14 lead with 8:37 left in the half. Miami would quickly respond, as they quickly went on a 12-0 run to bring the deficit to three.
However, it was all Wildcats in the second. Villanova outscored Miami 49-32 in the second half, as they went on many runs throughout the period. Jenkins connected with a three from very deep range that gave the Wildcats all the momentum.
Road Ahead
Miami heads into the offseason in a tough spot. McClellan and Rodriguez are both graduating, leaving the Hurricanes with a mostly new roster. Miami did much better than expectations this season, and should be satisfied with their stellar play all season long.
Villanova will face either the Kansas Jayhawks or Maryland Terrapins in the elite eight. The Wildcats will surely need to make sure their shot continues to fall, as they will need to continue the hot stroke if they want to punch their ticket to Houston for the Final Four.
Jay Wright and company will have a tough opponent on board, but with the way they played today, they have the chance to match up with anybody.