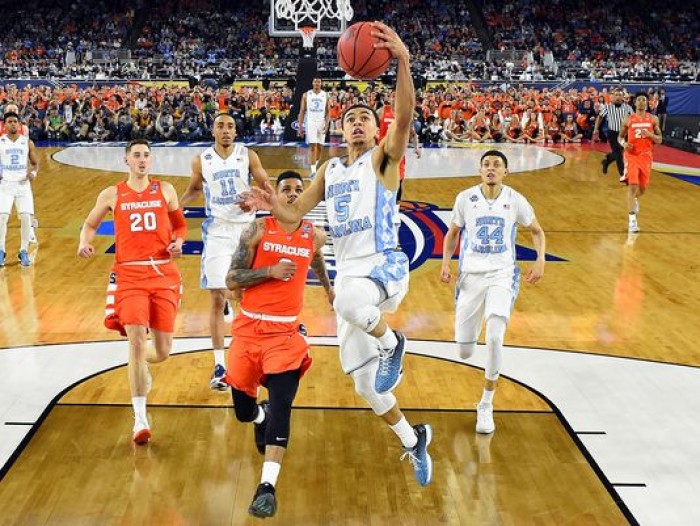 The No. 1 North Carolina Tar Heels and No. 10 Syracuse Orange met Saturday night as a part of the Final Four in Houston, TX. Syracuse fought hard and tried to stage another comeback, but UNC played a tremendous game behind All-American forward Brice Johnson. They will meet the Villanova Wildcats Monday night for the NCAA Tournament championship after winning by a score of 83-66.
Here's how the game went down, a rematch of ACC rivals who twice before faced each other this season.
First Half
The first half was a back-and-forth affair in the beginning minutes. Neither side even cracked twenty points until there were seven minutes left in the half. But after Tyler Roberson made a slam to tie the game at 18, UNC went on a spurt.
The Tar Heels sparked a 9-0 run which started with a Kennedy Meeks and-one conversion. Marcus Paige and Joel Berry each contributed jump shots in that run as well. But no matter what Syracuse did, UNC seemed to have an answer for everything. Despite Johnson sitting with two fouls and not hitting a single three point basket, UNC was just dominating the Orange.
Halftime: North Carolina 39, Syracuse 28
Second Half
Syracuse threatened with a run of their own, cutting the lead to as low as seven points. Malachi Richardson and Trevor Cooney were hitting threes that allowed the Orange to try and make things interesting.
But a big shot by Theo Pinson and the dominance of Johnson were the X-factors.
Meeks and Johnson combined for 17 rebounds which helped the Tar Heels out rebound Syracuse by 12 boards. Paige and Berry were able to break down the 2-3 zone by dribble penetrating and finding Johnson inside fairly easily. Syracuse just looked gassed in the second half and it showed. They were settling for long-range shots and forcing up contested jumpers.
Final: North Carolina 83, Syracuse 66
This wasn't a close game as expected down the stretch. North Carolina pulled away and Syracuse just didn't have enough left in the gas tank.
The Tar Heels now will play Villanova on Monday night, and the Wildcats dominated Oklahoma in the game prior to Tar Heels-Orange on Saturday. It's the size of North Carolina versus the guards of Villanova. After seeing North Carolina dismantle Syracuse with their size, it should be an interesting matchup with the Wildcats.
Player of the Game: Brice Johnson - UNC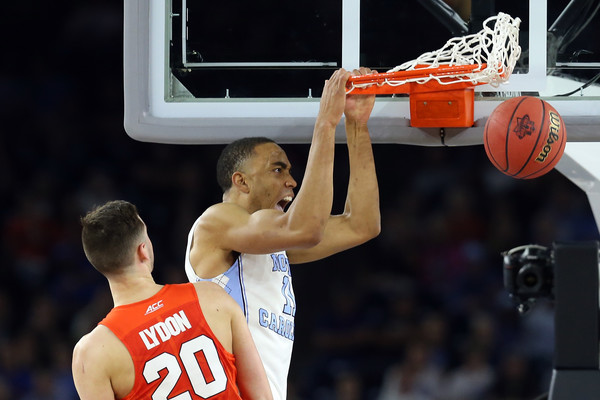 Johnson has another game that proved why he was chosen as a first team All-American. He ended the game with 16 points and nine rebounds. While he picked up two fouls in the first half, he did not foul once in the second half. That seemed to be the key for North Carolina to pull away late. He was able to attack the zone with ease and hit most of his midrange jumpers.