 Duke women's basketball head coach, Joanne P. McCallie, is being investigated by the school for mistreatment of former players and coaches. The school began the investigation after the departure of two key players, Azura Stevens and Angela Salvadores.
McCallie's Career At Duke
McCallie took over the Lady Blue Devils program in 2007-08 after Gail Goestenkors left to coach Texas. In her nine seasons at Duke, she has won 245 games with 108 of those wins coming in conference. From the 2009-10 to the 2012-13 season, McCallie coached the Lady Blue Devils to four consecutive Elite 8 appearances as well as four straight conference titles.
Since then, the Lady Blue Devils program has taken a bit of a hit over the last three seasons. These past three seasons have seen Duke hit 20 wins to make it nine consecutive seasons of at least 20 wins for McCallie, but 2013-14 saw a second round exit in the NCAA Tournament. The following season, the team finished tied for fourth in the ACC, there worst ever showing in conference under McCallie at that point. However, their biggest low point was this past season. The Lady Blue Devils finished tied for seventh in the ACC, failed to reach double-digit wins in conference play by going .500, and missed the NCAA Tournament for the first time since the 1993-94 season under Goestenkors.
Statement from Duke University
"The welfare and success of our student-athletes are among Duke's highest priorities. To that end, we are in the process of conducting an evaluation of the Duke women's basketball program. This effort is led by a Duke human resources professional outside the Athletics Department. Coach McCallie is aware of the evaluation and eager to assist. We look forward to hearing the insights of those involved in the program and any recommendations that may result from this evaluation."
Swish Appeal First To Report
SB Nation's women's college basketball blog, Swish Appeal, was the first to report about the news on McCallie. The school is planning on interviewing former players, coaches, and staff members due to the multiple departures under McCallie. The departures have been due to the alleged mistreatment.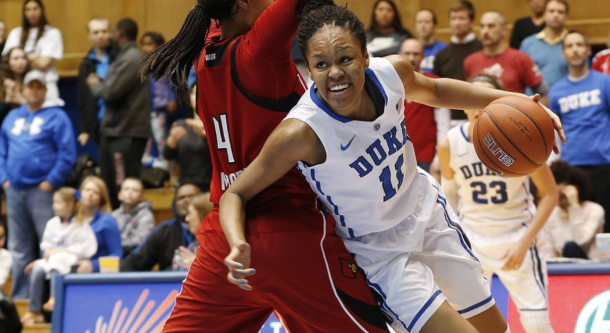 The departure of Azura Stevens and Angel Salvadores has been a major blow to the program. Stevens, who is transferring, was the team's leading scorer and rebounder, averaging nearly 19 and 10. She also chipped in over two blocks a game. Salvadores is leaving the program to begin her professional career over in Europe. The freshman started 15 of 29 games she played in and averaged over eight points and three assists this past season.