 Week three of the College Football season centred around Louisville's clash with Clemson in Kentucky, where Lamar Jackson was tasked with taking on Brent Venables vaunted defence.
There were also three SEC clashes which set the juices flowing for the next couple of months, and Texas and USC brought back memories of a famous night in 2006 with their first meeting since that famous Rose Bowl.
It was a tough night for a couple of quarterbacks who are thought highly of in the pro-game, while three ranked schools fell to tough road losses on another wild Saturday.
Darnold leads late fightback as USC creep past Texas
Starting with the big one, and in their first meeting since the legendary 2006 Rose Bowl, No. 4 USC required overtime to defeat the Texas Longhorns at the L.A. Coliseum.
Nobody knew what to expect in a matchup which saw Texas head to California after a stuttering start to the season, where they would take on a high-powered USC offence quarterbacked by the highly-rated Sam Darnold.
After a scoreless opening quarter, USC opened their account with just 2:40 left on the clock in the first-half, when Darnold found his favourite reciever Deontay Burnett for a 15 yard link-up which resulted in seven points. The Trojan quarterback then hit another player for touchdown soon after, but unfortunately for Darnold it was Texas defender DeShon Elliott who returned a pick-six 38 yards to the house.
That score came with 19 seconds left on the clock in the opening half, but it was not the end of the scoring. Darnold found Ronald Jones open down the field with triple zeros on the clock, and after jinking to his left, Jones had too much pace for the Longhorn defence and scorched in for the score to restore USC's seven-point advantage at half-time.
Apart from Joshua Rowland's third-quarter field-goal for Texas, the second half took a similar path as the first, with much of the scoring happening in the final minutes of the half.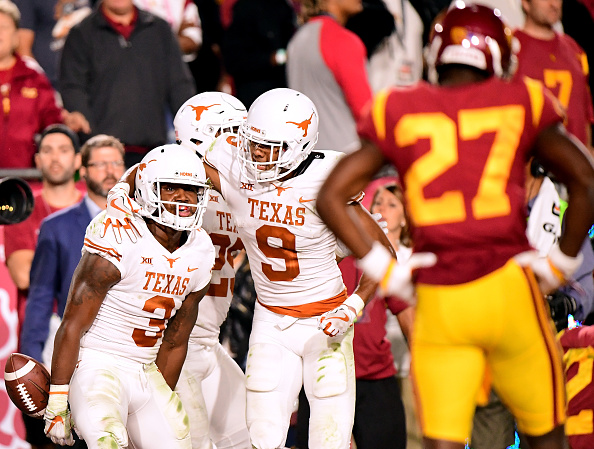 Trailing 14-10, Longhorn QB Sam Ehlinger led a 14-play 91-yard drive which was capped by a 17 yard score from Armanti Foreman to hand Texas their first lead with just 45 seconds remaining. Darnold hit back, marching his side down the field, and setting up a 31 field goal from Chase McGrath to send the game to overtime as time expired.
Darnold hit Burnett in stride for a 25 yard score on the first overtime play, but Texas hit back with Ehlinger finding Cade Brewer to level things up at 24-24.
Ehlinger then turned from hero to zero, and after taking his team to the goal line once more, he had the ball stripped at the three-yard line where it was recovered by Trojan defender Ajene Harris to set his side up for the win.
It was left to McGrath, the team's kicker, to oblige, and after Darnold could only gain one yard, McGrath stepped up and drilled through a 43-yard walk-off field-goal as USC won in second overtime.
Clemson stomp on Louisville as Lamar Jackson suffers first loss of 2017 season
Despite posting 381 yards, Louisville Lamar Jackson did not have a good night as his Louisville Cardinals fell to a 47-21 loss against ACC powerhouse Clemson at Papa John's Cardinal Stadium.
Jackson did not have the supporting cast, on offence or defence, to hurt Clemson, with the reigning national champions looking comfortable throughout in a performance which will earmark them as an early contender for the playoff once more.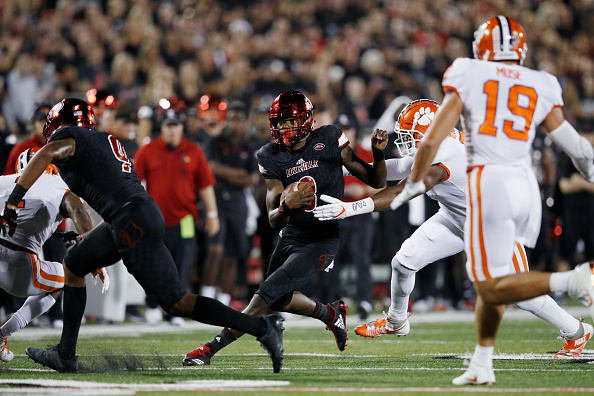 Kelly Bryant continued to look solid after taking over the now departed Deshaun Watson, avoiding turnovers in a 316 yard passing game for the QB. Bryant also ran for two scores, with Clemson's ground game behind back's Travis Etienne and Tavien Feaster helping them turn the screw during the second half.
You can never truly bottle Jackson up, but Clemson did as good a job as any will this year, with their defensive line helping to eliminate the big plays and dominating the line of scrimmage in what turned out to be a mismatch up front.
SEC play comes to life as Franks hits final play Hail Mary in Gators win over Vols and Mississippi State rout LSU
In a wild game in Gainesville, Florida quarterback Feleipe Franks completed a 70-yard Hail Mary on the final play of regulation time to Tyrie Cleveland as the #22 Florida Gators claimed a 26-20 win over the #23 Tennessee Volunteers.
A game dominated by defence saw Florida leading 6-3 going into the final quarter, before the contest suddenly came to life. The rivals traded two touchdowns apiece in the opening ten minutes of the final quarter, before Tennessee levelled things up with a 27-yard field-goal from Aaron Medley.
Florida then had 50 seconds to score some game-winning points, and after trundling to their third-down play on the opening drive it looked as though they had settled for overtime. However, with nine seconds left on the clock, they finally used one of their two remaining timeouts.
Getting in field goal range looked like their best option, but as Franks evaded the pocket, he spotted Cleveland speeding down the left touchline. Inexplicably, the Tennessee safety allowed Cleveland to go past him, and Franks unloaded a bomb down field which the reciever made a diving catch on in the endzone as time expired.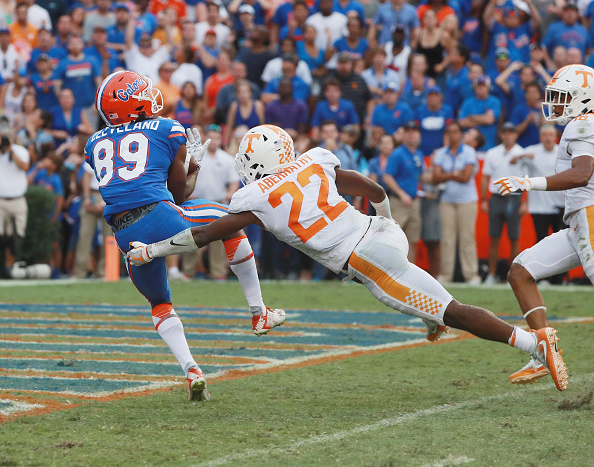 Later in the evening, the 12th ranked LSU Tigers were manhandled by Mississippi State in Starkville in a debilitating 37-7 loss. Nick Fitzgerald threw for two touchdowns, and also ran for a pair of scores as the Bulldogs claimed the comfortable victory.
In the third SEC clash, Kentucky put a skid on South Carolina's early-season hype with 23-13 win on the road. Star wideout Deebo Samuel will miss the rest of the season for the Gamecocks after breaking his leg during the second-half.
Cowboys the biggest standouts on easy Saturday for the AP top ten
In general, it was an easy day's work for much of the top ten, who strolled to home wins against lower-ranked opponents.
One side who did have to make a trip were the Oklahoma State Cowboys, and they were irresistible on offence once more in a 59-21 victory over Pitt. Mason Rudolph threw for five touchdowns and 497 yards, with four different receivers accounting for more than 100 yards through the air.
Alex Hornibrook connected on 18 of his 19 throws, throwing for four TDs in Wisconsin's 40-6 win on the road against BYU, while fellow Big Ten power Ohio State rebounded behind freshman running back J.K. Dobbins (172 yards, 2 TDs) in their 38-7 win over Army.
There were more offensive problems for the Michigan Wolverines, who relied on five Quinn Nordin field goals and a 79-yard punt return from Donovan Peoples-Jones in their 29-13 win at the Big House against Air Force.
Baker Mayfield threw for four touchdowns, and Jalen Hurts accounted for three scores in Oklahoma and Alabama's big home wins, while Saquon Barkley had another Heisman-level performance in Penn State's 56-0 shutout of Georgia State.
There was history on the west-coast, where Washington Huskies playmaker Dante Pettis returned a punt for a touchdown for the third time in three games to start the 2017 season. Pettis also scored three receiving touchdowns in the 48-16 win over Fresno State, and now shares an NCAA-record of eight returning scores in his collegiate career.
Rosen throws costly picks as UCLA stunned by Memphis
Playing in a noon kick-off on the other side of the country was always going to be a difficult ask for the UCLA Bruins, and after all was said they and done they came out on the wrong side of a 48-45 scoreline against Memphis.
Josh 'Chosen' Rosen threw two costly interceptions in the loss, one of which was returned to the house, but also showed off his arm talent in a 463-yard passing day for which he connected on four touchdown passes. Rosen was outplayed by Memphis QB Riley Ferguson however, who threw for six TDs to help complete the upset win.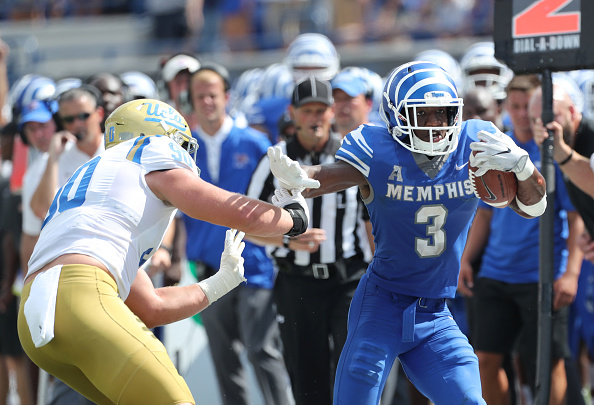 A player who also caught the eye for Memphis was big-play wide receiver Anthony Miller. Miller was the Tigers leading receiver at the Liberty Bowl, hauling in nine receptions for 185 yards and two touchdowns, averaging over 20 yards for each of his catches on an entertaining afternoon.
Allen produces limp performance against Ducks in Laramie
It was also another tough outing for NFL Draft darling Josh Allen. The Wyoming QB only completed nine of his 24 passes against the Oregon Ducks in a 49-13 home loss.
With just 64 passing yards, and an INT to boot, Allen will have to test and interview off the charts to be a top pick next year after struggling against a second power five opponent.
For Oregon, running-back Royce Freeman continued his strong comeback campaign with 157 yards and three touchdowns from his 30 carries as Willie Taggart's side moved to 3-0 for the season.
Ranked duo of Kansas State and Stanford stunned on the road
In what was always set up to be an intriguing matchup, Vanderbilt Commodores quarterback Kyle Shurmur stretched out for a TD midway through the fourth quarter in his side's 14-7 success over the 18th ranked Kansas State Wildcats. After both teams scored TDs in the opening 16 minutes of play, defences began to take over, and it took a short-field – 33 yard – drive in the final quarter for Vandy to maintain their winning start.
There was late drama in the Pac-12, where Stanford followed up their bad loss to USC in week two with a 20-17 defeat on the road against San Diego State. The 19th ranked Cardinal had no passing game to speak of, but thanks to 184 yards on the ground from Bryce Love they held a 17-13 lead late in the contest.
A delay of 25 minutes due to floodlight failure seemed to rejuvenate the home side, and with 54 seconds left on the clock, Christian Chapman threw an 8-yard touchdown pass to tight-end David Wells to cap a wild ending.
There was also a stunner earlier on Saturday when Nebraska fell to a 21-17 defeat at home to the Northern Illinois Huskies, while Baylor fell to 0-3 on the season following a 34-20 loss to Duke.