 Most fantasy football discussion heading into draft season is centered on the first few rounds. While the early rounds are certainly important, dominating the middle to late rounds of your draft is how you win championships.
Every season there are guys who seemingly come out of nowhere, and help lead teams to fantasy glory. Sure early round picks like Peyton Manning, Jamaal Charles and LeSean McCoy were essential in almost every fantasy football championship run last season. However, late-round/waiver wire gems like Zac Stacy, Alshon Jeffery, Keenan Allen and Julius Thomas played massive roles as well, and at a hugely discounted price.
While most common fantasy players prepare for the draft by researching the top ranked players, it is much easier to get an edge later in the draft. Most of the guys at the top are studs, who are each going to put up great production. The difference between these players are usually minimal.
Targeting undervalued sleepers like the players who are mentioned below is how you dominate your draft and take home the gold.
NOTE: All Average Draft Position (ADP) information used in this piece is from Fantasy Pros, who uses a consensus between five different fantasy sites.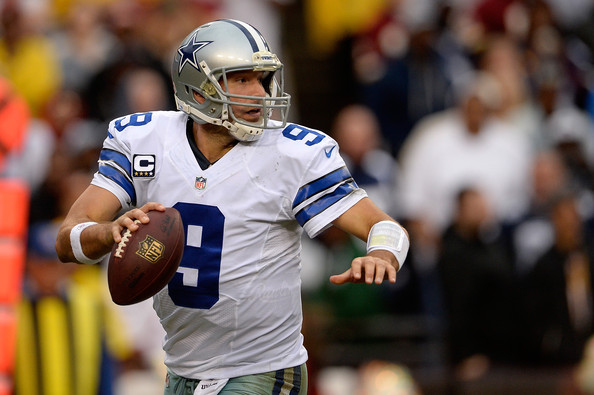 Jay Cutler, QB, Chicago Bears
The Chicago Bears hiring Marc Trestman last off-season was the best thing that has ever happened to Jay Cutler. His talent has been obvious throughout his NFL career, but Cutler has never really put up huge numbers. Last season, injuries held Cutler back, but when he was on the field, Chicago's gunslinger was incredible. In fact, if you add Cutler and last year's back-up Josh McCown's 2013 numbers together, they would equal the third highest scoring QB in fantasy football.
In an efficient pass happy offense with Brandon Marshall, Alshon Jeffery, Matt Forte and Martellus Bennett at his disposal, the sky is the limit for Cutler's in fantasy this season. He is currently being drafted as the 15th quarterback off of the board, what a steal.
Tony Romo, QB, Dallas Cowboys
Everybody loves to hate Dallas Cowboys' quarterback Tony Romo. While questioning his value as an NFL quarterback is certainly fair, Romo simply puts up good numbers year in and year out. In fantasy football, numbers are all that matters.
Romo is always overlooked in the fantasy world, but he throws for about 4,000 yards and 30 touchdowns each and every season. Not spectacular, but very good, especially given the fact that he will be drafted in the later rounds. On top of that, Scott Linehan will be calling the plays for Dallas this season. Linehan runs as pass-happy of an offensive system as there is in the NFL. More opportunities are coming Romo's way this season, which is incredibly exciting for his fantasy value.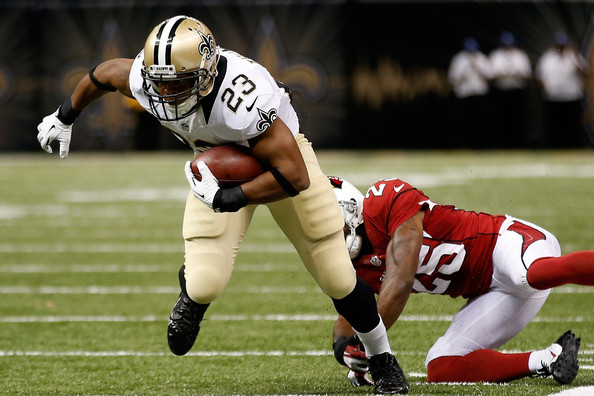 Pierre Thomas, RB, New Orleans Saints
Last season, Pierre Thomas led all NFL running backs with 77 receptions. With the New Orleans Saints allowing Darren Sproles to walk in costless agency, that number should grow in 2014. On top of that, the Saints appear to be looking to run the ball more. While Mark Ingram and Khiry Robinson will also be involved, Thomas is a solid veteran who the team completely trusts. Barring injury, he will get the bulk of the work.
Drew Brees has always liked to dump down to his backs, and that will continue this season with Thomas being the main beneficiary. He has a nice solid floor, especially in PPR leagues. Thomas is currently being taken as the 32nd RB off the board and 90th player overall. Getting him at that kind of value is highway robbery.
Latavius Murray, RB, Oakland Raiders
It is fair to say that this next one classifies as a deep sleeper. Latavius Murray is currently third on the Oakland Raiders' RB depth chart, but this man has some serious upside. The Raiders selected Murray in the sixth round (181 overall) of the 2013 NFL Draft. He missed his entire rookie season after he went down with an ankle injury that was suffered in the preseason.
Murray was a productive back in college, but he really burst onto the scene at the combine where he displayed great speed, quickness and overall athleticism. At 6-foot-3, 225 pounds, Murray also has great size to go along with his physical abilities.
Maurice Jones-Drew and Darren McFadden are both clearly ahead of Murray at the moment in the Raiders' backfield. That said, both players are aging veterans who have had plenty of injury problems in the past.
Murray will likely need one of these veterans to go down in order to have any fantasy value, but he is certainly talented enough to turn any opportunity into something special. Murray is basically going un-drafted, and is a great option to take a late round flyer on.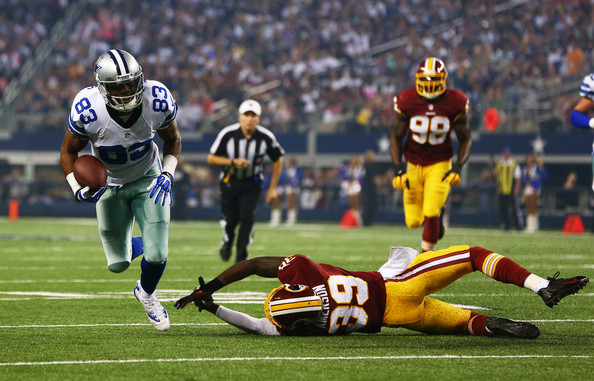 Terrance Williams, WR, Dallas Cowboys
Simply put, the Cowboys are going to throw a ton with Linehan as the offensive coordinator. Romo, Dez Bryant, Demarco Murray and Jason Witten will all likely be beneficiaries to this, but do not forget about Terrance Williams.
The second year wide receiver out of Baylor had a solid rookie campaign in 2013, hauling in 44 receptions for 736 yards and five touchdowns. Typically, wide receivers make a nice leap in production in their second years, and Williams should not be an exception.
In a pass happy offense with great veteran options around him, Williams could be in for a big season. He has plenty of upside and a nice floor, especially considering he is currently being drafted as the 36th wide receiver.
Markus Wheaton, WR, Pittsburgh Steelers
This off-season, the Pittsburgh Steelers let wide receiver's Emmanuel Sanders and Jericho Cotchery go via costless agency. The departed Steelers totaled 113 receptions, 1,342 and 16 touchdowns last season. That production has to go to somebody, and Markus Wheaton is the most likely candidate.
Ben Roethlisberger and the Steelers' offense were rolling on all cylinders late last season, when offensive coordinator Todd Haley starting running an up-tempo, pass-happy system. With all of the success that the team had offensively, expect the Steelers to air it out once again this season, and Wheaton could be a huge beneficiary.
Wheaton is a second year receiver with blazing speed and good hands. The Steelers took him in the 3rd round (79 overall), but he did not see the field much last season. Reports out of Pittsburgh strongly suggest that Wheaton will be heavily involved in the Steelers' pass game this year.
He is essentially going un-drafted at the moment, making him a late round flyer with some serious upside.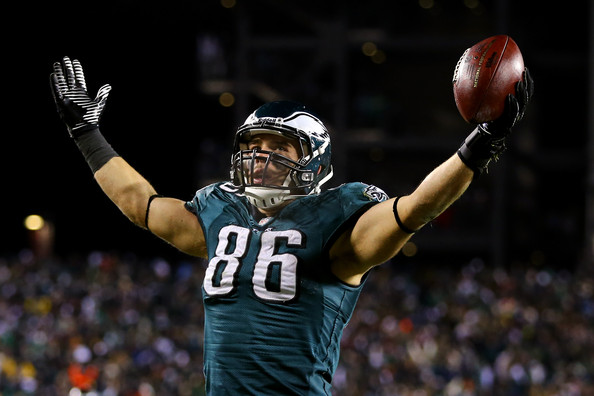 Zach Ertz, TE, Philadelphia Eagles
If you decide to pass on Jimmy Graham and Rob Gronkowski in the early stages of your draft, waiting to be one of the last teams to select a tight end is a good strategy. Zach Ertz is a great player to target when doing this.
Ertz is another second year pass catcher with great upside. He already has a solid rapport with quarterback Nick Foles, and while his involvement in Chip Kelly's offense was limited last season, he really started to come on late in the year. Kelly has hinted towards a much larger role in the Philadelphia Eagles' offense for Ertz this season.
He is already a very talented player. If Ertz actually gets more opportunity this season, the sky is the limit.
Charles Clay, TE, Miami Dolphins
Charles Clay really burst onto the scene with the Miami Dolphins in 2013. He was one of their most reliable targets as he finished the season with 69 receptions for 759 yards and six receiving touchdowns. Clay went un-drafted in almost every single fantasy football draft last season, and ended up scoring the seventh most points of all tight ends.
Clay may not have the obvious athleticism and enormous upside of others at the position, but he is a reliable pass catcher, who knows how to get open. With a severe lack of options for Ryan Tannehill available, Clay is very likely to continue to have a big role in the Dolphins' passing game this season, and his ADP of 144 makes him an incredible value.