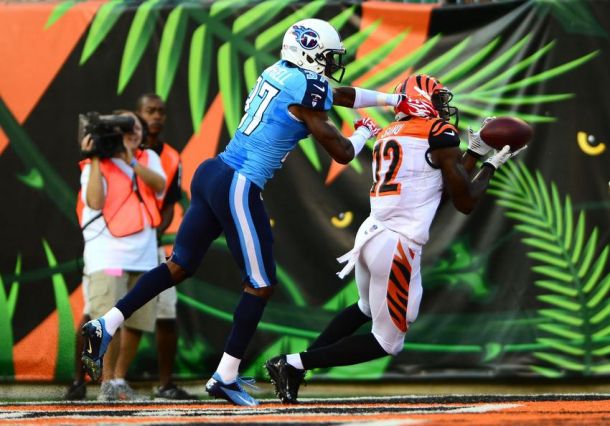 The Tennessee Titans head to Cincinnati with a 1-1 record after a lack-luster loss to the Dallas Cowboys last Sunday. That came on the heels of an impressive win at Kansas City in week one. So, where do we go in week three as they travel to the undefeated Bengals Sunday at 1:00 PM EST?
Jake Locker and company have got to get going, and get it going early. Tennessee cannot afford to get behind Cincinnati, and let them build momentum at home. The Bengals would love to get Tennessee retreating and pound the ball inside.
To prevent the Bengals from getting into their game-plan look for the Titans to go with the quick passing game, and get the wide receivers into the mix. Cinci is very stingy across the middle to the tight ends, so Delanie Walker might have a quiet day. He's been the most dependable receiver thus far, so Tennessee needs to look further into their receiving corp.
Justin Hunter and Kendall Wright will be the focus of the passing game. Cincinnati is sure to lock up Walker, so Wright and Hunter have to get open. If not, it will be a long day in Ohio.
The running game is the key to opening it up, and getting the secondary up for support. Shonn Greene has been the lead focus, but only got 5 carries in week 2. He has yet to get involved in the passing game at all. Dexter McCluster is the primary third down back, and rookie Bishop Sankey has only spelled the two in relief appearances.
As the season wears on, Sankey is expected to become the starter. This could all begin with week 3. The second round pick from Washington is an Ohio native. He would love to break out in his own backyard.
The Titans defense is expected to play better this week. They were on the field a lot in week 2, and gave up 26. Week 1 they shut KC down to just 10, and the TD was in garbage-time. If Tennessee can sustain drives throughout the game the Titans defense should be able to hold their own with the Bengals offense. The defensive line has gotten pressure up front early on in 2014, and getting QB Andy Dalton dancing will pay huge dividends for the Titan secondary.
This game is huge, since the Texans are likely to win and go to 3-0 in the division. Next week Tennessee will travel to play the Colts and they are fighting for their playoff lives. The 0-2 Colts are on the road this week to take on Jacksonville. Indianapolis will be looking to get on a roll. This might be a bit too much for the Titans to pull off, but we may be feeling an upset.
The Armchair Quarterback Prediction:
Titans 23-Cincinnati 21.