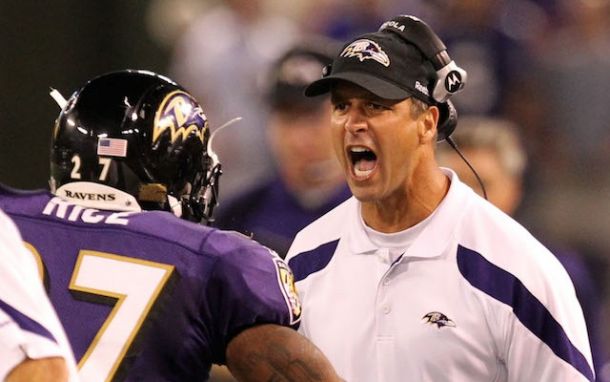 10 Observations Of This Week In The NFL:
Earthquake Coming in Baltimore:
Make no mistake, there is going to be a major shakeup coming in the Ravens' front office. If you missed it, here is the OTL/ESPN report on the Ravens' role in the Ray Rice mess. And several other things are clear:
1- The NFL offices and John Harbaugh are clearly sources for this story. More Harbaugh than the NFL office.
2- It is going to be almost impossible for Harbaugh and Ozzie Newsome to co-exist after this season.
3- If the league can prove that the Ravens intentionally misled the league, and that this came from the top of the Ravens' hierarchy, they will lose draft picks or their owner and President will be suspended.
4- The Ravens better hope that Ray Rice cannot throw them under the bus either.
On Monday afternoon, the Ravens held a presser with their owner issuing their denial of the report. ESPN, when reached for comment by themselves, stood by their story. One curious item in the Ravens' denial is that they blamed Rice and his camp for the "leaks" to ESPN, but then were happy to bring him back in a non-football playing role when he retired.
Kirk Cousins is who we thought he was:
Did Cousins put up a ton of yards? Absolutely. Did he have some top flight throws against the Eagles? Absolutely. Is he still a one trick pony? Absolutely. The Eagles struggled badly against him in the first half when they played the WRs looser, giving up four drives of 10 or more plays. In the second half, the Eagles adjusted to blitz Cousins more and press his WRs. He did hit three nice passes in the second half, but Cousins clearly struggled culminating with his final drive when he made four bad throws in a row to essentially end the Redskins' game. Here is an Interesting stat: when the Eagles blitzed Cousins with 5 or more rushers, he was 3-11 for 38 yards. He iss always going to be a guy who does well, and this is not meant as a personal insult, when he does not have to think on the field. When he can drop back 3-4 steps and get the ball out to the designed first read, he can be a surgeon. He will struggle when you disrupt this rhythm for him, either by jumping the route, pressing the receiver, or getting in his face.
Jags - Bucs for "Worst NFL team":
So, who is the worst team in the NFL? The Jags are coming off of two straight blow outs, while the Bucs got one of the worst thrashings in the history of the NFL this past Thursday night at the hands of the Falcons. While the Jaguars did not have the expectations of success that the Bucs had (as low as they might have been), they do appear nearly helpless on all sides of the ball. The Bucs at least were close in their first two weeks. The Jags are non-competitive. However, the future is brighter in north Florida than in central Florida. The Bucs have a lot of money committed to the future in the big name costless agents that have largely been disappointments. The Jags have a nice core of young players to build around.
Could Lovie Smith get fired in Tampa:
The short answer is maybe. Even though the Bucs lost to the Falcons horribly, it would have to take several more losses like that for the ownership to step in and fire him (Lovie is the de facto GM also). If they finished historically bad with a 1-2 win season (which sadly would not be a jarring event for Bucs fans), it would be in the realm of possibility, but who would take that job except for a retread like Mike Shanahan?
Andy Dalton has a clean jersey:
One of the most amazing stats through three weeks in the NFL is that the Bengals have yet to give up a single sack on the season. Not one. And it is through 88 pass attempts. This is a pretty amazing stat for an offensive line which lost a starting offensive tackle in the offseason and has dealt with nagging injuries up and down the line during games.
St Louis' Defensive line disappointment:
On the other side of this coin is the disappointing performance of the St Louis defensive line. Yes, they did lose Chris Long for several weeks but with Brockers, Quinn, and Donald, they should have more than 1 sack on the season. On top of this, they are giving up over 5 yards a carry against the run on the season. Perhaps it is for the best for Fisher's time in St Louis that Bradford blew out his knee, otherwise it might be hard for him to keep his job.
Eli goes INT-costless for the First Time in 8 games:
Eli has almost as many multiple INT games (47) and he does have INT costless games (51) and had thrown an INT in eight straight games stretching between 2013-14 (and four of his last 20 games he had managed not to thrown an INT). So pulling this feat off against the Texans' defense is very impressive. Especially since he hit 75% of his attempts, which he has only done seven times in his career. The Giants need to build momentum, especially in Eli's decision making. Everyone else in that division has an offense that can score quickly, so giving away the ball will be fatal to one's chances.

Darrelle Revis' Struggles:
The Patriots are struggling on both sides of the ball, but nothing is clearer than this: Revis Island is sinking slowly into the ocean. This is most likely due to Revis still recovering from multiple knee injuries and needs time. Until then, the Pats are hoping that the return of Brandon Browner will boost the secondary until Revis is back to 100%. We should know how good he truly is with the Pats facing the Bengals (AJ Green), Bills (Sammy Watkins) and Bears (Alshon Jeffrey or Brandon Marshall) in October.
What is going on in Arizona:
No Carson Palmer, Larry Fitzgerald looks old (Josh Brown is pushing him off the field), and missing a bunch of defenders and the Cards are 3-0 beating the Chargers, Giants, and 49ers? What? Who regrets passing on Arians as a head coach now? Miami? What is going on is that the Cards are taking away what you do best on both sides of the ball and refusing to make many mistakes.
Pittsburgh's Pyrrhic Victory:
Pittsburgh absolutely throttled a supposedly superior team in Carolina on the road and imposed their will all game long against the Panthers, but this victory is going to cost them dearly. Ryan Shazier, Jarvis Jones, and Ike Taylor will all miss significant time with major injuries. They do have some interesting young players to plug into these holes (Arthur Moats had a sack on Newton for instance), but a favorable schedule (Tampa and Jacksonville up next) means that they have some time to recover properly.
10 Players Who Stood Out:
Jeremy Maclin, Philadelphia: Maclin showed why the Eagles let Jackson go. 5 catches for 117 yards including an amazing TD catch.
Josh LeRibeus, Washington: Until now he's been a 3rd round bust who has rarely even been active for games. He was pressed into service on sunday due to an injury as Shaun Lauvao and shined in an important game.
Julio Jones, Atlanta: No Roddy White, no problem. In only three quarters he had 161 yards and 2 TDs.
Drew Stanton, Arizona: Like LeRibeus, he has largely been a bust until this year. In fact he has not thrown a pass in a live game since three seasons before this month. And he has led the Cards to big wins against the 49ers and the Giants.
Richard Sherman, Seattle: There were some questions about his play last week but ask DeMaryius Thomas if he has lost a step as the best CB in football.
The Entire Steelers' Offensive line: 264 yards rushing and only one sack given up against the Panthers' front seven speaks volumes.
The players in the Oakland/New England game with a last name that ends with "kowski": Every score in this game came from Gostkowski, Janikowski, or Gronkowski.
Russell Wilson, Seattle: He hit 11 different receivers and worked the Denver defense up and down the field.
Jelani Jenkins, Miami: 1.5 sacks, a TFL, 2 QB hits, and 15 total tackles. He has always had talent, but did not put it together until Sunday.
The Quick Top 10 Mock Draft Based on Current Standings:
1. Jacksonville Jaguars: Todd Gurley, RB UGA. This is not the right choice, but he is exciting and should give their offense some credibility to work with.
2. Oakland Raiders: Andrus Peat, OL Stanford. Who knows who will be running this team in May and if they want Derek Carr as their QB, but Peat makes the most sense.
3. Tampa Bay Buccaneers: Sean Mannion, QB Oregon State. Winston's fall is Mannion's gain.
4. Cleveland Browns: Randy Gregory, DE/LB Nebraska. Mingo has been a total bust for them.
5. Miami Dolphins: Marcus Mariota, QB Oregon. Philbin and Tannehill are probably both on their way out of Miami.
6. Minnesota Vikings: Devin Funchess TE/WR Michigan. A tweener who probably plays wide a lot. Kyle Rudolph will never be the a solution at TE for Norv Turner, so expect a move. If Gurley falls here, the Vikings will ask him about his views on disciplining children.
7. St Louis Rams: Landon Collins, S Alabama. They just cannot pass on the playmaker.
8. Tennessee Titans: Connor Cook, Qb Michigan State. Yes, Jameis Winston is going to drop come draft day.
9. Washington Redskins: Ifo Ekpre-Olomu, CB Oregon. Hall is old and just tore his Achilles tendon. Amerson is not developing and Breeland cannot deal with speed.
10. Kansas City Chiefs: Amauri Cooper, WR Alabama. Do you think Reid regrets passing on DeSean Jackson now?