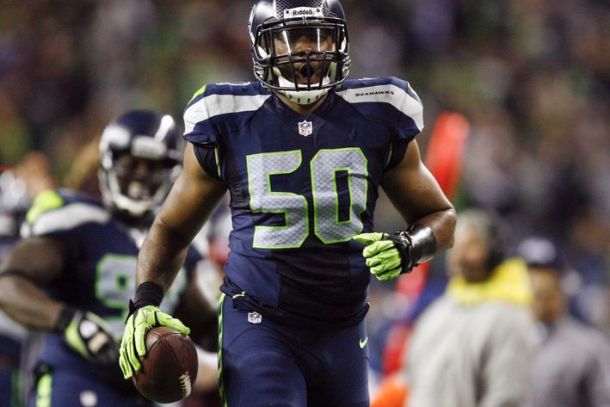 Following Seattle's back-to-back domination of the Arizona Cardinals and San Francisco 49ers over the past two weeks, there was some question whether or not the resurgent defense could stop the Philadelphia Eagles' high-flying offense. After Sunday, the only question remaining is whether or not there is any NFL team it can't contain.
Led by quarterback Russell Wilson (22-37, 263 yards, 2 TDs), Marshawn Lynch (23 carries, 86 yards, 1 receiving TD) and a lock-down defense that held the Eagles to a season-low 139 yards, the Seahawks completely dominated the play on the field, and came away with a 24-14 victory. "They took this challenge very, very much to heart because they respect them – what they did, the tempo, their background, the terrific players that they have and all of that," said Seahawks head coach Pete Carroll, discussing his defense and the challenge they faced heading into the contest. "So these guys on defense can do a lot of stuff now. They can really play when they're playing like this and there's really nothing that they can't do when they're playing this tight and this close together."
A Special Teams Mistake Leads to an Early Eagles TD
The Seahawks moved the ball early and often in the opening quarter, but it was the Eagles that scored first.
On fourth down at the Seattle 38, punter Jon Ryan muffed the snap and fumbled the ball, which was recovered by Eagles tight end Zach Ertz. Six plays later, Jeremy Maclin took a one-yard pass from quarterback Mark Sanchez into the end zone for the early 7-0 Eagles lead.
After the Maclin Score, It Was All Seattle (Almost)
Shaking off the special teams snafu, Seattle took complete control of the game. On their very next possession, the Seahawks engineered a ten play, 82-yard drive that culminated in a Wilson 26-yard scramble for the game-tying score. "I thought he played phenomenal in the first half," said Carroll about Wilson. " I thought he played a terrific football game and his guys played really well around them. "
Stephen Hauschka kicked a 44-yard field goal with mere seconds left in the half, putting Seattle in the lead at halftime.
On the Eagles' very first play from scrimmage in the third quarter, Seahawks linebacker K.J. Wright forced running back LeSean McCoy to fumble the ball, recovered by costless safety Earl Thomas. After a Lynch four-yard run, Wilson eluded a fierce pass rush and found Lynch all alone on the left side, who strolled untouched into the end zone.
The Eagles managed a 54 yard drive on their next possession, scoring a touchdown on a Sanchez-to-Ertz 36-yard pass play, but the Seahawks iced the game on their next possession with a 91 yard march down the field that ended with a touchdown pass to Doug Baldwin.
There was no scoring in the fourth quarter.
The Eagles' Offense Was Truly Offensive
Not only did Seattle out-gain Philadelphia 440-139, but they held the ball for 41:56, to just 18:04 for the Eagles. Mark Sanchez managed just 96 yards through the air, and McCoy led Philadelphia with 50 on the ground.
"You go into the game with a game plan thinking you can execute," said Eagles head coach Chip Kelly. "But I'll give them credit. They did a hell of a job on defense and played better than us today."
Sanchez was more expansive. "That's a really good football team that we played and they showed it. They brought a great game plan. They played really well in their zones and really well in their man [coverage]. They took away a lot of opportunities and then when opportunities presented themselves, I missed a couple of balls downfield and they made us pay."
The Seahawks play arch-rival San Francisco at home next week, a team in turmoil after suffering a stunning defeat at the hands of the Oakland Raiders. The Eagles have another tough game upcoming, this time against the Dallas Cowboys.