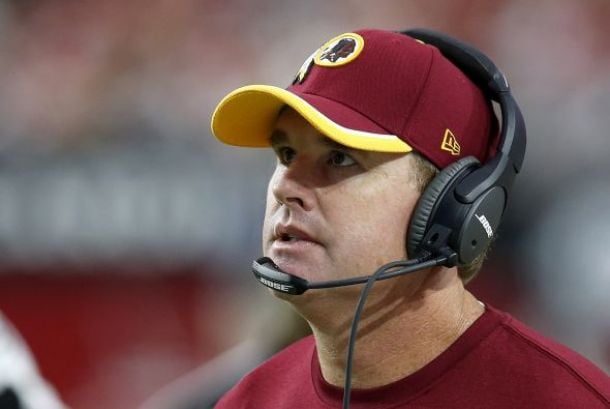 With the end of the Jim Haslett era in DC, current GM Bruce Allen said at his recent disaster of a press conference that the decision of whom will replace Haslett would be up to current head coach Jay Gruden. However, there are some complications to this supposedly simple decision making process. Gruden, reportedly, wants Raheem Morris but is also considering 49ers defensive coordinator Vic Fangio and San Diego LBs coach Joe Barry. Barry is another coach who was with Bruce Allen, Doug Williams and Jay Gruden in Tampa Bay. No matter who Gruden supposedly chooses, they will be sticking with the 3 front defense. Gruden firmly believes in it over the 4 front thinking that when run properly it's flexibility presents too many problems to the opposing offense. This would mean that Raheem Morris, who's firmly been in the Tampa-2/Kiffin camp, would theoretically be calling a defense that he's never called before.
The complications with this emanate from the front office. Bruce Allen would seem to not want to shell out a lot of money to anyone because Gruden's job after 2015 isn't guaranteed. This is unless it's a defensive coordinator with enough credibility that he'd be under consideration for a head coaching job or remaining with the franchise under the next head coach.
It has been announced that Wade Phillips will be interviewing with the Redskins in the coming week for the defensive coordinator job. This is interesting because both Bruce Allen and AJ Smith, who's been offered an "enhanced role" in the Redskins front office (according to ESPN's John Clayton) are both enamored with Phillips as coach. Smith and Phillips go back for years and have worked together in multiple stops in the NFL and Smith has openly talked about how he thinks he's the best defensive coach in the league. Also, Smith is reportedly demanding final decision making authority making him the GM in practice if he takes the offered "enhanced role" with the franchise.
As always, all the reported moves tell us is that any public statements from the Redskins are a total lie. If this defensive coordinator decision was truly up to head coach Jay Gruden, then Wade Phillips wouldn't be being considered. That AJ Smith seems to be getting his way suggests that the front office of the Redskins is looking for a defensive coordinator that could take over for Jay Gruden in the event that Gruden is canned midseason 2015.