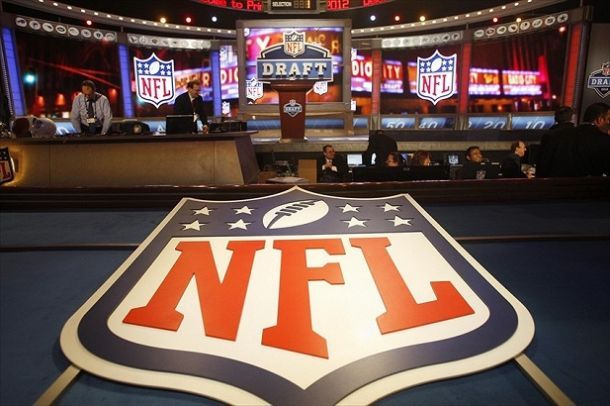 1. Tampa Bay: Jameis Winston, QB Tampa Bay. Boy those Mariota rumors just fell flat like a fart joke in church didn't they? It was going to be Winston after they checked him out. This isn't to say that they don't have concerns about him off the field, but they don't think that he's Aaron Hernandez 2.0. They think he's at worse a more in control version of Johnny Manziel or Vince Young off the field.
2. Tennessee: Amari Cooper, WR Alabama. You can flip a coin between Amari Cooper and Leonard Williams here. The loser will go third. Tennessee would love to deal this pick, but they're asking for heaven and earth for this pick. They asked the browns for 3 firsts and a second for this pick(the Browns countered with two first and Josh Gordon). Its hard to see anyone giving up a RG3 like package for anything other than an Andrew Luck level prospect and Mariota isn't that.
3. Jacksonville: Leonard Williams, DL Southern Cal. The Jags are fine with any of Leonard Williams, Amari Cooper or Kevin White. And they'll get one of them with this pick. Williams goes here on a "best player available" theory of drafting. Even though their defense line is talented, you can't pass on a potential star.
4. Cleveland(from Oakland, Browns deal Josh Gordon and both their 1st round picks): Marcus Mariota, QB Oregon. The only consistent reporting about the Mariota sweepstakes is that the Browns are far and away the leader in the clubhouse for a trade up for him. They have two top 20 picks and some players that they can move to make a deal happen. The Raiders love big names, need a WR and could see Josh Gordon as a lottery ticket here. If he's good, great. If not, they dump him and still had their top 1sts.
5. St Louis(from Washington, Washington gets pick #10, Nick Foles and a 4th round pick): Kevin White, WR. Fisher really is less interested in Foles than he was in Bradford, the move was a salary dump to pick up a high pick next year for him. So pawning him off on DC works, especially if he can dump Foles as part of it. They would have loved to get Mariota here but Austin, Quick and White on that turf should work great for Bryce Petty or Brett Hundley. Even if Fisher doesn't end up with a 2nd round QB, he has enough rope with the Ownership and Snead to wait until next season.
6. New York Jets: Dante Fowler, Jr DL/EDGE Florida. Bowles loves pass rushers, however he loves his pass rushers to be bigger and smarter than the undersized OLBs that some systems have. He also likes guys who can play multiple positions and fill multiple roles, so Fowler seems like the natural fit. They would love to take Mariota here and have made no secret of that. A trade is possible, but only on terms that the Jets would prefer.
7. Chicago: Todd Gurley, RB UGA. Before Bears fans start screaming: Forte is 29 going into a contract year. He also has only 8 100 yard rushing games in his last 32 games. And while Forte was fine as a receiver last season, he was very underwhelming during the Bears' collapse to close the season. If Forte is willing to take a contract smaller than he was expecting, Gurley and him can form a duo. If not, Gurley replaces him. The other factor in this is that the Bears really don't see another prospect that they could use that's as talented as Gurley. Danny Shelton is dropping in value and there's no WR worthy of the pick here.
8. Atlanta: Vic Beasley, OLB/DE Clemson. If they're drafting a front 7 guy for that defense, it's going to be about drafting a LEO. They have plenty of run stoppers and point holders on that defensive line but they don't have any pure attackers like Quinn had in Seattle. Brooks Reed is the closest that they have, but his role appears to be more about replacing Weatherspoon at OLB(along with Justin Durant). Reed could be that LEO attacker, but he doesn't seem like he has the speed to make that position work for him. Ray, Beasley and Dupree all fit that role potentially but they choose Beasley here due to his relentless rush skills. Just don't expect him to be a 3 down guy until year 3.
9. New York Giants: Danny Shelton, DT Washington. A pure "best player available pick" here. Reese loves making ones like this and after Beckham Jr's explosion into the NFL, he'll do it again. They really don't need another DT with Hankins, Bromley(3rd round pick last season), Cullen Jenkins and Kenrick Ellis but they can't pass on the sheer talent that Shelton might have.
10. Washington(from St Louis) Brandon Scherff, OL Iowa. They might not take him at 5 but this author is betting that they will take him in the top 11. And before redskins fans scream "Oh God, you don't take OGs in the top 10/There's only been 6-7 OGs taken in the top 15 since 1995" three things:
1-A great guard, even taken high, is worth the pick. Chris Naeole, Chance Warmack, Ruben Brown, Kyle Long, Iupati, Shawn Andrews: these guys have been difference makers to varying degrees.
2-They could trade down further and pray, but Scherff is worth the risk. As Grantland recently opined about Scherff: "it's hard to see a future that doesn't include Scherff anchoring someone's line for the next decade."
and 3-Ask the Cowboys about Zack Martin. Or better yet, ask new redskins offensive line coach Bill Callahan-who was the boys' oline coach last season-about how important Zach Martin was to his line.
11. Minnesota: Trae Waynes, Cb Michigan State. This is a pure BPA pick. They have Munnerlyn, Rhodes, Newman and Exum already. Zimmer just can't pass on another press CB and he liked to collect CBs in cincy(at one point, he had Newman, Hall, Jones and Kirkpatrick). A WR is possible, but this seems far too high for someone like Strong or Parker.
12. Oakland(from Cleveland): Eddie Goldman, DT FSU. Even while they were flirting with(and eventually signing) Dan Williams they were still going after some DTs to beef up a run defense that gave up 1900 rushing yards, 17 rushing TDs and rushing 95 first downs. Like Williams, Goldman probably is more natural at NT/0 but he should be fine as a 1 gap.
13. New Orleans: Bud Dupree, DE/LB Kentucky. The Saints are in a bit of a bind, they need talent now for one last run with Brees but they also need to think about the future. So expect their draft to feature an uneven mix of ready to play players and projects, especially with their high picks. Dupree can fit either category, they need an edge rusher now to make that defense work properly but long term he can be a Dante Fowler-esque joker for whatever defense that they decide to run.
14. Miami: La'El Collins, OL LSU. They need a Cb and a 3rd WR more(probably), but getting Collins here is great value for the Phins. He can start immediately and can swing around the line to plug holes. If Trae Waynes made it here, they would strongly consider taking him.
15. San Francisco: Arik Armstead, DL Oregon. The 49ers need a lot, especially on defense. Losing Culliver, Borland, Smith and Willis rips the heart out of this defense and while Dockett is a fine player he's not enough to replace all that, especially since he's coming off of a major leg injury. Armstead takes the pressure off of Dockett and Carradine to carry the defensive line immediately. They need a CB or ILB far more, but plopping him down in the heart of the defense should help make everyone more effective.
16. Houston: Jaelen Strong, WR ASU. This more a need pick than anything else. If they're going to find any semblance of a passing offense, they need more than Cecil Shorts or Devier Posey at their 2nd WR spot. Strong is a flat out burner with size. Just don't expect him to give you much in the short game. Send him long and let him outrun everyone.
17. San Diego: Randy Gregory, DE Nebraska. His talent is undeniable for sure, but there's a question of how much he'll be on the field. Especially if he thinks that New Orleans is a boring party town(he tweeted that). Despite the rumors swirling around Philip Rivers(side bar: why would anyone deal for a 34 year old QB with a history of knee injuries up for a contract?), they need to show that they aren't going into a rebuild. Gregory does that and also fills a major need.
18. Kansas City: Cam Erving, OL Florida State. Even before they lost Rodney Hudson, the offensive line was the priority for the Chiefs. They need to protect their awful investment in Alex Smith and maximize the value that they get from Jamaal Charles. Erving can start just about anywhere on their line. And they're not sure what they have in Ben Grubbs yet, so they overreact a bit.
19. Oakland(from buffalo via Cleveland): Landon Collins, S Alabama. A pure best player available pick, but Del Rio does love safeties that can hit(Donovin Darius, Dion Grant, TJ Ward, Mike Minter, etc). Say what you want about Collins' coverage skills but the guy can bring the wood onto a ballcarrier.
Buffalo's 2nd rounder: Garrett Grayson, QB Colorado State. They pick too low to get Brett Hundley(whom they love and are making no secret of it) or Bryce Petty. Grayson is a developmental guy but talented. The alternative to this is to deal for Sam Bradford or RG3.
20. Philadelphia: Erick Flowers, OL Miami. In this scenario, don't be shocked if this pick goes to Washington as part of a deal for RG3 since the Eagles missed out on Mariota. In fact, the most likely scenario would be where this pick goes to Washington(and they take Melvin Gordon here), RG3 goes to Philly, Sam Bradford goes to Buffalo or Arizona and the Eagles get a 2nd round pick this draft. As for Flowers: you may think Chip Kelly is insane. And he very well might be. However, he's running his offense on a premise that as long as the offensive line is talented, he can get away with lesser talent everywhere else on the offense. And he might not be wrong. They need an OG to replace Mathis(who'll probably be dealt during the draft) and Flowers is more natural inside.
21. Cincinnati: DeVante Parker, WR Louisville. They see AJ Green as the franchise. They love Sanu as a running mate for him. They just need a deep threat to get the stack coverages off of Green and replace him when he misses time. Parker has some injury issues himself, but they'll squeeze value out of this pick.
22. Pittsburgh: Byron Jones, DB U-Conn. They really were hoping Landon Collins would fall here. They will console themselves with Jones, who is a physical freak of a player with good natural cover skills. Jones probably moves around the defense for them, playing Slot Cb, outside CB and SS for them.
23. Detroit: Shane Ray, DE Missouri. Martin Mayhew is akin to Jerry Reese: the picks are always about taking the best player available. Ray's stock has been tumbling, but his drop stops here. The Lions also need to make up for losing Fairley and Suh on that line, but they're going to do it from the outside in.
24. Minnesota(from Arizona, Arizona gets Adrian Peterson and a 3rd round pick): Melvin Gordon, RB Wisconsin. They do like their other Rbs but none of them has the flash that Gordon does. Asiata is a grinder and McKinnon has the look of a career backup(for now). Gordon makes them legitimate in the eyes of opposing defensive coordinators.
Arizona's 2nd round pick: Carl Davis, DT Iowa. They really need to replace Dockett(even though he missed 2014), but they really need to replace Dan Williams at 0. Davis, if he makes it this far down, would be perfect.
25. Carolina: Andrus Peat, OL Stanford. Peat's a hard prospect to figure out. He has all the physical tools, the mental tools, the hard work and there's plenty of tape of him destroying top flight defensive players with his blocking(even Leonard Williams)..and yet scouts tell Vavel that they're worried about him and his motivation. He seems to start games apathetic and wobble between apathy and caring. But if he gets hurt or embarrassed on a play, then the light comes on and he is the destroyer of worlds. he could be the steal of the draft if someone figures out how to get him to turn that light on from the first snap.
26. Baltimore: Nelson Agholor, WR Southern Cal. Don't be shocked, teams love Agholor despite his speed issues. They see a slashing slot WR who can contribute immediately as a returner and run those medium/short routes until a CB is burnt toast.
27. Dallas: Malcolm Brown, DT Texas. They still need a fast, 2 gap DT to squeeze in between interior blockers and blow up the offense's play. Brown is a local kid and should fit this need to a tee. This isn't to say he's without flaws, but the Cowboys should overlook them to fill this need on their defense.
28. Denver: Benardrick McKinney, LB Miss State. Elway has gone defense with his first pick for 3 straight seasons and sadly their defense still needs work. The biggest need is for a starting ILB. They liked Lamin Barrow when they drafted him last year, but he seems a bit small for a Wade Phillips defense. McKinney has good size and can slide outside to spell Ware/Miller when needed.
29. Indianapolis: Owamagbe Odighizuwa, DE UCLA. He's not quite fast enough to be an edge defender, he's not quite big enough to play 5 Tech. But he can contribute in both spots and they need the help. The odds are that he's a lot like Trent Murphy(a tweener who has good ball skills and plays the run very well), bulks up to 280-290 and plays 5 Tech full time.
30. Green Bay: Eric Rowe, DB Utah. Marcus Peters would be the pick, but no one wants Peters after talking to the Washington staff and seeing his inconsistent tape. Rowe is a bit of a tweener, but thats what the Pack wants.
31. New Orleans(from Seattle): Cedric Ogbuehi, OL Texas A&M. At the Saints' first first round pick, this author talked about the uneven mix of ready to play players and projects, this is the project pick. They can afford to wait on him since they don't have an immediate need at OT, but he clearly is talented(if also in need of work).
Seattle's 2nd round pick: Ali Marpet, OL Hobart. Very, very raw. But he has some NFL level tools to work with. The Seahawks need an interior lineman pretty badly, maybe bad enough to trade away a 2016 first to their former personnel guy now running the Redskins for pick #38.
32. New England: Michael Bennett, DL Ohio State. He checks a lot of boxes for Belichick: Urban Meyer player, grew up in a military family, locker room leader, smart player and will be seen as a reach by 90% of draft pundits.