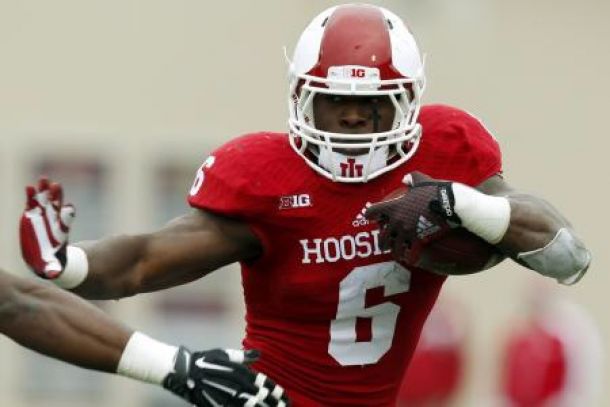 When Tevin Coleman was born, he was 10 weeks premature, three and a half pounds, and small enough to fit into his mother's hands. Due to this he was given a 20 percent survival rate. Tevin Coleman's family was from Liberia and his grandfather was involved in politics there. His mother immigrated to the United States at the age of 17. It was a tough decision but a good one in the end for the family. Tevin fought adversity and now was drafted as the 73rd pick to the Atlanta Falcons.
Tevin Coleman ran for 2036 yards at Indiana, the bright spot on Indiana's perpetually struggling football team. That yardage racked up was an Indiana record. He did sustain a foot injury that kept him out of the combine. At Indiana's pro day he ran the 40 yard dash in 4.39 seconds. Coleman had these overall career numbers: finished his college career with 3,219 rushing yards and 28 touchdowns on 7.1 yards per carry. He also caught 54 passes for 383 receiving yards.
Indiana isn't really known as a football school and Tevin Coleman shattered the majority if not all of the Indiana rushing records. According to the Indiana University record book, "He set Indiana's single-season rushing record with his 228-yard performance, to go along with a career-long 90-, 52- and 2-yard TDs at No. 7 Ohio State, breaking Vaughn Dunbar's 1991 mark of 1,805."
Tevin Coleman doesn't have good hand work and therefore won't be a recovering threat. He could be the starter in Atlanta as the running backs are a problem area. Also, Tevin Coleman is only 5'11 so that's a disadvantage and advantage. He often is thought of as a Doug Martin-type player.