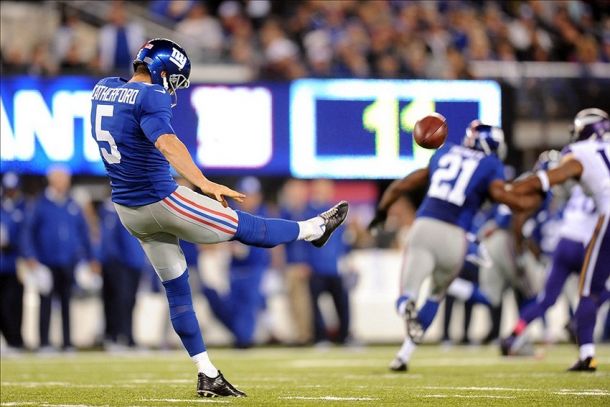 In the words of Rams punter Johnny Hekker, punters are people too, right? That's become quite apparent with New York Giants punter Steve Weatherford. Last week he took to the radio airways to voice his opinions on the quarterbacks on the Philadelphia Eagles. The Giants-Eagles NFC East rivalry has always been intense, and Weatherford just stirred up the pot with his comments.

Weatherford compared Eagles QBs Sam Bradford and Mark Sanchez to cars. "I'm going to give you a Ferrari that maybe won't be running all the time, or I'm giving you a nice Cadillac Sedan, it's not the fastest, but you know what you're going to get out of it. Bradford can go zero to 60 in three seconds. But you don't know if he's going to start up some days."
Weatherford had good comments about other Eagles QB Tim Tebow's character, but not so much his playing ability, "I'm the biggest Tim Tebow fan in the world, I mean, who wouldn't want their daughter to date a guy like that? But I'll tell you what, I don't want him taking snaps for my team."

Later in the show, Weatherford talked about the Eagles wanting to give Sam Bradford a contract extension, "Good luck with that, Chip Kelly will get himself in serious trouble if they get an extension for that guy and he gets hurt? He's done." Bradford is notoriously known for getting injured, as he has torn his ACL in each of the last two seasons and has had other knee, ankle, and shoulder problems throughout his pro and collegiate career.

But Weatherford wasn't gonna get off easy for his comments. Eagles center Jason Kelce took to the Twitter atmosphere to take his shots at Steve Weatherford, "Of course a player who is literally not allowed to be touched is talking s**t," Kelce tweeted. "Is interviewing punters a thing now?" Weatherford later tweeted back, "Did you even read the my quotes? Or did you generate your opinion based upon the headline? You're smarter than that, don't let someone tell you your opinion. I was complimentary of all three QBs. Nothing but respect."

Weatherford later appeared on 97.5 the Fanatic in New York and said, "When you have a quarterback like Eli Manning, a two-time Super Bowl champion, I'm going to prefer that he take the snaps for my team than Tim Tebow. That's not a shot saying Tim is not good at quarterback. I think it's pretty factual that Eli Manning is better. I gave the guy the greatest compliment that you can ever give anyone, that you would let them date your daughter."

Finally, Weatherford justified his comments by saying, "I do feel that a lot of things that I've said ... I don't want to say that they were taken out of context, but they were received not in the fashion that I wanted them to be received. I've got so much respect for the guys that play actual play football, it's unbelievable."