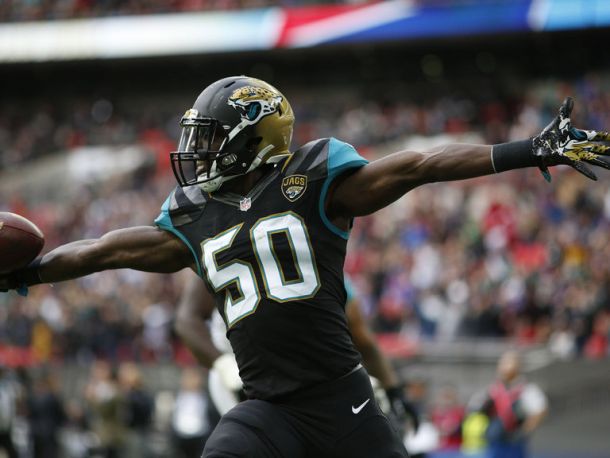 The Jacksonville Jaguars received their second win of the season in one of the most unconvincing ways possible, in which they blew a 24-point lead against the Buffalo Bills, but were saved by offensive heroics to bolster up the hopes in Jacksonville. However, the 24-point lead they managed was highlighted by second-year linebacker Telvin Smith's first pick six of his NFL career, in which helped capped off a 14-point rally by the Jaguars in just seven seconds in the second quarter of the game.
The former 2014 fifth round draft pick out of Florida State played like a heat-seeking missile at Wembley Stadium in London, England in front of the UK fans. He finished the day with nine tackles, with three of them going for a loss of yardage, and an interception for a touchdown that would give the Jaguars a sizable lead that should've given the team a sure victory during last week's game.
The size of Telvin Smith's impact of the team should not be overlooked for the Jags, as he leads the team with 68 tackles. He is also looked at by many NFL experts as the future mold of what a linebacker may look like for many years to come in this league. He stands at 6'3" and just under 220 lbs., but his small size comes to an advantage when pursuing the football, helping his case this week when receiving this week's honor as defensive player of the week.
Provided by the NFL's new next-gen stats initiative, the pick six from Telvin Smith registered at a speed of 20.82 miles per hour, the third fastest touchdown scored in the slate of games this past Sunday. In comparison, he surpassed Oakland Raiders wide receiver Amari Cooper's 55-yard screen play touchdown, in which he ran at speeds up to 20.72 miles per hour.