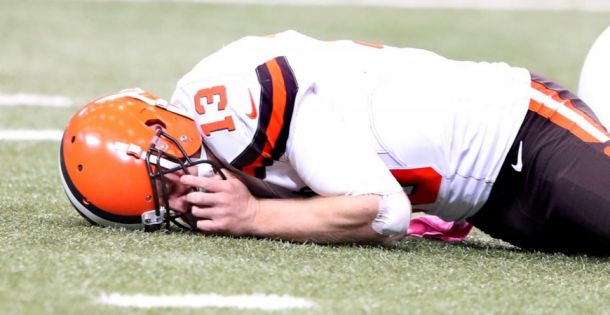 The 2015 season has been a tough one for Browns fans so far. The team has already gone through the weak part of their schedule and only sits at 2-5. From here on, the Browns will be playing playoff caliber teams nearly every week. Including, 2 match ups against both the Steelers and Bengals. If the Browns want to keep any hope of them securing a playoff spot this season, a big win against the Cardinals at home is a good way to start.
Browns Quarterback Situation
Last week against St. Louis, Josh McCown went down in the fourth quarter with a shoulder injury. He did not practice on Wednesday and was limited Thursday. The Browns expect McCown to be healthy enough to play, but if he is not, Johnny Manziel will step in at the position. Right now it appears McCown is the starter for the Browns on Sunday.
The Defense
Coming into the season, a lot of hype was surrounding the Browns defense. Many people expected them to be a top 10 group and to lead the Browns to some wins. That certainly has not been the case. The Browns have the 28th ranked defense as a whole and are last against the run. The Cardinals have the 4th ranked offense and a rejuvenated Chris Johnson as their lead runner. Not to mention, two big physical wide receivers in Larry Fitzgerald and Michael Floyd on the outside and a very effective John Brown in the slot. Joe Haden is returning this week after missing 2 games with a concussion. Having him back should help to contain the Cardinals.
The Offense
The Browns continue to struggle to run the ball which is getting them into third and long situations. Luckily, McCown has been fairly good this season and has kept them in some games. Gary Barnidge had another good outing on Sunday and has proven to be McCown's favorite target. If the Browns are going to be effective on offense against Arizona, they will need to commit to the run. The weakness of the Cardinals defense is in the front seven. If the Browns can establish the run and stick to it, their offense can give them a good chance to stay in this game.
What to watch for
During the game Sunday, keep an eye on who and how the Browns running backs will be used. Over the past couple weeks, the Browns have been using three running backs - Isaiah Crowell, Duke Johnson, and Robert Turbin. On Sunday, expect to see a lot more Turbin on early downs and Johnson on third down and in passing situations. A lessened role for Crowell is coming, given that he has not been very effective. Another random thing to watch for is: the Browns' jerseys! For the first time this season the Browns will be wearing their orange jerseys. The Browns have not worn orange since the 2005 season.
Prediction
Cardinals 24 Browns 13