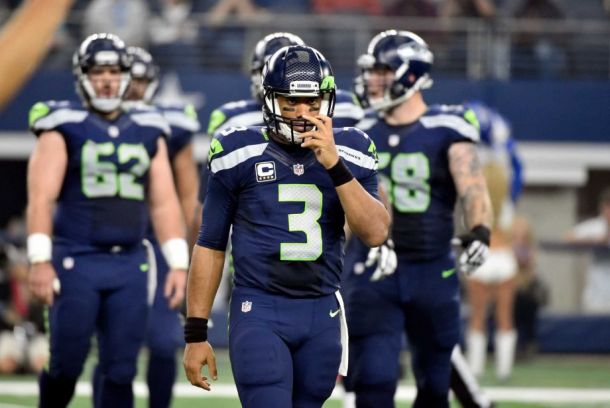 Coming into the 2015-16 season expectations were once again high for the Seattle Seahawks. We're in week nine now, just past the half way point, and the Seahawks sit at 4-4. While at times they have looked lost, especially in the fourth quarter, this is a team that is not far off from another deep run into the playoffs. That being said, there are issues to fix, in particular three big issues that stand out. Those issues are offensive line stability, consistency in play calling, and a higher intensity in special teams play.
Offensive Line Stability
The Seahawks' offensive line has been bad. Bad even seems like an understatement, to put into perspective how bad they've been, last Sunday against the Dallas Cowboys was the first time they had given up less than four sacks. While they have improved since week four versus the Detroit Lions, their worst game after watching the tape, for the offense to be more consistent moving forward the play from this line must improve.
How do you fix this issue? You hope that as this group continues to gain more chemistry with increased playing time, that they'll improve as a whole. There is some evidence of that, with the improved play of Justin Britt and Russell Okung steadily improving, but if that doesn't happen they might have to consider some outside help. The trade deadline came and went yesterday and Pete Carroll said John Schneider was "burning up the phones yesterday," but as most expected nothing happened. Seattle had neither the cap nor the assets to make a move right now. Their only option is free agency, which they more than likely have looked into already, and found out what other teams also have, the cupboard is empty.
What ever they choose to do, it is vital that the offensive line improves. For Seattle to have that physical, bruising running game and to allow Russell Wilson to be more consistent in the passing game, it all begins with the offensive line. Along with the offensive line, the play calling of Darrell Bevell must also take a more consistent approach moving forward.
Consistent Play Calling
A big target of the complaints made by Seahawks fans was offensive coordinator Darrell Bevell. The offense for the Seahawks this season has looked good at times, other times…not so much. Multiple times this season, especially in the fourth quarter, the offense has seemed to hide its head in its shell, and go completely conservative.
Granted, Bevell has had the luxury of being able to fall back on what has been the number one defense in the league in the last two to three years, but when you see a team struggling to close as the Seahawks have early this season, you almost scratch your head to see a team go so conservative on offense. This falls on Bevell, but it's not an issue that can't be fixed.
It starts with Jimmy Graham and Marshawn Lynch, your bell cows, and getting them involved as much as you possibly can. After that he needs to make adjustments to his situational play calling. Too often this season, there have been play calls in certain situations that have made no sense. For example, a deep pass on third and two, passing when you should be running, and the inability to make the correct calls in the red zone. Although the execution of the offense also needs to improve, it is on the play caller to put his offense in a situation where the odds are in their favor.
There was gradual improvement in the play calling in the last two weeks for the Seahawks, but not enough to the point where this is no longer an issue - continue to build upon this improvement and this team will continue to head in the right direction. Another area that needs help, the special teams unit.
Higher Intensity in Special Teams Play
One major issue for this team at this very moment is the intensity you see from the special teams unit. Tyler Lockett has clearly earned the respect of the opposing team each week. Teams are now kicking away from him, and he hasn't had that opportunity to take one to the house since week three against the Chicago Bears. This hurts the Seahawks in terms of field position - they've not had many drives start beyond the 20 yard line because of it. There's really nothing about that they can do until teams kick it to Lockett again.
One thing that has been missing is the intensity that team has had in the past in regards to the kick coverage teams. That's been a unit that's electrified not only the crowd but the entire team in the past. It just seems to be lacking in the energy area. The reinforcements that should energize this group is on the way. Jeremy Lane, the team's top gunner in year's past, is going to be cleared to practice next week. Getting him back should be a huge boost to this unit.
Pete Carroll is constantly preaching the need to win in all three phases, and in order for that happen this special teams unit needs to ramp up the intensity in the coming weeks.

This bye week is essential for the Seahawks. It gives them a chance to get healthy, get right mentally, and fix these issues. If they are productive, as they have been in the past, then don't be surprised to see this Seattle team once again make a late season push.