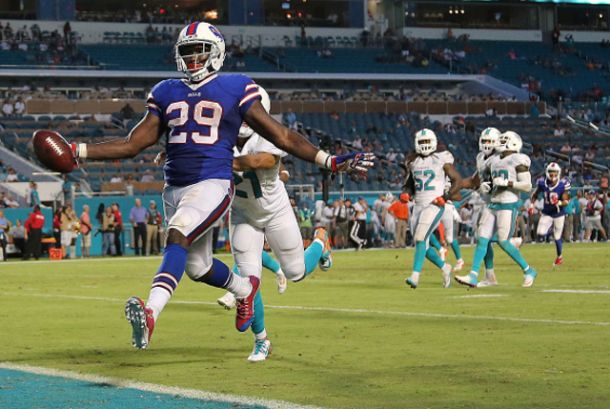 The Buffalo Bills looked like a different team the last time they played the Miami Dolphins. When they went to south Florida to take on the Dolphins in Week 3, they dominated from the opening whistle to the end of the game on both sides of the football in a 41-14 convincing win on the road.
For Buffalo, it was Karlos Williams who did the most damage on the ground, rather than LeSean McCoy. Williams gained 110 yards on just 12 carries and found the end zone. Tyrod Taylor was also terrific for Buffalo with 277 passing yards and three touchdowns.
On the other side, Ryan Tannehill gave up three interceptions to the Buffalo Bills and the Dolphins could not recover from a 27-0 halftime deficit.
Since that game, the Bills have struggled to deal with the injury bug and it has shown in their record. Buffalo is 1-3 since that dominating performance with losses to the New York Giants and Cincinnati Bengals at home and to the Jacksonville Jaguars in London. The Bills should not be too concerned as Tyrod Taylor did not play against either Cincinnati or Jacksonville.
Taylor is now back for the Bills and it should make an impact. EJ Manuel struggled in his starts this season with accuracy, composure and decision-making. Manuel would miss throws that should've been easy to convert, while making bad decisions that ultimately cost Buffalo those games.
With Tyrod Taylor, Sammy Watkins and Karlos Williams all returning to the lineup following their bye week, Buffalo's offense will get a much needed boost, especially considering the importance of this game. Both the Bills and Dolphins will treat this game as a midseason playoff game, in which the loser is pretty much out of contention for a wild card spot.
Miami will look to shut down the Buffalo run game. McCoy, Williams, and even Tyrod Taylor have great playmaking ability, and the Dolphins will need to shut that down or else they will be in for another long game. Buffalo's gameplan all season was to use the run to open up the pass and if they are able to do so against Miami again, they will dominate in a similar fashion.
This game should be much closer than the previous one, even though Buffalo still has the favorable matchup. Miami has looked better with Dan Campbell at the helm. They play with more effort and heart. It is always tough, however, to play well on the road in Buffalo. The Bills have had two weeks to get healthy and prepare for the Dolphins. With their talent, Buffalo does have the better team on paper, but have not put it all together yet. This game is so important to both teams. Whoever loses can pretty much kiss their postseason dreams goodbye.