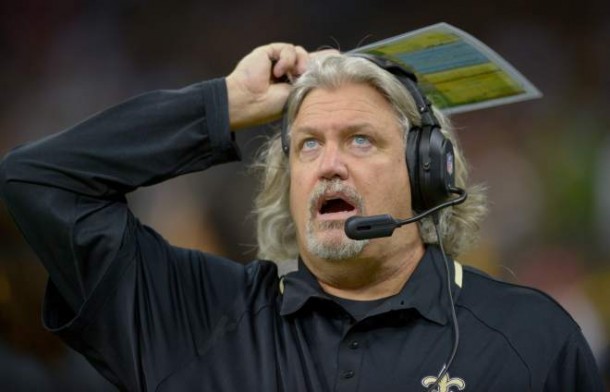 The New Orleans Saints have fired defensive coordinator Robert Allen "Rob" Ryan today according FoxSports.com. The Saints have confirmed the firing. This season the Saints are 4-6 and lost to the Washington Redskins this week.
The New Orleans Saints defense this season rank last overall in three categories; yards allowed per game, yards allowed per play and points allowed per game. The Saints have allowed 424.7 yards per game. They have allowed 6.7 yards per play. They have also given up 31.5 points per game.
Rob Ryan was named the defensive coordinator in 2013 for the Saints after the Bountygate scandal with former defensive coordinator Gregg Williams. According to Foxsports.com the Saints defense that year ranked 4th in the NFL. Last season the Saints ranked 31st in defensive stats.
According to FoxSports.com, New Orleans Saints Head Coach Sean Payton talked about Rob Ryan saying, "I'm disappointed for Rob it didn't work out. He's a fantastic staff guy. He's a guy that was respected greatly, not only in the locker room but by his peers. We just had to at some point look closely (at making a change) because the direction we were going wasn't good. We really struggled with substitutions, getting lined up, getting our guys the defensive call and being able to function."
Rob Ryan is the son of former Arizona Cardinals and Philadelphia Eagles Head Coach Buddy Ryan and the brother of current Buffalo Bills Head Coach Rex Ryan. Rob Ryan's hopes for being a head coach like his father and brother might be on hold now after getting the boot in New Orleans. The Saints have named Dennis Allen as the interim Defensive Coordinator for the remainder of the season. Allen was the Saints secondary coach when they won the Super Bowl in 2009.
Quarterbacks have torn up the Saints defense this season under Rob Ryan. New York Giants QB Eli Manning had a career high six TDs against the Saints. As well Washington Redskins QB Kirk Cousins had 324 yards, a perfect passer rating, as well as four TDs. Tennessee Titans QB Marcus Mariota had 371 yards and 4 TDs.
Sean Payton talked about the team saying, "It's a success-driven business. We've got some young guys that want to do well, want to please, some veterans the same way. Yet we've got to look closely at what we're doing and how well they're doing. But the main thing was, it wasn't going to be the same when they got back. It was going to be different. And it needs to be."
Next week the Saints have a bye. The week after that they go to Houston for a matchup against the Texans who played really well on Monday Night Football tonight, beating the previously undefeated Cincinnati Bengals.