Coming into this offseason, there are teams that are in need of quarterbacks. There are not many big names on the market (not that there usually is), making one of the most talked about free agent quarterbacks Sam Bradford, a former number one overall pick who has had an up and down career.
Reports out of Philadelphia say that the Eagles want to bring him back, but his agent has asked for a whopping $25 million a year. For a player that has 78 touchdowns, 14,790 yards and 52 interceptions in 63 NFL games, that's too much. Particularly since he has missed 33 games over his six years in the NFL. Only Drew Brees and Joe Flacco have a higher cap hit than $25 million for the 2016 season.
Bradford was key in luring DeMarco Murray to Philadelphia last season, so Bradford will at least listen to the Eagles as they try to keep him. The Eagles are also saying they won't franchise him, so it'll either be a multi-year deal or he walks.
New coach Doug Pederson has expressed his interest in former Kansas City backup Chase Daniel, whom he worked with while on the Chiefs staff. If he brings in Daniel, it could be as the starter; which would send Bradford elsewhere.
If he leaves, where does he go?
If Bradford does hit the open market, there will be some teams interested. The Houston Texans need a quarterback, but they have said they do not want to bring in a veteran but instead develop one of their own.
The Washington Redskins have a similar situation to the Eagles as their 2015 starter, Kirk Cousins, is a free agent as well. I do however think the Redskins will use the franchise tag on him. A team in a similar boat is the New York Jets, with 2015 starter Ryan Fitzpatrick a free agent. But playing for Chan Gailey in an offense he knows well likely keeps him there and the Jets out of the Bradford picture.
The Cleveland Browns are in perpetual need of a quarterback. Josh McCown played well last year but he is not the long term answer, and may not even be the short term answer. McCown said he is fine with being a backup, so maybe if new coach Hue Jackson wants to be competitive this season signing Bradford might be a possibility. But more likely than not, the Browns will draft a quarterback with the second pick in the draft and have him learn behind McCown for a year before he takes over in 2017, leaving little room for Bradford.
Another team to watch is the Denver Broncos. The Super Bowl champions may lose both of their top two quarterbacks from 2015, as Brock Osweiler is a free agent and Peyton Manning could retire. The Los Angeles Rams will also be looking for a quarterback, but I can't see them bringing back Bradford. They will likely go for someone else—perhaps one of the two Denver quarterbacks or even Robert Griffin III.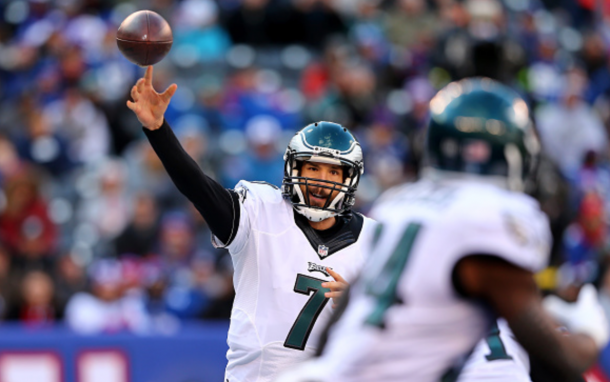 To leave or not to leave?
This writer's prediction is that Bradford will end up back in Philadelphia (at around $13-15 million, not $25 million) because of the fact he was crucial in bringing in Murray and the team believes in him. Furthermore Pederson will bring in Daniel as the backup in case Bradford gets hurt considering his lengthy injury history while Mark Sanchez gets released. If Bradford ends up changing zip codes, a short term deal in Denver could work if Osweiler leaves. John Elway would draft a young quarterback this year and have Bradford as a one year stopgap.