Although the biggest fish in the pond, Eric Berry, was snatched up during last week's franchise tag frenzy, there still remains quality options at safety for NFL teams to consider this offseason. From young and athletic, to old and savvy veterans, there are plenty of quality starters to be had on the third level in free agency.
Tashaun Gipson, Cleveland Browns
The Cleveland Browns have become a hot-bed of young safety talent for a couple years now. Following 2014's free agent darling, T.J. Ward, comes Tashaun Gipson. Gipson, 25, actually broke out in 2013 when he amassed 5 interceptions, 63 tackles, and a defensive touchdown playing free safety. He compounded on his stellar year in 2014, when he caught 6 interceptions and another defensive score.
With gaudy numbers between 2013-14, it is a bit of a surprise the Browns aren't expected to be bigger players in accessing Gipson's services going forward. Despite a down year in 2015, Gipson's youth will make him a hot commodity on the free market.
If the Browns aren't simply just playing coy in re-signing Gipson, a logical landing spot for him would be the Tennessee Titans. The Titans, who recently released Michael Griffin, need a young and capable safety that can routinely make plays in the secondary.
Walter Thurmond, Philadelphia Eagles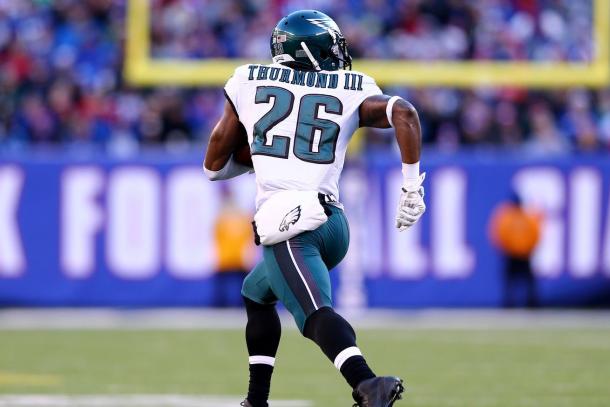 One of the littler known free agent success stories of 2015 was converted corner, Walter Thurmond. Once thought to be an up-and-comer playing for the Super Bowl XLVIII Champion Seattle Seahawks, Thurmond spend the last two seasons on two different NFC East teams (Giants and Eagles).
Statistically, Thurmond had his best season playing over the top. His 67 tackles, 3 interceptions, and 2 forced fumbles are all career bests. Thurmond also scored his lone career touchdown in 2015.
With the Eagles recently committing substantial financial capital to other free agents--including fellow safety Malcolm Jenkins--it doesn't appear the team is prioritizing a long term reunion. Given Thurmond's ties to the Seattle coaching tree, a position playing deep middle on the Gus Bradley coached Jacksonville Jaguars makes a lot of sense.
George Iloka, Cincinnati Bengal
For a 6'4" 225 lbs. 25-year old safety, George Iloka is making relatively little buzz in the free agency news wire. Iloka wasn't just a physical presence on the Cincinnati Bengal's defense, as he accounted for the team's aggressive demeanor within the secondary.
The Bengals have nearly all of their key secondary players unsigned heading into free agency, including Pacman Jones and fellow safety Reggie Nelson, which makes re-signing Iloka a test in patience and priority.
Although Iloka saw season lows production-wise in 2015, his youth and ability will significantly drive up his price. Atop the list of suitors are the Detroit Lions, whom have been rumored to be hot on Iloka's heels early in the legal tampering period. At the end of the day, Iloka is too young and too valuable for the Bengals to let walk.
New Team: Same
Eric Weddle, San Diego Chargers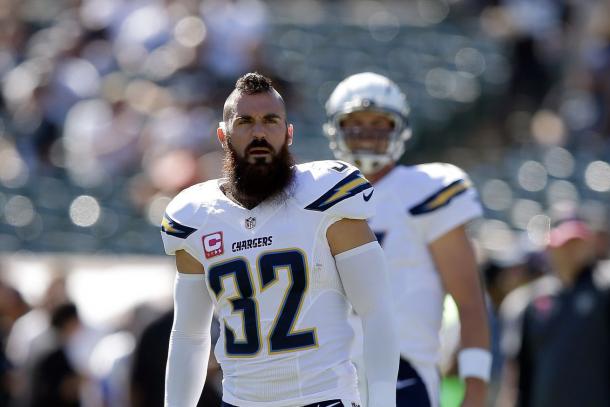 Perhaps the biggest name in this year's secondary free agent crop is former San Diego Charger, Eric Weddle. In perhaps the most conspicuous gesture to let a player know he's out the door, Weddle was fined $10,000 for staying out during San Diego's final regular season game to watch his daughter perform at half-time.
Whatever propagated the fractured relationship between the Chargers and Weddle, 31, will be irrelevant as the former 2-time All-Pro safety seeks one final contract to close out his career.
Weddle has recently made overtures to play the next 3-5 years with a contender which, according to Weddle, includes the Oakland Raiders. The Raiders have certainly come a long way in a relatively short amount of time thanks to G.M. Reggie McKenzie's draft day guile. Weddle, a California native, wouldn't have to move far to be a part of a silver & black resurgence.
New Team: Oakland Raiders