The Seattle Seahawks were bound to lose someone in free agency, and the first to go was pass-rushing linebacker Bruce Irvin. The Seahawks had tons of key players hitting free agency, so it was unavoidable with the asking prices on some of these players.
Linebacker Bruce Irvin will join the Seahawks' old AFC West rivals, the Oakland Raiders once the new league year starts on Wednesday. The NFL Network's Ian Rapoport tweeted the news, writing, "Source: The #Raiders will sign LB Bruce Irvin when the league year starts tomorrow. Out of nowhere."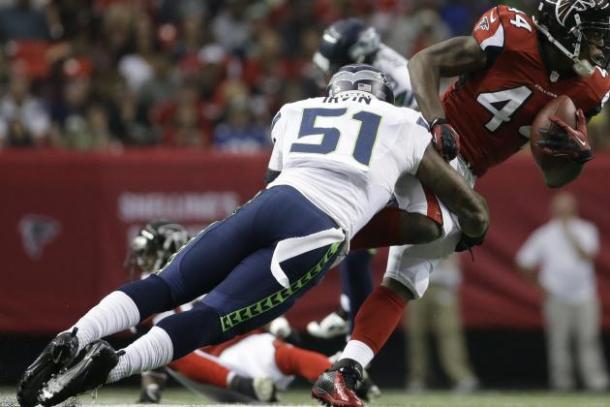 Surprising New Home
The move is somewhat surprising considering Irvin was widely linked with a move to either the Atlanta Falcons or the Jacksonville Jaguars to join up with one his former defensive coordinators, Dan Quinn or Gus Bradley.
While Irvin won't be joining Quinn or Bradley, who are the head coaches in Atlanta and Jacksonville respectively. He will be moving to a team with some familiar faces. The Oakland Raiders current defensive coordinator is former Seattle linebackers coach Ken Norton Jr.
Norton was Irvin's position coach when the linebacker was drafted in the first round of the 2012 NFL Draft. Along with Norton, fellow former Seahawks linebacker Malcolm Smith is also under contract with the Raiders.
Along with Smith and Khalil Mack, Irvin will give Oakland a strong linebacker unit heading into next season and beyond.
Career in Seattle
Irvin wraps up his time as a member of the Seahawks with a total of 96 tackles in four seasons. Initially a pass-rushing specialist, the former first-round pick transitioned to linebacker after his first season and thrived thanks to his athleticism.
In total, Irvin collected 22 sacks, while also adding seven pass deflections, four forced fumbles, three interceptions and two defensive touchdowns. In 10 career playoff games, the linebacker has 14 tackles, 3.5 sacks and a pass deflection.
Potential Replacements
It remains unclear at this point who will take Irvin's starting spot alongside K.J. Wright and Bobby Wagner. Incumbent reserve Kevin Pierre-Louis is an option, however Seattle could also look for a new outside linebacker in the draft, free agency, or on the trade market.