 Hampered by a torched corps of receiving targets towards the conclusion of the 2015 season with the absence of quarterback Aaron Rodgers' favorite weapon Jordy Nelson for the entirety of the campaign, the Green Bay Packers realized that bolstering the tight end position would be a priority for them heading into free agency.
Improving Rodgers' cast of characters at the position is just what Green Bay General Manager Ted Thompson focused on Monday afternoon, inking free agent tight end Jared Cook to a one-year contract worth $3.6 million.
Packers Bolster Weaponry
Cook was originally targeted by the Packers prior to the trade deadline this past fall when Rodgers was struggling to mold together a group of tight ends which featured Richard Rodgers, and Green Bay originally extended a formal offer to the seven-year veteran when he visited Wisconsin two weeks ago.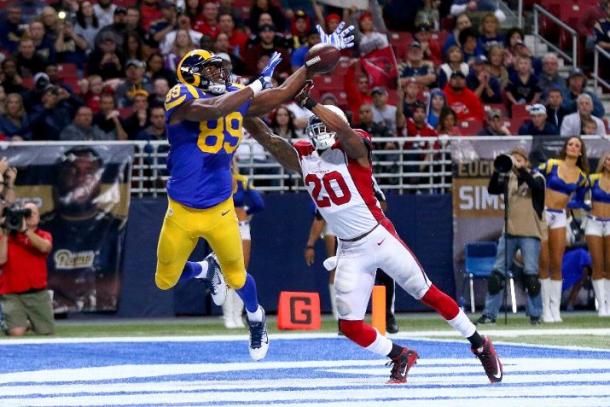 The Packers were not the only franchise to show interest in the South Carolina product, as he chose to join Rodgers and the high-powered offensive schemes of head coach Mike McCarthy over opportunities to join the defending NFC champion Carolina Panthers, the Atlanta Falcons, and the rival Chicago Bears.
Cook, standing 6'5" and weighing 254 pounds, will provide another vaunted facet to the Green Bay offense with his size, speed, and ability to run routes effectively. Expect Richard Rodgers to assume the majority of the run blocking duties for the team while Cook will be inserted into the huddle for passing situations.
The Georgia native's inability to live up to the expectations set by his signing of a five-year $35 million deal with the Los Angeles Rams, who released him on February 19 to shed off an $8.3 million cap hit, prior to the 2013 season had much to do with his lack of a consistent quarterback threat to throw him the ball.
Cook Finally Finds Suitable Quarterback In Rodgers
Over his tenure with the Rams, Cook thrived when current Philadelphia Eagles quarterback Sam Bradford was under center. However, these opportunities were limited due to Bradford's lengthy injury history. Cook was forced to cope with the likes of the ineffective Nick Foles, Austin Davis, Kellen Clemens, and Shaun Hill throughout the past few seasons, resulting in outputs like his 39-reception, 481-yard, zero-touchdown showing in 2015.
The 2009 third round pick first broke onto the scene in 2011 while with the Tennessee Titans, catching 49 passes for a career-high 759 yards and three touchdowns. He enjoyed solid outputs with the Rams in both 2013 and 2014, grabbing 51 balls for 671 yards and five touchdowns in his first season in St. Louis before recording 52 receptions for 634 yards and three scores the following season.