 Detroit Lions quarterback Matthew Stafford told ESPN that the Lions will be harder to stop without Calvin Johnson, the team's leading reciever for seven of the last nine seasons.
Calvin attracted coverage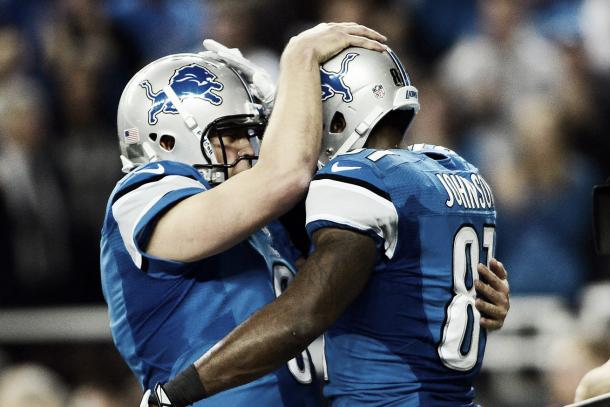 One thing that nobody doubts about Calvin Johnson is that he's one of the best wide receivers in the NFL since he entered the league out of Georgia Tech.
Due to this, he attracted double, and at some times, triple teams. The Lions, in particular Stafford, still continued to throw to him despite this, and it worked. Stafford has become one of the leagues most underrated quarterbacks, often times finishing amongst the leagues best in passing yards.
The best part about Johnson attracting other coverages did, was leave the rest of the offense more free. Golden Tate has become a huge weapon for the Lions in part because he was often-times single covered.
With Calvin Johnson gone, teams will either balance out their coverages and make it harder on everyone, use the extra player or two on pass rush to get to Stafford, or eliminate the Lions best player, which for now would be Golden Tate.
Can the Lions prove Stafford right?
Marvin Jones still needs to prove himself in Detroit, Eric Ebron needs to prove he can make a consistent impact, and Golden Tate must continue to show he can be a top target, and there must be an improvement in the run game for the Lions to do Stafford right.
There are several offenses who have thrived on spreading the ball around, like Peyton Manning. There are also several offenses that thrived with one main guy, and a bunch of supporting cast, like Tom Brady and the Patriots. Whether the Lions prove Stafford right will ultimately come down to himself, and the offense given to him by Jim Bob Cooter and Jim Caldwell.