 From the beginning of May to the start of training camps in June, the NFL is subject to the unfamiliar feeling of lack of attention. Both the NBA and NHL playoffs are in full swing, and while the NFL is never quite out of view for most sports fans in the United States, it's still diminished enough to where the biggest news this time of year are where the undrafted free agents are signing.
In this rare convergence where the tide of professional football has receded, opportunities for creative "cross-pollination" occur. The spotlight never shines brighter on the NFL than it does this time of year due to the yearly recession of NFL coverage. With the NBA playoffs now in the conference championship phase and the league MVP, Stephen Curry, being the first unanimous recipient of the award, one would think there isn't possibly a way to siphon that well deserved attention to the National Football League. One would think…
Inspired by the abominable creations of Dr. Moreau's island, this article attempts to realize the connection between stars in the NFL and the NBA. This isn't a direct comparison of athleticism, role, attitude, or skill, but rather an equivalency test which considers all those elements, and a touch of creativity. Below are nine NBA and NFL stars who relate to each other across the white lines and hardwood.
Stephen Curry - Antonio Brown
Right now, there may be no player who is hotter in all North American sports than Stephen Curry. Despite his relatively diminutive stature and average raw athleticism, Curry has displayed a type of dominance never emulated in the modern NBA.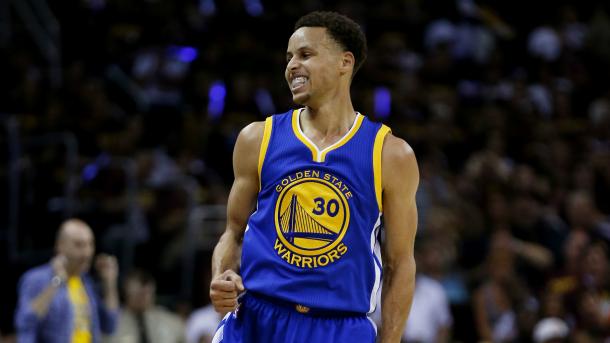 It is admittedly difficult to find an appropriate NFL comparison for Curry, but when the aspect of athleticism to dominance ratio is considered, Antonio Brown makes a convincing candidate. Like Curry, Brown's stats are nothing short of ground-breaking. And also like Curry, Brown is decidedly "middle of the pack" when it comes to athleticism at the receiver position. While Brown isn't consistently breaking his own records like Curry does on a seasonal basis, he's the type of player who consistently bumps on the all-time great bar.
Lebron James - Aaron Rodgers
The easy NFL comparison for Lebron James would be the NFL player who stands far ahead of his peers athletically. After all, when it comes to dexterity and strength at James' size, he has no equal perhaps in any sport. Instead of trying to find a physical match for James, the easier task was to match his personality and impact.
Like James, Aaron Rodgers possesses a distinct type of quiet arrogance which can sometimes be off-putting and always marketable. Rodgers is one of the few recognizable faces in the NFL, and since the retiring of Peyton Manning, he's probably the most likely to be seen performing during commercial breaks. To further the comparison, Rodgers and James often do things that are unconscionable in their respective sports. Rodgers' far hash on a rope throws to a receiver's outside shoulder is his version of a tomahawk slam dunk.
Kobe Bryant - Peyton Manning
For these matinee watching, early bird special eating athletes, their connection is all too appropriate. Both retiring in 2015-16 seasons, Bryant and Manning went out with a bang in different ways. Despite emulating the Goodyear Tire mascot for much of his final season, Kobe Bryant lit up the scoreboard in classic style for his last performance. Similarly, Peyton Manning hoisted his second Lombardi Trophy on his second horse-based team of his career.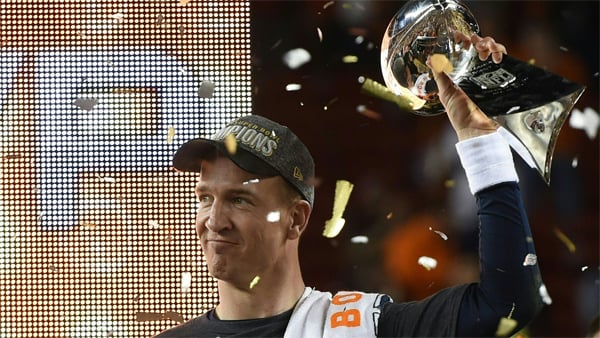 Ultimately, these players are tied at the hip due to their career accomplishments (and subsequent declines.) It would be hard to imagine a reality where both Kobe Bryant and Peyton Manning aren't in the all-time top five conversation at their respective positions.
Dwight Howard - Cam Newton
Coming into this article, some might have speculated Cam Newton and Lebron James as the ideal cross-sport comparison pairing - not so. The matchup of Howard and Newton has more to do with personality and perception than performance. When they're not smiling, Howard and Newton are subject to criticism from every angle. From Howard's fumbling of his transition out of the Orlando Magic and Los Angeles Lakers to Newton's postgame Super Bowl interview, these highly athletic and often mercurial athletes share an interesting bond.
At the end of the day, both players are specimens of the highest order and have led their teams to championship appearances. The challenge for Newton is for him not to fall from grace the same way Dwight Howard seemingly has.
Kawhi Leonard - J.J. Watt
If Curry's the hottest name in the NBA today, Kawhi Leonard is a burning ember toiling in the shade. The latest hype around Leonard have him as arguably being the best two-way player in the game today, ahead of Lebron James. While the NFL has evolved past the days of two-way athletes, J.J. Watt might be the closest thing to a two-way player in today's league, scoring three receiving touchdowns in 2014.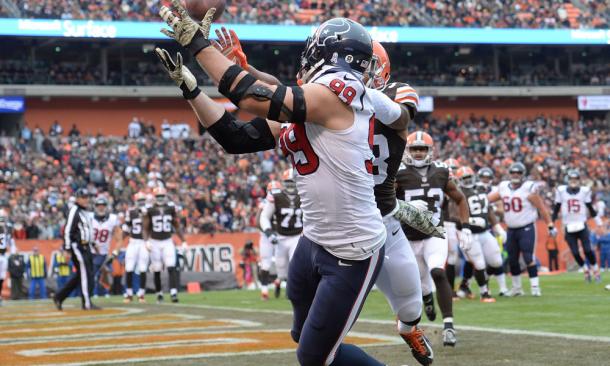 Speaking of two-ways, Kawhi Leonard preferred methods of communication seem to involve the more inaudible kind, as most can't seem to muster a mental audio of what his voice sounds like. Although Watt has been the subject of more off-field buzz, he's a relative mute when compared to some other NFL players. At the end of the day, what really brings these two together is their commitment to perform at the defensive end.
Chris Paul - Drew Brees
There are guys in every team sports who seem to galvanize other players around them like on on-field/court coach. Since he's entered the league, Chris Paul has been viewed as the hyper-competitive type who passionate about winning, whether it be a NBA playoff game or a celebrity bowling match.
Above all, Paul is a player who wins through getting others involved and the same holds true for the New Orleans' Saints Drew Brees. Like Paul, Brees has a magnetic personality and exudes leadership. Even physically, both players are relatively diminutive at their potential given the contemporary standards.
Tim Duncan - Tom Brady
Something all great athletes have in common is that they make success seem routine and sometimes even "boring." Tim Duncan has long been the poster child for making winning a part of his process and it is no small part due to his relationship with San Antonio Spurs head coach, Gregg Popovich.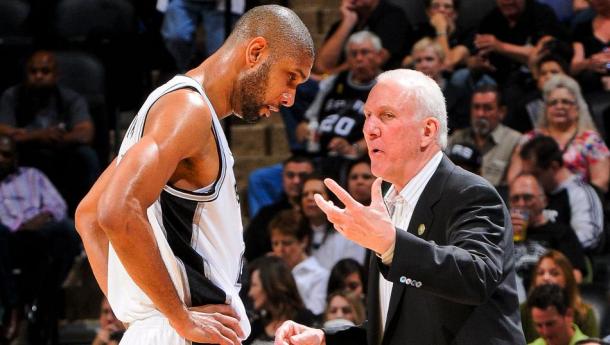 Like Duncan and Popovich, Tom Brady and Bill Belichick have become the de facto favorites in their sport on a yearly basis. Also like Duncan, Brady has made a living being fundamentally sound and not playing with a whole lot of flash. Perhaps the biggest difference between the two is Duncan has the edge with five total championship rings, over Brady's four.
Russell Westbrook - Odell Beckham Jr.
In the age of the whip, dap, drop, and every other contemporary hip-hop derived dance, Russell Westbrook and Odell Beckham are the preeminent dancing queens. Their style and similarities extend far beyond the dance floor, though, as both play with a brand of explosiveness and dynamism bred from their physical gifts.
Even their temperaments are similar. Beckham infamously got into an on-field kerfuffle with former Carolina Panther, Josh Norman. While Westbrook hasn't been involved in quite the same high-profile confrontations, get in-between his pre-game dance session and the gloves come off.
Kevin Durant - A.J. Green
Length is a valuable trait in nearly every athletic sport and no two players exemplify that more than Kevin Durant and A.J. Green. Perhaps supported by their equally lean frames, Durant and Green also share a relatively meek demeanor when compared to their contemporaries.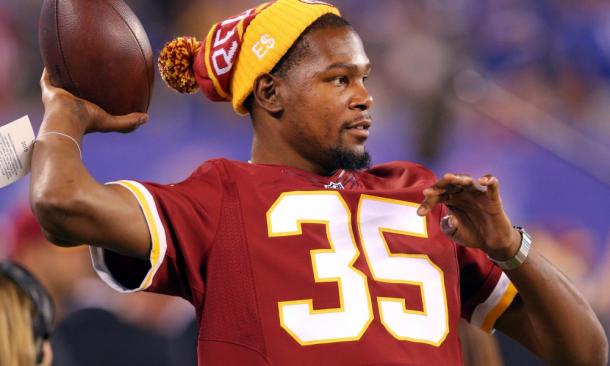 Further, both Green and Durant are very, very, good players. Green has been a top five receiver from nearly the minute he stepped on the field and has never amassed less than 1,000 yards in a season. Keeping in step, Durant has never been less than a 20 point per game player and eclipsed the vaunted 30 point mark two times in his nine-year career.