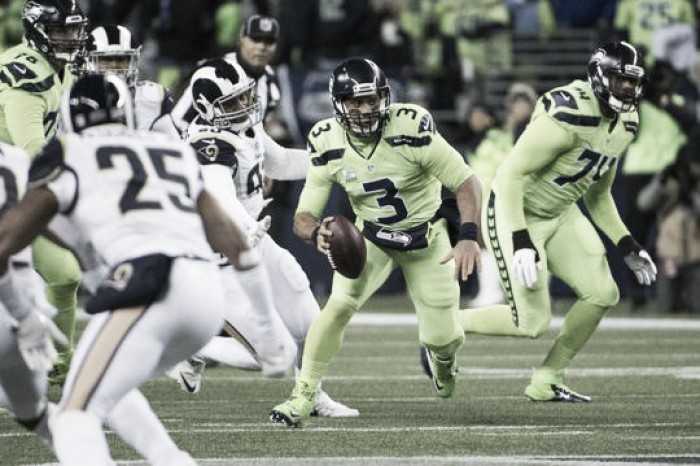 Seattle Seahawks continue their dominance over the rest of the NFC West. They, aided by a stellar Russell Wilson, clinched another division title with a 24-3 victory over the lowly Los Angeles Rams at CenturyLink Field on Thursday Night Football.
But the game could have been so much different in Following punts by both sides on their first possession, it looked as if the Rams were going to get on the board first.
Jared Goff started the drive by completing a short 6-yard pass to Kenny Britt. Then, LA added in some running plays as Todd Gurley racked up 11 yards on a carry and two more on the very next play. Los Angeles marched down the field until the drive stalled down inside the 10. They went for it on 4th and 1 at the 7, as Goff handed the ball off to Gurley. Gurley fought for the first down, and following a challenge from Pete Carroll, did not cross the marker.
Seattle jumps out to an early lead
Immediately after that, Seattle struck. It was not the prettiest of drives, Wilson missed a couple of easy targets and was sacked at the line of scrimmage, but a couple of big plays helped the Seahawks along their way.
The 27-year-old hit Tyler Lockett with a 29-yard pass to get them away from the opposition's end zone. On a third down play, Dominique Easley hit Wilson late giving the Seahawks free 15 yards. Wilson eventually hit Luke Willson for an 8-yard score.
One of the things interim head coach John Fassel said before tonight's game that his team was going to go for it on fourth down often should the situation call for it. And with 10:52 remaining in the opening half, the Rams lined up for a punt. However, John Hekker, one of the better punters in the league, attempted a fake, but his pass fell short.
That gave the Seahawks great field position as they tacked on three more points three plays later. LA added a field goal of their own before the first half ended.
Seahawks continue to pile on in the second half
Seattle added to their lead early in the third quarter, scoring two more touchdowns to go up 21 points.
Jimmy Graham did work on after Wilson hit him with a short pass before racking up more yards after contact, winding up on the 14, 31 yards later. Wilson continued his impressive grove by adding nine yards more to his total.
This drive, though, could have nearly ended in disaster. Graham almost came away with a touchdown, but Bryce Hager fought for possession and came away with the ball. However, replay gave Seattle control once more. Two plays later, Wilson found Doug Baldwin wide open for six more points.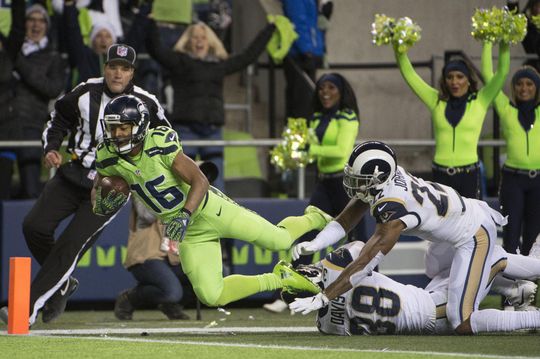 Russell Wilson put the final nail in the coffin 11 seconds into the final quarter. Lockett added another big-time catch to his resume when he caught a pass in stride in behind the Rams' secondary.
Coming up
The Los Angeles Rams will want to salvage something from their last two games. First, they will welcome the San Francisco 49ers next Sunday afternoon. The Seattle Seahawks will welcome in the Arizona Cardinals next Saturday on Christmas Eve.