This is Aidan Thomas, signing off! Thanks for joining me for this livetoday! Check back for the recap soon!
MVP of the Game goes to Dion Lewis, who completed the touchdown cycle with a kickoff return TD, rush TD, and receiving TD
The Patriots set the record for most conference championship appearances in a row with six.
The Texans end at 10-8, falling to 0-3 in their divisional round history.
The Patriots move to 15-2 with an 8th straight win, riding a dominating performance in the second half, outscoring the Texans 17-3 to claim the victory. New England will host either Pittsburgh or Kansas City next weekend
And the Patriots will kneel down until the clock runs out.
Patriots running the ball to the two-minute warning, as Blount picks up 18 yards, across midfield.
Osweiler started 13-20 with a TD and no picks. The second half, he has tossed three INTS.
And that does seal it. Osweiler throws another pick at the goal line, Harmon on the INT for New England
Dumps it to Grimes, who makes something out of nothing, gains fifteen yards.
Holding backs Houston up to a first and twenty
Osweiler connects with Grimes for 11 yards
Osweiler finds Fiedorwicz for 17 yards! Texans in business, at the NE 42
Grimes plows ahead for five yards to the 41 yard line
Incomplete, stops the clock at 6:01 to go, 2nd down
Osweiler completes a pass for a first down - Grimes on the catch
Touchback
Gostkowski drills it, and nearly ices this one. Up 3 scores with 6:37 left
Lewis fumbles, but the Pats recover, and Gostkowski is on to attempt a 43-yarder
Incomplete, and the Patriots are just content to run it on third down
Brady goes for the touchdown but overthrows his target. 2nd down
Bennett was able to jog off on his own power
Martellus Bennett is shaken up...looks like his knee gave out on him
Lewis goes nine yard on first down, then cuts back on second down for a first down
Amendola takes a double reverse and goes 15 yards, with the help of a big block from Brady
Going for the home run once more, Edelman couldn't quite haul it in
Reverse end-around to Edelman, who picks up 13 yards and a first down
Blount gains four on first down
Fun factoid of the day: There are 2 players playing today from the 2000 NFL draft: A fifth-round pick and sixth round pick. Houston's punter Shane Lechler (5th round). Oh, and some guy named Tom Brady
Osweiler completes to Hopkins for about 12 yards. Still not enough for the first down and Houston punts it.
Loss of eight yards, 3rd and 18
Osweiler taken down by Malcolm Brown for a big sack!
Miller stuffed on first down...12 minutes left as Houston goes into a hurry-up offense
Lewis gets it this time! Denied on his first effort, his second-effort plunge for a New England touchdown, and it's 31-16
Lewis breaks a tackle off of a pitch, but he is denied his third touchdown, getting smacked at the one
So much for that idea. Hopkins elevates for a pass, deflects it, and Logan Ryan makes the diving interception and returns it back to the Houston 5
Ryan Allen pins the Texans at the 10. Houston is 90 yards plus a 2-point conversion from tying this one.
Edelman has had a big game, but he couldn't come up with a big play there, dropping a pass at the first down marker.
Edelman grabs a short pass but slips for just a 3-yard gain
Brady was crunched on that play, and his high pass falls incomplete. 2nd down
Brady dumps it to the speedy Lewis who converts the first down. Clowney's roughing the passer penalty tacks on fifteen more
Blount takes a toss for about 2 yards. He only has 8 yards on just five carries
Novak, dealing with some injury issues flushes it through the uprights to make it a one-score game. 24-16 Pats
Badly overthrown pass leads to a 46-yard field goal attempt by Novak
Final play of the third quarter and Hopkins picks up four yards off a short slanting route. 24-13, but the Texans are driving heading into the fourth
Alfred Blue picks up three yards on a pitch for the Texans
Brady matches his season total for interceptions, with the second of the game. Houston ball at the New England 35
Incomplete, as Martellus Bennett bobbles it out of bounds
Receiver Chris Hogan is out with a thigh injury currently for the Pats
Floyd breaks a tackle to pick up a first down after catching a screen pass
Lewis jukes one defender, trucks another, to get 4 yards
2 minutes left in the quarter. A touchdown drive here would essentially be the last nail in the coffin for the Texans, barring a big comeback.
Rookie Jitters for Will fuller out of Notre Dame who drops a perfect pass in the end zone for Osweiler. Houston punts to the 10
Call overturned, penalty waved off, and the only result is an incomplete pass. 3rd and 8
Ruled a fumble on the field but an illegal substition on the Pats side brings the return back...play is under review
Osweiler hit as he throws. Texans think it's incomplete. Pats think its a fumble, and run it back. Decision still to be made
Miller gets a couple on first down
Defensive penalty gives the Texans a free first down in New England territory
Osweiler shows his wheels, scrambling for 18 yards
Houston timeout. 3:51 to go in the third
Miller snags an underneath pass, but he is hit hard by Dontae Hightower for just a 5-yard gain. 3rd down
Miller popped at the line of scrimmage for no gain, maybe half a yard
Hopkins elevates for a great catch just past the New England 20 and a great completion. Clock ticking down to just over 5 minutes remaining in the third
Texans would have had a first down, but Fiedorwicz drops a pass. 2nd down at the 2
What a punt! Allen pins it at the two, where Matthew Slater catches it in the air to pin the Texans deep
And another incompletion forces a punt
Brady throws incomplete to Edelman...3rd and long at Houston's 40
Michael Floyd is flagged for offensive pass interference. Still 2nd down, but now it's 2nd and 20
Incomplete on 2nd down but a flag on the play...
Incomplete on 1st down
26-yard completion
Edelman catches the big 3rd-down pass!
Good protection, but great coverage by Houston, and Brady throws it away
Brady throws incomplete on first down
New England takes over near midfield, though still in their own territory
Devon McCourty read Osweiler perfectly, hopping in front of DeAndre Hopkins for the pick!
INTERCEPTION!
Osweiler completes a 4-yard toss underneath to Miller...3rd and 4
15 carries for 67 yards for Miller
Miller drives ahead for two
Quick play-action and Osweiler zips a pass to Hopkins for 15 yards
Touchback on the kickoff
9 plays, 90 yards for the Patriots on that drive
TOUCHDOWN! James White comes bolting out of the backfield and hauls in a 19-yard touchdown pass from Brady. 24-13 Pats.
Brady throws incomplete...3rd and 3 with 9:14 to go in the quarter
Edelman with another 7-yard grab. 6 catches for a 108 yards now
Lewis flashes his elusive running skills, gaining four for a first down
Edelman snags a pass for a gain of seven
well, so much for that, the Pats convert the first down anyways, 20-yard completion to Hogan
Holding puts the Pats in a 1st and 18
Quick completions of 26 and 14 yards to Edelman and the Patriots move from the 10 to midfield
Very sorry for our delay! Major connection issues that were being fixed during halftime took a little longer than expected. The two teams exchanged punts to start the half
Clock expires during a short kickoff return. 17-13 at the half! This game is closer than most expected. Patriots fans may be a little worried as the 10-7 Texans are doing far better than they expected.
Patriots go for a field goal and Gostkowski nails the chip shot for a 17-13 lead. Pats will be receiving the second half kickoff. 7 seconds left
1-yard out with 10 seconds left
Blount is stopped! 4th and Goal
A completed pass to James Devlin is about a foot shy of a touchdown! 3rd and goal with 19 seconds left
With his options covered, Brady runs it down to the one yard line
Brady finds Hogan on an outside slant, complete inside the five-yard line for a first and goal
Lewis cuts back and gets about 6 yards - 3rd and 2
Lewis pushes ahead to the Houston 16-yard line for a 2-yard gain. 2-minute warning coming up
Another big play! The pass protection gives Brady plenty of time in the pocket for once and the result is a 48-yard completion to Edelman
The pass protection is just not there for New England. Brady takes a shot after an incomplete pass
Lewis picks up just one yard on first down
A return over midfield is negated by a block in the back, and, with 4 minutes to go, the Pats will get the ball near their own 30-yard line
Osweiler incomplete and Patriots should get good field position after this punt
Miller for 4 more
Miller plunges ahead to about the 7-yard line for about 3 yards
The Pats elect not to try a 55-yard attempt and pooch-punt the ball inside the 5-yard line
And Brady is sacked again! Four yard loss
Lewis gains four yards...3rd and 6
Incomplete on first down. 2nd and 10
BIG PLAY BRADY. Brady unleashes a bomb as he gets hit, and Hogan makes the reception for 45 yards to the Houston 38
Lewis can't quite make the back-shoulder catch on 2nd down. 3rd and 10
Brady starts from his 17 and has his first down attempt broken up
Logan Ryan breaks up a third down pass and Houston punts
Miller gets 5 yards on 2nd down
Osweiler tosses incomplete on first down
Texans start near midfield after solid punt return
SACK! Pats will punt as Texans brought some heat and bring down a scrambling Brady for a loss of four. Cushing and Mercilus on the sack
Brady completes to Martellus Bennett for 3 yards
Blount for two yards
New England starts at their 17
Fake reverse handoff leads to a wide open Fiedorwicz in the end zone. 14-13 after Novak's PAT
A little trickery gets Houston a touchdown!
Miller hit hard for just a 2-yard gain
Houston takes over at the NE 13
The Pats fumble the kickoff return and Houston recovers
AND ANOTHER NEW ENGLAND TURNOVER
That's got to be considered a win for the Patriots - the Texans barely moved the ball after an interception deep in New England territory.
Novak's kick is true from 27 yards. 14-6 Patriots
Akeem Hunt with some great jukes, but he falls 2 yards shy of the first on a screen pass
Osweiler overthrows Fuller in the end zone. Third incomplete pass in the end zone for Osweiler.
On 1st and 20, Miller gets 4 yards to the New England 22
Devon McCourty almost made a pick for the Patriots, but the pass falls incomplete, and Houston is called for holding.
Miller for 4 yards
It was A.J. Bouye on the INT for Houston
Fuller snags a 7-yard catch. 2nd and 3
Well there are some turned tables...Brady tosses just his third pick of the year on a deflection. Houston takes over at the New England 27
Play-action backfires. Lamar Miller is caught in the flat for a one-yard loss. Houston punts for a touchback.
Osweiler, passing again on the last play of the quarter, 7 yards to Keith Mumphrey for a 3rd and 1 as we head to the 2nd quarter
Osweiler-Will Fuller for 2 yards
New England's defense has got to be tired though, but will the wind be out of Houston's sails?
Short kick returned to about the New England 28
14-3 Patriots, 1:00 left in the quarter
TOUCHDOWN and no flags on the return
98-yard kickoff return for the Patriots
DION LEWIS!!!!!
Nick Novak kicks a 33-yard field goal. 7-3 Patriots. 1:19 left in the first quarter
Osweiler's pass is complete but for just 2 yards
Lamar Miller bounces outside for four yards
A near miss...C.J. Fiedorwicz has a potential TD pass go off his hands
3 minutes left in the first quarter
Grimes plows ahead, close to the New England 20
Osweiler running at a fast pace now, drilling another completion for 9 1/2 yards
Osweiler zips a bullet to Jonathan Grimes for seven yards
Miller gets nowhere and a big third down for both the New England defense and the Houston offense. 3rd and 3
Miller churns ahead for 7.
Miller gets some receiving yards this time. Finds Lamar Miller in the flat underneath for 6 yards and a first down
Miller for about 5 yards to the 45-yard line
Sorry for the delay, brief internet issues. New England had the Texans on 3rd and 18. A personal foul for the Patriots give Houston a first down at the Houston 40.
10-yard penalty - pass interference on Hopkins and it's 1st & 20 for the Texans.
Houston starts at their own 23-yard line.
PAT is good and it is 7-0 New England...9:27 remaining in the first quarter
6-0 with the PAT pending. That was a 3-play 65-yard drive for the Patriots, fueled by a 30-yard pass interference call.
TOUCHDOWN PATRIOTS! Brady with a short dump off to Dion Lewis, who races 13 yards for the touchdown!
Brady targets Hogan again, this time to the right. Hogan makes the grab and runs for a 22-yard gain. In the red zone, at the 13
Tom Brady goes for the home run ball on first down, firing deep down the left sideline. Incomplete, but Chris Hogan draws the pass interference for a 30-yard penalty. New England into Houston territory at the Houston 35
Houston punts the ball back to the New England 36, where Brady gets his second shot at Houston's #1 ranked defense.10:15 to go in the first quarter
That was quick. Osweiler throws incomplete again and Houston will punt. Neither team has picked up a first down yet.
Osweiler is incomplete and it's third and long for the Texans
Miller gets two yards on first down
Houston's offense is back on the field with 11 minutes to go in the first quarter
They elect to punt and Ryan Allen arcs the ball 34 yards to the 19 yard line...probably wanted to flip the field a little better than that.
Pats face a 4th and 2 at their own 47.
And Jadoveon Clowney with the big play! Stuffs Lewis for a loss of one!
Dion Lewis plows between the hash marks for 3 yards. 3rd & 1 here in the early going for New England.
Edelman catches a short pass for 6 yards
A 47-yard punt is returned 14 yards by Julian Edelman. Brady and Co. will take the field at their own 39-yard line. Just over 13 minutes to go in the first quarter.
Not a great start for the Houston offense. Osweiler is sacked for a loss of three yards by Rob Ninkovich!
Lamar Miller follows the right guard for two yards, 3rd & 4 at the Houston 31
And it's Brock Osweiler coming out firing on his first snap from scrimmage. 4-yard gain to DeAndre Hopkins
Houston receives the opening kickoff
About 10-15 minutes from kickoff at Gillette! The earlier playoff game has ended. The Atlanta Falcons upended the Seattle Seahawks 36-20. Home teams are 5-0 in the playoffs thus far...the Patriots will look to make it a perfect 6 for 6 tonight!
The Texans enter the game as 16-point underdogs. Only one team has won a playoff game when underdogs by that much in the Super Bowl Era - the 1969 Jets who were 18-point underdogs in the Super Bowl but came away with the victory. Can the Texans pull off what would go down as one of the top upsets in history? Tune in at kickoff to find out!
Not only does the stat sheet not point the Texans' way on Saturday, neither does the history between the two teams. The Patriots are 7-1 against Houston all-time, and undefeated at home against the Texans. They won the lone playoff game between the two squads, 41-28, at Gillette Stadium. Can Houston turn the tables and avenge the recent history between these two teams?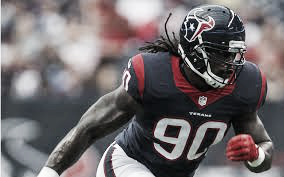 The Texans will need a small miracle to defeat the Patriots on Saturday, and that is no small secret. They were unable to put a point on the scoreboard in New England earlier this season, and their #1 ranked defense gave up 27 points to a team without Tom Brady. Their key on Saturday to have a chance will be Brock Osweiler having a serviceable game at quarterback, putting at least 27-30 points on the board, as well as early defensive pressure. Dealing with a diverse receiving corps in New England will be a struggle, but if they can generate some pressure on the 39-year old Brady, they might have a chance in neutralizing their receiving threats. If they force New England to go to their running game, their talented linebackers will have a shot at slowing down the red-hot Patriots' offense. Jadoveon Clowney will need to be a sparkplug for the Texans.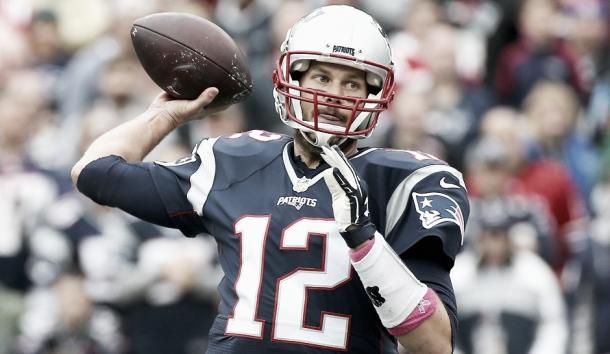 The Patriots keys to success will be to pound the Texans early. Although running back LeGarrette Blount is questionable ready, Brady has all four of his primary receivers active for the first time in over a month, plus recently signed Michael Floyd. Dion Lewis and James White can fill in with the running game if their power runner is unable to take the field. With a defense giving up 15 points a game versus a Texans' offense that has yet to score more than 27, a couple of early touchdowns could dump Houston in a big hole. Look for Brady to use his multi-faceted aerial attack early to try and put Houston in a big hole, before using the run game to drive the nails into the coffin.
The Texans are widely regarded as the worst playoff team remaining. They lucked out with a first-round matchup at home against the injury-plagued Oakland Raiders. With their top-ranked defense, the Texans terrorized rookie third-stringer Connor Cook into a plethora of mistakes, for a 27-14 win. Still, the Texans are just 10-7 entering the game, having emerged atop an ugly AFC South division, beating out the Tennessee Titans on a tiebreaker. They started off the season 2-0 but took a sharp dose of reality in their 27-0 clunker against the Brissett-led Patriots. Two weeks later, they were 18-point losers against the Minnesota Vikings. They saw the same margin of defeat two weeks later in a 27-9 loss to the Denver Broncos. They escaped with a few narrow wins in the following weeks, mixed in with losses to the Raiders, San Diego Chargers, and Green Bay Packers. On December 18, the Texans benched quarterback Brock Osweiler in favor of Tom Savage, who engineered a 21-20 comeback win over the Jacksonville Jaguars, likely saving their season. Savage clinched the division with a win over the Cincinnati Bengals the following week. However, a concussion has thrust Osweiler back into the spotlight heading into the playoffs.
The Patriots are overwhelming favorites in this matchup, entering the game on a 7-game winning streak and owners of a 14-2 record. Their lone loss with starting quarterback Tom Brady at the helm was a 31-24 gut-wrencher on Sunday Night Football versus the Seattle Seahawks. The Patriots are 4-1 against teams that made the playoffs this season, including a 27-0 victory against these very same Texans, with 3rd-string quarterback Jacoby Brissett at the helm. The Patriots are averaging over 30 points per game in their last four games, including 38 per game over the final two games of the season, blowout wins over the Miami Dolphins and New York Jets. The Pats are looking near impossible to slow down, and their defense has allowed opponents more than 17 points just once during their win streak, and just five times all season.
Hello, and welcome to VAVEL USA's live coverage of the NFL Playoffs Divisional weekend. My name is Aidan Thomas and I will be bringing you play-by-play updates of the New England Patriots vs. the Houston Texans at Gilette Stadium. Kickoff is scheduled for 8:15 PM EST on CBS.