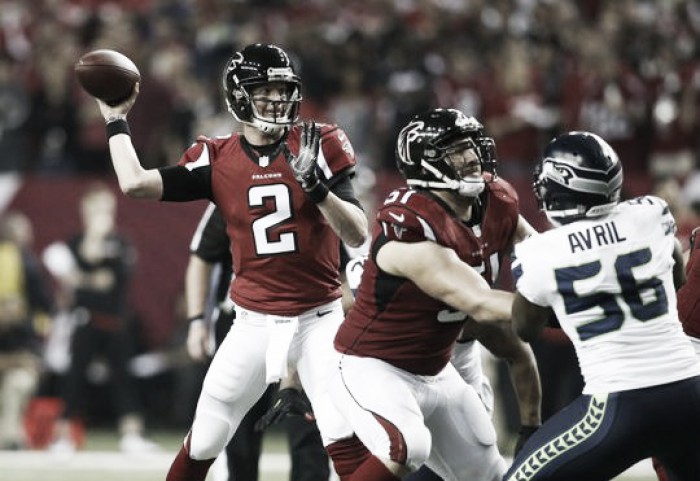 The Atlanta Falcons eliminated the Seattle Seahawks from the NFL playoffs, with a 36-20 win in the NFC divisional round.
First quarter as good as it gets for Hawks
Unbelievally, the Seahawks actually led this game 7-0 at the end of the first quarter, as both teams moved the ball well on their opening drives. Seattle were up first though and they went down the field in 14 plays, with Russell Wilson completing four out of four passes for 40 yards, the final of which found tight end Jimmy Graham for a seven yard touchdown pass.
Atlanta put up a similar response, however, with Matt Ryan and Julio Jones getting their connection going early. They pair hooked up for three completions worth 22 yards, the final of which was a seven-yard touchdown. This opening drive was a sign of things to come for Ryan as he went six of seven for 49 yards on this series.
Special teams changes the momentum
The second period, in most likely the last ever game at the Georgia Dome, was all about special teams plays. First of all former Falcon returner, Devin Hester, took a kickoff back 50 yards to give Seattle good field position for a short drive leading to a 33-yard Steven Hauschka field goal.
Then, Hester was at it again as he returned a punt 70 plus yards inside the Falcons 10 yard line, but it got brought back because of a penalty and pinned Pete Carroll's team back inside their own 10 yard line. The Seahawks indifferent offensive line could not handle the pressure which led to a safter after Wilson was tripped up by his right guard.
The resulting deep punt then allowed the Falcons to get great field position for their next drive. This led to a first Matt Bryant field goal of the day from 35 yards.
The next special teams action for Seattle would actually go right, as a John Ryan punt would pin Atlanta back at the one yard line. It would not matter, though, as the Falcons went 99 yards down the field in the final three minutes before half time, mainly on the arm of Ryan. This drive finished with Tevin Coleman being wide open in the back left corner of the endzone for a 14 yard touchdown catch.
Third down is a killer
The Seattle defense were in dire need of a stop to start the second half in order to keep them team close in this one. But, once again, they could not get off the field in third down situations and were ulitmatley wore down by the impressive Matty Ice and his array of recievers to throw too.
To add to Seattle's woes on defense, the running game started to become more of a factor for Atlanta. This first series of the third quarter was finished with a one-yard DeVonta Freeman touchdown run.
The Seahawks showed small signs of life as Hauschka kicked his second field goal late in the third quarter from 26 yards. It was a redzone chance missed, though, for Wilson as he floated one over a wide open Doug Baldwin's head on third down.
Too much to do in the fourth
Atlanta then restored their 16-point lead right at the start of the fourth quarter courtesy of a big catch and run from Freeman on third down to set up a 31 yard Bryant field goal. Atlanta scored again just to make things certain as Ryan found Mohamed Sanu for a five yard score after the first of two interceptions under pressure from Wilson.
To Seattle's credit, they did come back straight away and score with three minutes to go after Hester returned a kickoff to the Falcons 31 yard line and then Wilson found Baldwin for his second touchdown pass. The Seahawks would get one more posession, but one 3rd and 16 Wilson forced one down the field for another interception and that was the ball game at around the two minute warning.