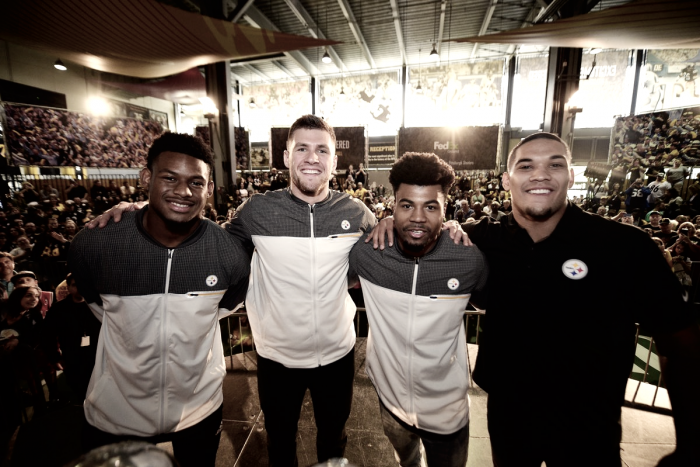 During the off season, the Pittsburgh Steelers did not make as many trades as those around them did, probably due to the fact that they were one game away from making another Super Bowl appearance last season.
Instead, the Steelers kept most of their roster in tact and looked towards the 2017 NFL Draft to find players who could give them that extra level that will take them to their seventh Super Bowl championship in their history.
The Steelers' faithful hoped that their front office would look to finding players that would fix what many consider a weak spot for Pittsburgh, their secondary, and although the draft picks selected were not all geared towards the secondary, General Manager Kevin Colbert and head coach Mike Tomlin, did make some strides towards strengthening their defense.
T.J. Watt: the first overall pick for the Steelers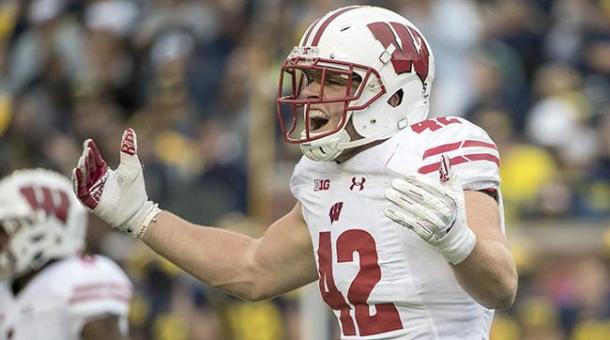 The AFC North team had to wait until the 30th overall pick to make their selection and with that pick, they selected linebacker T.J. Watt from Wisconsin. This pick makes sense for all the right reasons. The Steelers needed to find someone who could match James Harrison's pass rushing abilities on the other side of their defensive line and they feel that Watt could be the answer to that. After struggling with injuries during his first few years in college, Watt found his way in 2016 and finished his collegiate career with 63 tackles, 15.5 tackles for loss of yards, and 11.5 sacks. Those numbers allowed him to be named to the second-team Associated Press All-American second-team and All-Big Ten first-team honors.
Watt had a solid workout at the combine, and based on various scouting reports, will suite the Steelers 3-4 defense better than any other team's 4-3 defense. Like his older brother, J.J. Watt, T.J has long arms which will make him useful in not only getting to the quarterback but also batting away passes that may come his way. Watt also has great endurance and can keep going on every snap. He may not be the quickest but his relentlessness and willingness to play to the whistle will make him difficult to keep away from a quarterback or running back should they stay behind the offensive line for too long.
Clearly, he is not the finished product, but in a team that prides itself on developing great linebackers, Watt is in a position to only get better under the tutelage of defensive coordinator Keith Butler and former Steeler and now outside linebacker coach, Joey Porter.
Day Two of the draft sees a few interesting picks by the Steelers
The next player picked up the Steelers were puzzling to say the least. On Day Two, they selected wide receiver JuJu Smith-Schuster (No. 62) from USC, corner Cameron Sutton (No. 94) from Tennesse and running back James Connor (No. 105) from Pittsburgh. Again, only one of these picks addressed an immediate need for the Steelers but when looking at the bigger picture, these picks make more sense.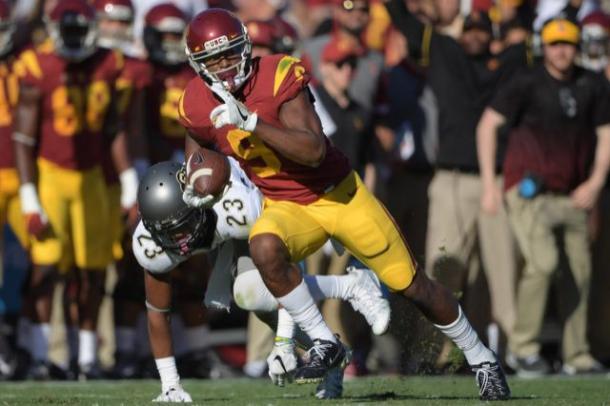 Smith-Schuster is another wide receiver added to a roster stacked with wide receivers. Now that Martavis Bryant has been cleared to return to the team, Smith-Schuster became the 12th receiver on the team. Antonio Brown is the star in that group but Eli Rogers came to the fore last season and Sammie Coates may make that leap this year that he should have made last year.
So what does Smith-Schuster have that could put him in the 52-man roster come opening day? Simply put, his physicality. Bryant has so far proven unreliable and both Brown and Rogers are smaller bodied receivers. Smith-Schuster is a taller receiver who can go one-on-one with most corners and has great hands as well. If the ball is thrown to him in a 50/50 situation, he is the type of receiver that can win that confrontation and would make a great counter foil for a speedier receiver like Brown on the opposite side.
Cameron Sutton makes more sense as a draft pick for the Steelers. The former 'Volt' has great instincts and only fell so far down the draft because of previous injuries. In a position that is far from settled for Pittsburgh, Sutton has the opportunity to win himself a starting job during pre season. Sutton does not have the right physicality to play in a zone coverage despite his productivity so that may see him feature more as a punt returner than as a corner for the Steelers but he still adds depth to a position that needs it.
James Connor is a hometown pick and a smart one as well. He will not surpass Le'Veon Bell in the pecking order but because of his physical style of running, he will be given carries in short yardage situations, and so that Bell can be rested here and there more regularly throughout the season. He is also capable of breaking tackles due to his strength and has shown some ability in the passing game so he could be a different option for the Steelers when they get to the red zone.
Off the field, Connor is a great story as well after overcoming a Hodgkin's lymphoma diagnosis to return to playing football again. Anyone with that kind of fight and willpower will be an asset for any team.
Later rounds have produced stars for Pittsburgh in the past
By now, everyone knows the success story of Antonio Brown and one can never discount any of the latter round selections if they progress as well as Brown has over his career. The Steelers picked up quarterback Joshua Dobbs (No. 135) from Tennessee, defensive back Brian Allen (No. 173) from Utah, long snapper Colin Holba (No. 213) from Louisville and linebacker Keion Adams (No. 248) from Western Michigan.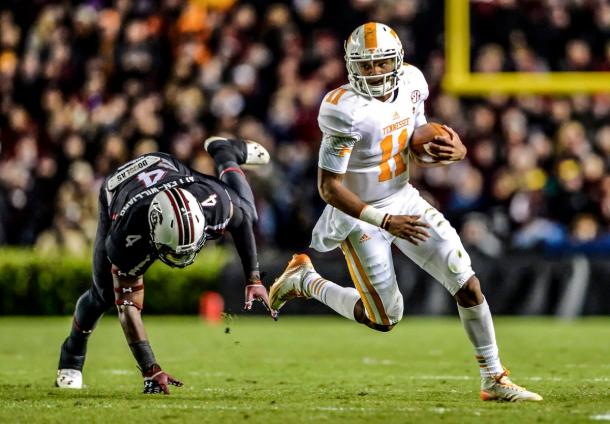 Joshua Dobbs is not expected to be the starter, nor is he probably going to beat out Landry Jones for the backup position to Ben Roethlisberger. But since the Steelers do need a third option at quarterback, Dobbs is not a bad choice. He is a good size for a quarterback, can make plays with his feet outside of the pocket and has good deep ball but his inability to make good choices at the line have led to more interceptions than one would like from their starting quarterback. The Steelers front office will probably look to develop him over the years and have him learn from Roethlisberger.
Brian Allen is another addition to the defense that is looking to up it's game after causing Pittsburgh quite a few problems last season. It was the offense that carried them to the AFC Championship game against the New England Patriots but it was the defense that led them down at the final hurdle. Allen provides more competition in the secondary during pre season as Butler looks to make his final selections for the regular season and Allen's speed, size and height make him a good addition in terms of depth. Given the right development and he could push for a role in the main team instead of just being on the practice squad.
Colin Holba was brought in to compete with Kameron Canaday to be Greg Warren's backup at the long snapper position. Not much else is expected from the Louisville man and as long as Warren is healthy, Holba will not see the field unless Warren falls out of form.
The last of Pittsburgh's draftees was Keoin Adams, an outside linebacker. There are already some solid choices in the depth chart for Pittsburgh at the outside linebacker position and even more players that are expected to take their performances up another level this year so Adams has a tough job on his hands to make the final roster. He does not have the physical strength and size most would want in an OLB but his speed is a big plus and can make him difficult to keep pinned down if he is not engaged in a hold. He can also get around the field very well and will be useful in situational downs particularly against the run.
Overall Draft Grade: B+