 An anticipation of significant individual leaps poses as the basis of the New York Giants' assured and relaxed approach to addressing their offensive line.
Experts have somewhat stressed a need for the Giants to undergo a complete makeover this off-season as far as protection for quarterback Eli Manning is concerned, yet it remains likely the same familiar faces could in fact retain their starting places for the opening game against the Dallas Cowboys and beyond.
Head coach Ben McAdoo has seemingly adopted an unyielding confidence that his faith will be rewarded by a notably more productive season. The 2017 Draft and free agency has seen the Giants refrain from prioritising further reinforcements in this department out of fear over a possible repeat of disappointing 2016 from their linemen.
Third year revivals for Giants duo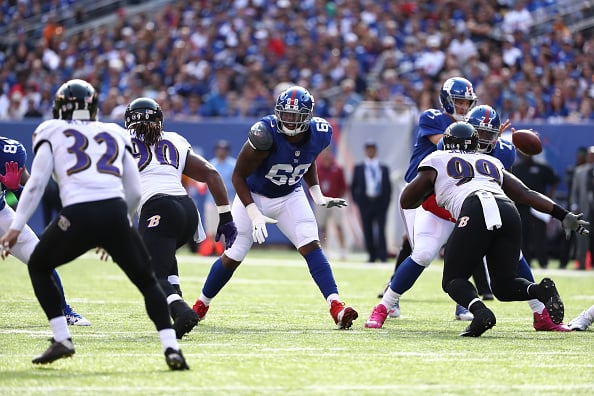 Left tackle Ereck Flowers, in particular, has predominantly been subject to criticism and identified by many as a weakness in the Giants setup. That said, McAdoo has continued to reiterate his support for the University of Miami product and appears to be sensing a notable 'jump' following a campaign that saw him finish tied for the most penalties for an offensive lineman, including a league-leading nine holding penalties.
It isn't a lack of toughness, grit or an inability to maul at the line of scrimmage but instead poor technique that has let him down. It's for this reason the Giants feel as though there is still a chance to mould him into a key contributor, not to mention the fact he is only 23 and entering his third year in the NFL that, with his experiences so far considered, could well unveil his best form. General Manager Jerry Reese appears to be holding onto the expectation that he can yet justify being the ninth overall pick in the 2015 NFL Draft, perhaps explaining a reluctance to give up on him.
A lack of quickness last season saw him struggle in pass protection against rushers yet criticism was also accompanied by an acknowledgement of his quarterback's slow release and costly hesitation at times. Flowers' struggles in this respect have again emerged as something the Giants feel can be rectified, with offensive coordinator Mike Sullivan already noticing potentially positive signs early on.
"I think if you see Ereck, his body is a lot leaner. It's very early and we didn't get a chance to practice against the defense yet, but you do see some increased quickness," Sullivan recently told the New York Post.
Right tackle Bobby Hart has similarly been at the centre of analysis with those outside of New York questioning whether his stuttering progress is something the Giants should be seriously worried by. The same stance has been taken, however, and there are no concerns. Hart's first two seasons in the NFL have been dubbed as a developmental period that could prove to be a valuable learning curve and a foundation for him to now build on.
Both Flowers and Hart, who will also only be 23 when the season starts, have typified what a difficult transition it is from college to pro football for an offensive tackle. Besides their obvious commitment to off-season preparations and improving themselves in the process, the pair will undoubtedly be benefited by the array of offensive weapons Manning now has to work with. Rarely should he be stalling in the pocket next season without a playmaking option ahead of him.
"I'm just very pleased that both those young men have made that commitment to try to improve their game physically and do the things that they need to do to their bodies to mature and grow. They're both young players and we're excited about seeing what they are going to do once that competition steps up when we're out there in OTAs and mini-camps and so forth," Sullivan added.
Additional options
Left guard Justin Pugh, centre Weston Richburg and right guard John Jerry should all safely pick up where they left off as Giants starters and could be challenged by a few new faces. The interior protection they provide promises to be boosted by blocking tight end Rhett Ellison, who was signed as a free agent in March with a view to enhance Manning's ability to take full advantage of the talent he has to aim for. Ellison, too, represents someone capable of taking pressure off of tight end and 2017 first round pick Evan Engram, who wasn't brought in as a natural blocker but as a dynamic offensive player.
The introduction of free agent D.J. Fluker also marks an injection of versatility in terms his ability to play both guard and tackle. Importantly, he is another fairly experienced rotational option, having spent three years with the San Diego Chargers after being selected as the 11th overall pick out of Alabama in the 2013 draft.
Offensive tackle Adam Bisnowaty arrived as a sixth round pick with the power, aggression and 6-foot-6, 307-pound frame set to make him a useful addition. The 23-year-old out of Pittsburgh will have an opportunity to impress over the next few months and will have been encouraged by the Giants' decision to trade up for him, knowing full well that they only pick players they like as opposed to recruiting supposed necessities. Bisnowaty's presence could also prove vital in sparking Flowers and Hart into life in order to fight off competition for a starting spot.
Debate surrounding the team's offensive line has by no means lured the Giants into a state of panic, nor has it drawn them into making adjustments just for the sake of it. The extent of McAdoo's faith in the men he has at his disposal can do no harm and sums up a feeling that fans could see a surprise step up.