 After an investigation that took over a year to complete the NFL finally has a decision on Ezekiel Elliott. The Dallas Cowboys megastar has been suspended six games by the NFL for violating the personal conduct policy. Mike Garafolo of NFL.com shared the release from the NFL on Twitter: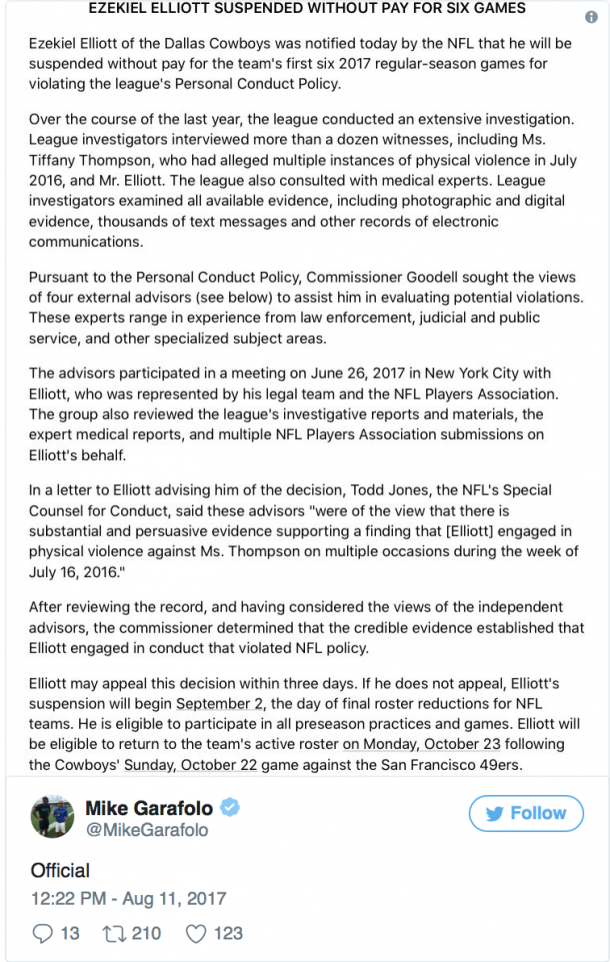 An ex-girlfriend accused Elliott of abusing her in Columbus, Ohio, where Elliott played college football at Ohio State. Many coaches and players on the Cowboys did not expect this result for Elliott. Elliott, 22, has denied all of the allegations and has the right to appeal the NFL's decision. He has three days to appeal, and if he fails to do so, his suspension will begin once the preseason ends. If he appeals and it takes long enough there is a chance Elliott could suit up when the season starts.
In addition to this Elliott has had other off the field issues including pulling down a women's shirt at a St. Patricks day parade, speeding, and being involved in a Dallas bar fight just last month.
What it means for Dallas
The loss of Elliott is a big blow for Dallas' playoff and Super Bowl hopes. After finishing 13-3, winning the NFC East and reaching the divisional round last season, the Cowboys will have to rely on Darren McFadden and Alfred Morris while Elliott is out. Last season, as a rookie and the number four overall pick, Elliott rushed for 1,631 yards and had 15 touchdowns. He also added 363 yards through the air. If Elliott doesn't appeal, although the more than likely will, he will miss games against the Giants, Broncos, Cardinals, Rams, Packers, and 49ers. His first game back would be October 29th at the Redskins. For now, all we can do is sit back and see how this all unravels.