The welcome back party to Los Angeles did not go according to Chargers' plans. In their first preseason game at the StubHub Center, the Chargers got demolished, losing to the Seattle Seahawks by a score of 48-17.
Needless to say, defensive coordinator Gus Bradley was not too pleased with how his defense played against the second string Seahawks team. He spoke with the media on the last day of open practices for the week.
Correcting defensive mistakes
On working out the kinks on the defense he said, "We have a lot of work to do. I thought our first group played pretty good. They got about 10 plays in the first game. After that, we had some issues with our second and third groups."
During that first quarter of play, the Chargers only gave up 10 total points to the high-powered Seahawk offense. It's the second quarter where the wheels came off the bus.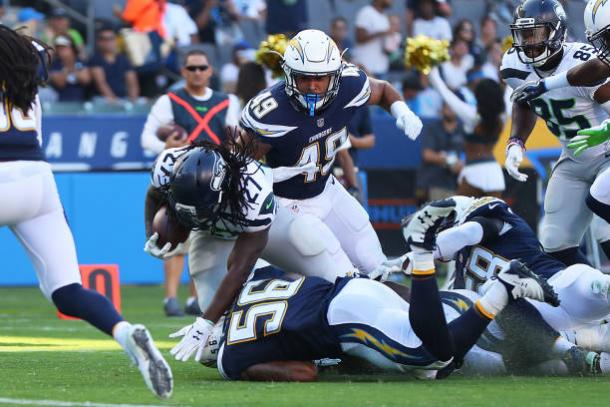 Allowing 94 yards in a single quarter is never ideal, to say the least. It means that your defense is on the field a lot, and in preseason, that gets the unit gassed quickly. To pile on the misery, however, Seattle scored 24 points that period, putting the game out of reach at halftime.
Coming back into camp, though, the Chargers defense has looked energized, focused and sharp. Bradley has taken notice, saying, "It's been a big point of emphasis the last couple of days in practice.
"It's been a big point of emphasis the last couple of days... it's a very focused group; attacking the things and the weaknesses in that first game like we should." Bradley went on to say (all quotes via chargers.com).
Coming up
For the rest of the week, the Chargers will be scrimmaging with the New Orleans Saints ahead of their preseason game Sunday night. Kickoff for that game is set for 8:00 PM EST at the StubHub Center in Carson, California.