 Deshaun Watson's ACL injury ruined the possibility of a promising season. With it becoming more and more obvious that the Houston Texans rather basically tank by going with quarterbacks like Tom Savage, T.J. Yates, and Josh Johnson instead of Colin Kaepernick, most fans are looking forward to next year. It's not like the defense can carry them again with J.J. Watt, and Whitney Mercilus out for the season too and Brian Cushing suspended for most of it.
So many of you probably read the title of this article and had one question: why? There's no use in spending money on anybody when the season is already lost. The dude is also out for the year, so what good is he going to do for the team?
Pros for the move
2-Time Pro Bowler
A lot of people argue that it is important to look at the most recent past when evaluating a player. However, it is impossible to ignore that Vontae Davis is one healthy year removed from two Pro Bowl seasons. In a stat named success rate that measures the percentage of targets where a cornerback prevented a successful gain (successful being 45 percent of yards needed to convert on first, 60 percent of yards to convert on second and all yards needed to convert on third), Davis ranked ninth in 2015 and second in 2014. In comparison, Johnathan Joseph didn't make the top 20 or top 10 respectively, even though those were two of his best years in Houston.
He may have had an off season in 2016, but the Indianapolis Colts' defense was notoriously bad. He's also only 29 and has at least a couple of good years still in him. With the Texans pass rush, the weight of the defense will not rest on his shoulders and he can play a lot better.
Cap Space
As of now, the Texans have a little less than $13.5 million in cap space. If they don't resign any of their free agents, they will have more than $40.5 million free, ninth most in the NFL. Out of the possible free agents, notable ones are Joseph, LT Chris Clark, P Shane Lechler, and G Xavier Su'a-Filo. Since there aren't many important players to keep (lowkey Joseph should not stay), the team will have at least $25 million free for free agency.
That is a lot of money to improve the team in an offseason where they don't have any high picks (first rounder went to the Cleveland Browns for Watson and second rounder went to the same team to get rid of Brock Osweiler). Why not start early and improve a position of need through Davis? Sign him on a two-year contract worth about $7 million (his recent contract was at $9 million but he will hopefully lower the amount he demands because he is coming off surgery). The Texans don't even need to pay him for the rest of this season. Since he went unclaimed on waivers, the Colts have to pay his $9 million base salary. That still leaves at least $18 million for free agency, enough for one marquee signee or a bunch of solid ones.
The Secondary is Horrible
Honestly, the team would be 5-2 before Watson got hurt if it had a serviceable secondary. The games against the New England Patriots and Seattle Seahawks were both super close and would've been dubs if they didn't allow crazy long passes. Here's a quick fantasy tip: if you don't have a great quarterback on your team, try picking up whoever plays against the Texans. This includes whoever is under center for the Arizona Cardinals in Week 11.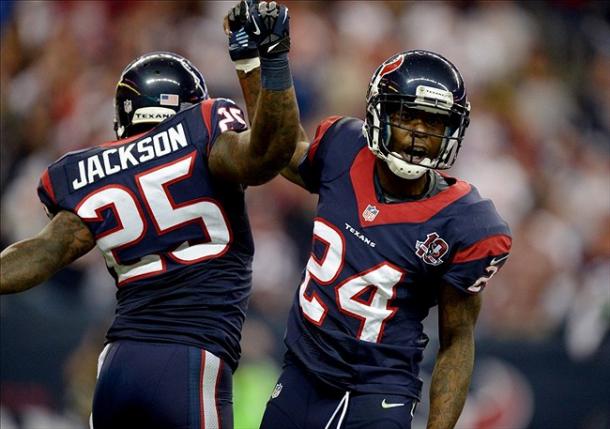 Joseph has been great for the team but is getting very old. Kareem Jackson has never blossomed into the player the Texans had hoped. Kevin Johnson is still young, but it's not looking like he's going to become particularly good.
There are other cornerbacks that the Texans could target, such as Trumaine Johnson and Malcolm Butler. However, they are both going to be more expensive than Davis and the team needs the money for other positions such as offensive line and safety. Davis can be a relatively cheap way to improve the secondary unit.
Cons of the move
No more big names
Getting Davis will most likely mean no big names in free agency for the Texans. That isn't necessarily a bad thing since a capital error in football is putting all of your money in one player that isn't a quarterback when there are ten others on the field. However, this is a free agency that possibly has Le'Veon Bell. Adding Davis will more than likely get rid of any possibility for pursuing a big name like Bell.
Pretty risky
While I did argue earlier that it is also important to look at a player's resumé instead of just his latest season, someone coming off season-ending groin surgery and a subpar 2016 year is a risk. He may never be the same player again and will just be wasted money. For a team that is trying to win it all in the near future, any sunk costs can really hurt. There is a pretty big possibility that Davis may represent such a cost.
Why did the Colts release him?
Honestly, it was kind of weird that the Colts got rid of him since they would likely still have to pay the rest of his contract. He was trying to make a comeback this season before coach Chuck Pagano decided that Davis would not make the trip with the team to play the Texans, citing the reason as non-injury related. Apparently, a lot of disagreements started with that.
Maybe he turned out to be a distraction in the locker room? Maybe he wasn't listening to his coaches? Who knows, but it is kind of worrisome.
Final Verdict
In the end, signing Davis is a risk the Texans need to make. With such a prolific pass rush (when healthy), the Texans don't need star players in the secondary, they just need good ones that can be counted on. A cornerback duo of Davis and Jackson/Johnson can work well, especially with an improved strong safety. They could also go for Nate Solder as their new left tackle as well as another offensive linemen. If they have enough money, maybe they make things interesting by getting Jimmy Graham. Whatever their final decision, adding Davis can prove to be a risk worth taking.