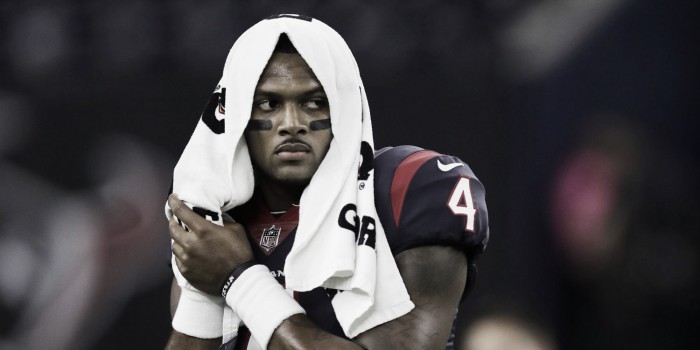 Update (11/7):
The Houston Texans released Matt McGloin and DL Kendall Langford in order to sign veteran quarterback Josh Johnson. It didn't take long for the team to notice that having the Penn State with Bill O'Brien wasn't enough to make him a good quarterback. But Johnson isn't much better.
The last time Johnson has thrown a pass was in 2011. He has thrown for 1042 yards, five touchdowns, and ten interceptions for a rate of 57.7. He's also run for 274 yards. His most recent action was in the past preseason, when he battled against Geno Smith for the backup spot behind Eli Manning for the New York Giants. He completed 22 of 34 passes for 239 yards and a touchdown but was definitely outshined by Smith.
It seems like the Texans are trying to experiment with a mobile quarterback in order to replicate Watson's success. It is obvious that if they want to do that, there is only one quarterback they should get, but you guys can read the original article to figure out (spoiler alert: it's Colin Kaepernick).
Original:
Typical Houston sports. The city can't even have 24 hours to celebrate the Houston Astros' first World Series without bad news appearing out of thin air. Deshaun Watson's out for the year. He tore his ACL on a non-contact play in practice on Thursday. Just in case you haven't seen the headlines or don't know the severity of an ACL tear, he is definitely out for the season.
Memories of Derrick Rose, Teddy Bridgewater, and Robert Griffin III may infiltrate your mind. However, this is definitely not doomsday for the young quarterback. He did tear his other ACL in college, but both injuries were only ACL tears. There was no further damage anywhere in his knee. He's also got a good amount of time to rehab and has proven he is up to any challenge. He will be back healthy and ready to go.
So what now? The team is 3-4 but have played far better than their schedule indicates. Except for a blowout at the hands of divisional rivals Jacksonville Jaguars in Week 1 when Tom Savage started, the losses were against top teams around the league. And they were close. 36-33 against the New England Patriots, 42-34 against the Kansas City Chiefs, and 41-38 against the Seattle Seahawks. If the defense wasn't decimated by injuries and a suspension, those could've easily been wins.
Meanwhile, they're one game behind both the Jaguars and Tennessee Titans, so definitely not out of playoff contention yet. Since I'm reporting on this so late, we already know what course of action the team took. Therefore, let's look at what they did vs. what they should've done.
What they did
The team opted to sign T.J. Yates and McGloin. Most Houstonians know Yates as the "Bengals Killer" since he has defeated the Cincinnati Bengals three times: twice in 2011 to clinch a playoff berth and give the franchise its first playoff win, and once in 2015 to end their undefeated season.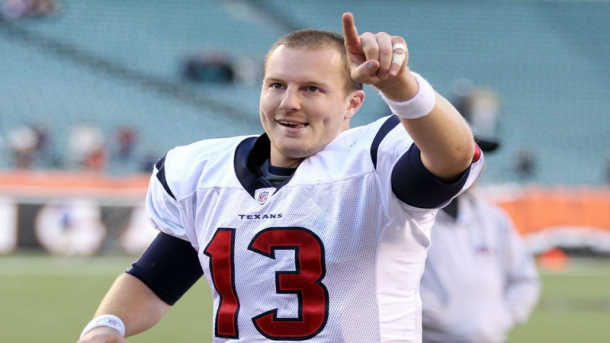 Sadly, the team has already played the Bengals this year: a 13-9 Thursday Night Football snoozefest in Week 2. Throughout his six-year career, he has thrown for 1534 yards, six touchdowns and eight interceptions for a 72.8 rating. I know, not great.
The other new addition is McGloin. The former Oakland Raider played under O'Brien at Penn State, explaining why he was signed. In his four seasons, he has thrown for 1868 yards, 11 touchdowns and 11 interceptions for a 75.3 rating. Slightly better, but still not great.
It's obvious that the Texans opted to sign these two quarterbacks due to their familiarity with the system. Yates has been a Houston quarterback his whole career while McGloin used the system in college. That means they can come in and play quickly if needed (Savage being absolutely horrible or getting injured).
What they should've done
There is one free agent quarterback that is far better than the rest but still isn't signed. Ya, you guessed right, it's Kaepernick. The smart decision would've been to sign him to replace Watson. But the owner Bob McNair wouldn't even work him out. Still think I'm wrong? Here's why.
Watson is Houston's first ever scrambling quarterback since David Carr (and calling Carr one is a stretch). When he took on the starting job, the offense had to change to use one of his advantages. The team ran option plays and passes that allowed him to scramble to either side of the pocket. And it was working to perfection. The offensive line isn't good enough to protect anyone in the pocket, especially with Duane Brown gone.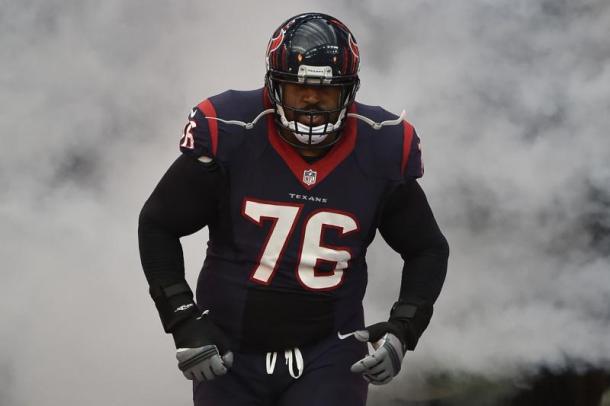 That's why the team needs a quarterback that can escape pressure to succeed. Yes, it is riskier since the quarterback is defenseless out of the pocket and can be sacked easier. But Watson was on pace to be sacked 41 times this year. Kaep's average is only 28.5 per season.
The offense is now used to a system that they have implemented almost all year. However, they're going to have to revert to the old one. Honestly, the excuse that McGloin and Yates were picked because they were familiar with the system is horrible. The offensive system changed, and neither of them is even remotely able to play under it. They know the old system, sure. But not the new one.
Now the argument that Kaepernick is a horrible quarterback and doesn't deserve to be on any team because he's just plain awful. I love this one. Over his career, he has passed for 12271 yards, 72 touchdowns, and 30 interceptions for an 88.9 rating. Compare those to the above numbers. Add the 2300 rushing yards (about 33.3 per game) and you've got an at least good player.
This notion that he is bad has come from his last two years of playing. Admittedly, his 2015 season was pretty bad: he had a 78.5 rating, by far the worst of his career (still better than McGloin's and Yates' averages). But 2016 was pretty good: 2241 yards, 16 touchdowns, and four interceptions. He didn't make as many big plays but he displayed a newfound maturity that led to fewer mistakes.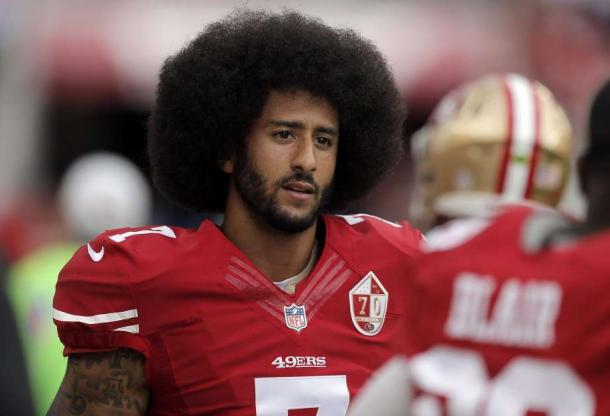 What argument comes next? Oh, the "he will be a distraction" one. Well, a lot of players are now kneeling during the anthem and they're doing just fine. Look at the Seattle Seahawks. No distractions, they just kneel and then get to business on the field.
Actually, Kaepernick may have had the opposite effect if he was signed. After McNair's comments (the "we can't have inmates running the prison" one), a lot of players kneed for the first time this past week. They were even considering taking off the Texans decal off of their helmets. If anybody was being a distraction, it was McNair.
Signing Kaepernick would've been the perfect way to rally his team together and hopefully regain their support. Think about future contract negotiations; a lot of players won't really want to continue playing in a "prison".
McNair's signings can only be explained by two things: money and his ego. Sadly, NFL ratings have gone down, most likely because of all of the anthem protests. While it shouldn't be that way, that is the truth of the matter. McNair figured a lot of Texans' fans would stop watching if he got Kaep. The team is still in the state of Texas, even if Houston is one of the two most liberal cities in it.
Finally, it makes no sense at all to tank the year. The Texans have been great despite their 3-4 season, as mentioned earlier in the article. They can still make the playoffs and make a surprising run in a league with no super dominant teams as of yet. Kaepernick has the experience to take them to the playoffs and pull off an upset or two.
And tanking will not help them whatsoever in the draft. They traded their first pick in the 2018 draft to the Cleveland Browns for the Watson pick. They also traded their second pick in the draft to the same team to get rid of Brock Osweiler. It makes perfect sense to tank for a top-five pick in the third round of the draft right? No.
This passage sure got long, but it's all arguments as to why the Texans needed to sign Kaepernick. The team can easily make the playoffs with a capable quarterback, Kaep is the only one available. They're not in a position to rely on their defense with J.J. Watt, Whitney Mercilus, and Brian Cushing. Not signing him is a horrible decision, screwing up the team's present and future.