 1. Cleveland Browns select Saquon Barkley, RB, Penn State
The Browns will feel near insurmountable pressure to take a quarterback first overall. But the pressure to take a player who is quickly becoming the consensus top overall prospect in Saquon Barkley may be even more alluring. Barkley is more than a runningback; he's a matchup nightmare waiting to happen for unsuspecting linebackers and safeties in space.
2. TRADE: Cleveland Browns select Sam Darnold, QB, USC
Armed with the 4th, 33rd, and 35th overall pick gives the Browns ample ammunition to move up and take exactly the quarterback they want if Barkley goes first overall. Despite an up and down season, Sam Darnold's potential and relative cleanliness compared to other prospects keeps him closer to the top on most draft boards.
3. TRADE: New York Jets select Josh Rosen, QB, UCLA
In the event the Jets aren't able to land a viable long term starting quarterback in free agency, they will have to be aggressive to ensure they land one in the draft. Josh Rosen's ability to start day one will make him an attractive option for a desperate Jets fanbase and coaching staff.
4. New York Giants (from Cleveland) select Josh Allen, QB, Wyoming
While they may not land the signal caller of their choice, the Giants have the luxury of sitting whomever they take behind Eli Manning -- and of all the quarterbacks coming out in the 2018 draft, Josh Allen might need the most time to develop. Former Carolina G.M. Dave Gettleman might see similarities in arm strength and athleticism between Allen and Cam Newton.
5. Denver Broncos select Quenton Nelson, OL, Notre Dame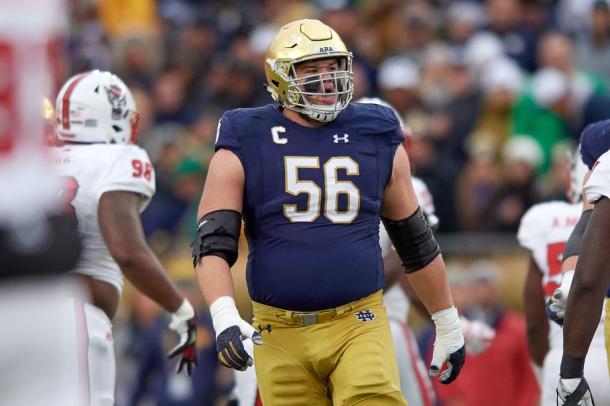 Of all the teams vying for a veteran quarterback in free agency, the Broncos may put the most proverbial chips onto the table. Whether the team lands Kirk Cousins, Case Keenum, or A.J. McCarron, they will need to be protected better than last year's turnstyle of Siemian, Lynch, Osweiler. Quenton Nelson is widely considered among the draft's elite players and he could help reignite both the run and pass game in Denver.
6. Indianapolis Colts (from New York Jets) select Bradley Chubb, Edge, NC State
A trade back is a virtual certainty in a strong QB class and the Colts may still land one of the class' blue chip prospects. Bradley Chubb headlined an elite NC State defensive line and he'd make a quality bookend opposite Jabaal Sheard.
7. Tampa Bay Buccaneers select Vita Vea, DL, Washington
In absence of a starter ready pass rusher worthy of going in the top 10, the Buccaneers instead opt to get bigger and stronger in the middle. Perhaps no player in recent memory encapsulates the mantra of "bigger and stronger" than Vita Vea.
8. Chicago Bears select Marcus Davenport, Edge, UTSA
With no receiver clearly emerging as a top 10 talent in this year's class, the Bears opt to go for the pass rush potential of Senior Bowl darling Marcus Davenport to develop behind Pernell McPhee and opposite Leonard Floyd.
9. Oakland Raiders select Denzel Ward, DB, Ohio State
With Sean Smith likely following David Amerson out the door this offseason and T.J. Carrie possibly signing elsewhere, the Raiders will have to bolster the secondary through both the draft and free agency. While not possessing ideal size, Denzel Ward has rare athletic traits allowing him to play both inside and outside corner.
10. San Francisco 49ers select Minkah Fitzpatrick, DB, Alabama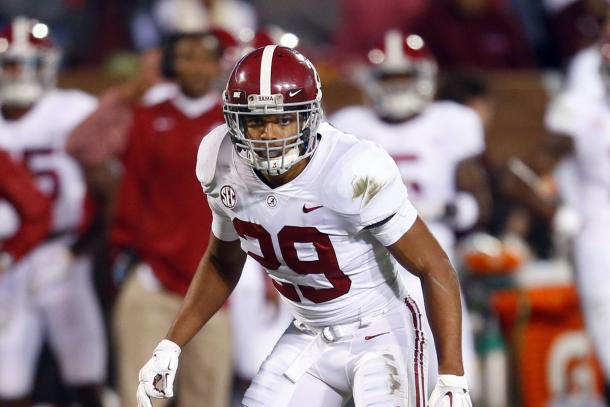 A resurgent offense and a formidable defensive line allows the 49ers to go in a number of different directions in the top 10. With the potential departure of Eric Reid to free agency, the 49ers can replace and upgrade the safety position with the versatile talents of Minkah Fitzpatrick.
11. Miami Dolphins select Baker Mayfield, QB, Oklahoma
Although not quite an "out of sight, out of mind" situation for Ryan Tannehill in Miami, Mayfield presents head coach Adam Gase with a Culter-esque talent. Further, overtures from Mayfield to the Dolphins may fan the flames toward the end to the Tannehill era.
12. Cincinnati Bengals select Tremaine Edmunds, LB, Virginia Tech
Despite offensive line being a dire need, the Bengals can build on a strength and pair the supremely talented Tremaine Edmunds with Vontaze Burfict for a downright formidable duo on the second level.
13. Washington Redskins select Roquan Smith, LB, Georgia
While the offense may be switching gears under Alex Smith, the development of the defense remains a persistent focus. If Zach Brown isn't retained, Roquan Smith is a ready-made, plug-and-play, superlative laden, weak side backer with rare sideline-to-sideline ability.
14. Green Bay Packers select Derwin James, DB, Florida State
It may have been a long time coming, but the firing of Dom Capers ushers in a new era of Packers defense. Although coaching was part of the problem in Green Bay, so was talent and few defensive players possess as much raw talent as Florida State's do-it-all man: Derwin James.
15. Arizona Cardinals select Calvin Ridley, WR, Alabama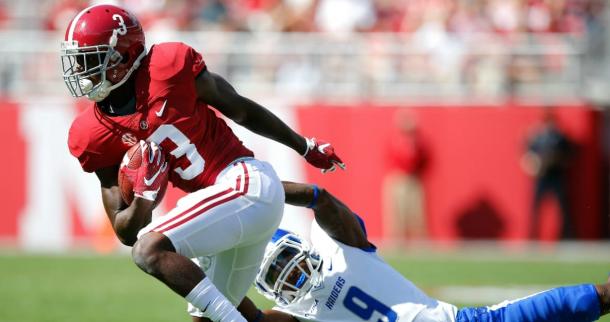 Despite Larry Fitzgerald playing at least one more year in Arizona, there's little doubt the Cardinals are a rebuilding team -- particularly on offense. Part of the new plan must consider life after Fitzgerald and -- although he doesn't approach the talent of the future Hall of Famer -- Calvin Ridley will help usher the passing game into a new era of Cardinals football.
16. Baltimore Ravens select Orlando Brown Jr., OL, Oklahoma
No matter how hard they may try, the Ravens will seemingly always be a team based around defensive superiority and mere competence on offense. One way to ensure offensive competence is to establish a strong offensive line, and Orlando Brown Jr. is the epitome of a strong offensive lineman.
17. Los Angeles Chargers select Maurice Hurst, DL, Michigan
The Chargers will enter the 2018 draft with little need but much to gain. The interior defensive line might be the only sub-par aspect of an otherwise excellent unit, and Maurice Hurst's talent -- albeit encased in a less than ideal sized frame -- is among the class' best.
18. Seattle Seahawks select Connor Williams, OL, Texas
Try as they might, the Seahawks can't ignore a debilitating offensive line situation for the better part of the last three seasons. Connor Williams' 2017 campaign was stunted due to injury, but he still has best in class ability at offensive tackle and guard.
19. Dallas Cowboys select Da'Ron Payne, DL, Alabama
Despite having a solid pass rush-centric rotation on the interior defensive line, the Cowboys are an early down capable lineman to fully round out the unit. Da'Ron Payne offers the ability to pressure the pocket while yielding much as a run defender.
20. Detroit Lions select Derrius Guice, RB, LSU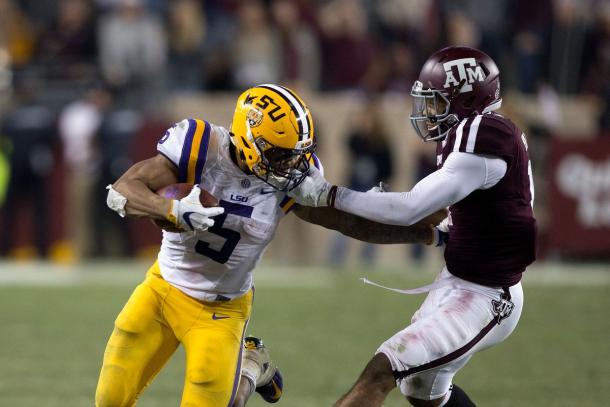 It has been nearly a half decade since the Lions had a thousand yard rusher and the team has suffered because of lack of diversity on offense. Despite playing injured during most of the year, Derrius Guice showed the ability to play through pain and remain explosive, physical, and productive.
21. Buffalo Bills select Rashaan Evans, LB, Alabama
The Bills may very well use their Brown-esque draft capital leverage to move up for a quarterback, but if trades fall through, Rashaan Evans addresses a need at linebacker and also a unique multi-gap blitzer from the second level.
22. Buffalo Bills (from Kansas City) James Daniels, OL, Iowa
Without a clear franchise signal caller to build around, the Bills may instead choose to create fertile ground for the run game. James Daniels is one of the most athletic and capable center prospects to come out in recent memory.
23. Los Angeles Rams select Leighton Vander Esch, LB, Boise State
Despite giving linebacker Alec Ogletree a vote of confidence by extending him through the 2021 season, the Rams haven't gotten back what they've invested at linebacker. Leighton Vander Esch is a raw playmaking linebacker with room to grow into a top tier player at the position in time.
24. Carolina Panthers select Rasheem Green, DL, USC
In the wake of releasing Charles Johnson and the ageless Julius Peppers set to re-enter free agency, the Panthers will have to again address edge rusher. Rasheem Green wore a number of hats on the defensive line at USC, but he could find a home in Carolina cornering tackles and getting to the quarterback.
25. Tennessee Titans select Ronnie Harrison, DB, Alabama
Last year free agent signee, Johnathan Cyprien, proved to be a debilitating liability on an otherwise solid defensive roster. Ronnie Harrison is a rare safety prospect who doesn't give up much in either run support or pass coverage.
26. Atlanta Falcons select Taven Bryan, DL, Florida
If Dontari Poe isn't retained, interior defensive line depth will be the foremost need for a well stocked Falcons roster. Taven Bryan, while not a pure nose tackle like Poe, flashes impressive pass rush ability and can contribute as a rotational piece early on.
27. New Orleans Saints select Harold Landry, Edge, Boston College
A resurgent Saints defense may lose one of their best pass rushers in Alex Okafor this offseason. In 2016, Harold Landry was in the mix for first round consideration in a loaded edge rusher class and might have the purest pass rushing form of any player in this year's class.
28. Pittsburgh Steelers select Lorenzo Carter, LB, Georgia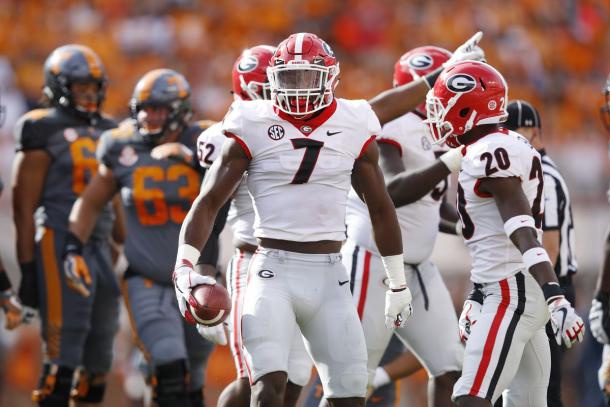 Ryan Shazier's tragedy of an injury sets the Steelers back at linebacker. As a do-it-all player at Georgia, Lorenzo Carter's athleticism mimics Shazier's, with the added benefit of tantalizing pass rush upside.
29. Jacksonville Jaguars select Isaiah Wynn, OL, Georgia
Although some bemoan the idea of Blake Bortles being the semi-long term option for the Jaguars, what he and the offense were able to accomplish behind a patch-work offensive line should be commended. If he was two inches taller, Isaiah Wynn might be considered among the top tackles in the class.
30. Minnesota Vikings select Joshua Jackson, DB, Iowa
Carried by a strong defense in 2017, the Vikings have an opportunity to build on a strength in the draft. Pre-combine, Joshua Jackson going after the top 15 picks might be a pipe dream the Vikings would happily have.
31. New England Patriots select Mike McGlinchey, OL, Notre Dame
With Nate Solder scheduled to enter free agency, the Patriots will have a massive question mark at tackle for the first time since Matt Light -- whose first start came in 2001. Mike McGlinchey shares a lot of DNA with the possibly outgoing Solder in size, play demeanor, and ability.
32. Philadelphia Eagles select James Washington, WR, Oklahoma State
The 2017 Eagles receiving corps found success with a group of cast-offs and misfits. With only Alshon Jeffery a sure bet to be a part of the team next season, the explosive James Washington makes for an ideal fit for the Eagles' high-flying offense.