 Update (March 29th, at 9:48AM CT): The Houston Texans brought back quarterback Brandon Weeden. While he is undefeated with the team (1-0, so very small sample size), and knows the system or whatever management will say to excuse this signing, he is by far not the best backup quarterback even with all of the big names gone. Hopefully, he will just be the third stringer.
Original Story:
Oh what a fool I was. A few days into free agency, there I was, already ripping new general manager Brian Gaine because the Texans were linked to all the big names but didn't sign any of them. Instead, the team got the Jacksonville Jaguars slot corner Aaron Colvin to be the new starter, solid Kansas City Chiefs' guard/center Zach Fulton, as well as projects in tackle Seantrel Henderson and guard Senio Kelemete.
Meanwhile, cornerback Malcolm Butler went to division rivals Tennessee Titans for five years on a contract valued at a little over $61 million. The Jaguars, another rival, got better by getting guard Andrew Norwell on a five year, $66.5 million contract. The best left tackle in free agency, Nate Solder, went to the New York Giants, signing a four year, $62 million deal. But it's ok, the Texans will get Trumaine Johnson, right? Nope, New York Jets nab him him for $72.5 million over five years.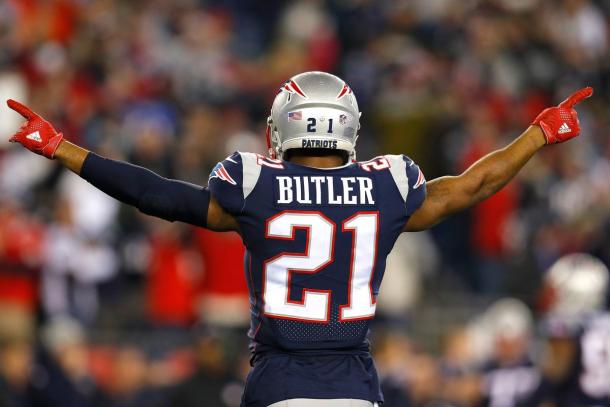 And so, simpleminded me was furious as to why the Texans, who had a ton of cap going in especially after cutting Brian Cushing couldn't get any of these players. Was it owner Bob McNair's comments? Was it that Gaine was as inadequate in attracting top free agents as Rick Smith was?
That's why I actually looked at the deals. $62 million for a left tackle passed his prime that has been worsening? $61 million for a cornerback whose career is defined by a Super Bowl saving interception off of one of the worst play calls in football history? $72.5 million for a cornerback that isn't one of the best in the league?
These salaries were almost ludicrous because the players were being so overpaid. And it isn't like the NFL is like the NBA and teams suddenly had a whole lot of money to splurge on average players. It happened to be that the Texans positions of need weren't very deep this offseason, and so everyone and their mother wanted to get the best players.
So Gaine had two options: follow all the other teams and overpay for a couple of these players, screwing over the whole team for years to come if the additions didn't pay off or go for low risk, high reward players. It wasn't until I understood the method to his madness that I started to appreciate this free agency. Oh and getting the Honey Badger, aka Tyrann Mathieu.
So, now that the Texans have finally settled down, let's go over everything they've done so far this offseason and what they can still do. Spoiler alert, this is going to be a super long article.
Moves made with former players
First, let's quickly see what the Texans did with their own players. They started by cutting longtime middle linebacker Cushing, freeing up $8.8 million. While a solid performer for most of his career, Cushing was dogged with PED suspensions in recent years and rookie Zach Cunningham performed well enough in his stead to replace him.
Tight End C.J. Fiedorowicz chose to retire due to many concussions recently in his career. While he had become a solid player at his position, I'm glad he chose to do this so that his health won't worsen anymore. I wish him the best in everything in the future and thank him for all that he has done for the team.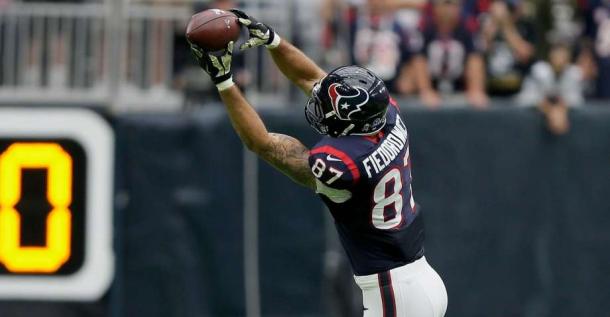 They have also released nose tackle Chunky Clements and wide receiver Cobi Hamilton. The former got two tackles and half a sack last season as he was switching from the practice squad to actual roster. The latter caught one pass for eight yards and has been claimed off waivers by the Arizona Cardinals.
On the other hand, the Texans kept a lot of their players. They resigned punter Shane Lechler, defensive end Angelo Blackson, wide receiver Bruce Ellington, cornerback Johnathan Joseph, outside linebacker Ufomba Kamalu, safety Corey Moore and linebacker Brian Peters. They also extended a qualifying offer for center Greg Mancz.
Out of those players, the one surprising decision is Joseph. He underperformed last season and many expected him to be off the team. However, they resigned him to a two year, $10 million contract. Despite his lackluster year, this move is good since he's still a veteran presence that has been on the team for a long time. With Colvin's addition, Joseph won't have to play as much, and he also agreed to a relatively cheap contract.
New players
In total, the Texans added eight new players: Colvin (four years for $34 million), Fulton (four years for $28 million), Henderson (one year for $4 million), Kelemete (three years for $12 million), Mathieu (one year for $7 million), cornerback/special teams expert Johnson Bademosi (two years for $6.25 million), wide receiver Sammie Coates (four years for $2,911,515, geez, just give the man three million), and inside linebacker Josh Keyes (one year for $900 thousand).
Even with all of these acquisitions, the team still has a little more than $30 million in cap space. With all of the big names off of the table, they can save that money to improve even more next offseason. These free agents also help mitigate many of the Texans' weaknesses. Let's quickly go over each of these transactions.
While Colvin was a slot cornerback with the Jaguars, he has never allowed a touchdown. On the other hand, he has never gotten an interception. Don't look at Colvin to be flashy but rather to be a sound defender, which is what the Texans need. They need their secondary to contain receivers long enough for their insane pass rush to get to the quarterback; Colvin can help make that happen.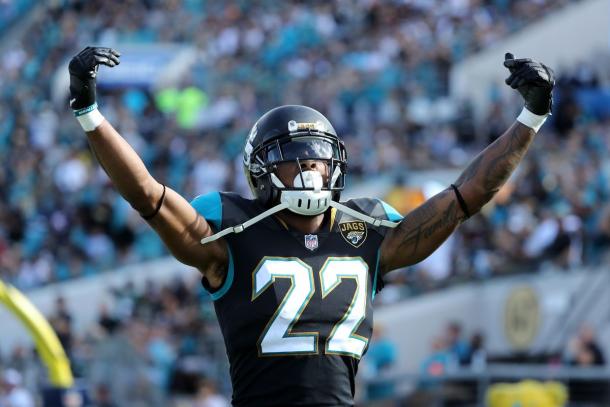 Fulton is what Jeff Allen was supposed to be when the Texans signed him, a solid guard with potential to be very good. Hopefully he'll turn out a lot better than Allen though. Henderson is a far bigger question mark, as he struggled with Crohn's disease. He underwent surgery and should be fine now. He also has something to prove, so he may be a great bargain.
Kelemete is relatively unheard of, but New Orleans Saints' fans can't stop talking about his effectiveness. Like Colvin, the Texans don't need a great player but someone who won't mess up, and it looks like Kelemete can be that guy. Bademosi might be the most underrated addition since the Texans' special teams unit has been bad for as long as I can remember. Getting him will help the team contain opponents' kick and punt returns.
Coates was solid with the Pittsburgh Steelers but was released when their wide receiver corps got too stacked. He did little to nothing with the Cleveland Browns the following year, but that can change now that he has a great quarterback in Deshaun Watson. He'll probably compete with Braxton Miller for that fourth receiver spot. Keyes will, like Bademosi, contribute most to special teams, although he is not as good as the cornerback.
Finally, Mathiew is the biggest name that the Texans acquired. The safety is known for his crazy playmaking ability despite having an underwhelming season last year. That's not to say he was bad, just not as good as his contract warranted. This may have been because of his injury the prior season.
He signed a one year deal to prove to the league that he's still the Honey Badger that everyone remembers. This means he's got a chip on his shoulder and the Texans will have the best chance of keeping him long term if he plays well. His versatility is something head coach Bill O'Brien loves, since he can play corner as well. The dude will definitely bolster a secondary that desperately needs help.
What to do now?
There are still some positions of need for the Texans. Obviously, there's no such thing as too many offensive linemen and secondary players when considering how crap they were last season. With Fiedorowicz retiring, the team needs a tight end. Like the other marquee free agents, the top tight ends, Jimmy Graham and Trey Burton were overpaid.
Another thing the Texans need to address is backup quarterback. If worse comes to worse and Watson gets hurt again, the team doesn't want to choke with someone like Tom Savage under center. Ideally, they'll want a player similar to Watson to not change the gameplan too much.
At TE, the top options are Antonio Gates and Benjamin Watson, but they are borderline ancient. Honestly, there aren't any good receivers anymore, meaning the team should resort to the draft. Marcedes Lewis, however, is still a great blocker and can help the offensive line. This will not only give Watson more protection but can also give the running duo of Lamar Miller and D'Onta Foreman an extra advantage.
There are more free agent options for the backup quarterback position. The most controversial is obviously Colin Kaepernick, who would've been great last season but may have been out of the league too long to be good anymore. There's also no way McNair signs the guy. The next players they can look at are Geno Smith and Blaine Gabbert. Between the two, the former may be better because of his mobility, but he has so many accuracy issues. Still, you can't expect your backup quarterback to be perfect, and seeing O'Brien's success with a running quarterback suggests he can do well with Smith if need be. They could also look to the draft; there are rumors that the team is targeting Lamar Jackson, but there is no way the team can trade up far enough to get him. It would honestly be a waste of both the team's picks and his talents unless the Texans have no confidence in Watson's ability to remain healthy.
Conclusion
The Texans had as smart and safe of an offseason as can be. This would be great, but the Jaguars and Titans both greatly improved. Who would've thought that the worst division a couple of years ago would become among the best so quickly? In a couple of years, the Texans may be in the best spot, but they hadn't taken enough risks to compete with the top two teams in the division this season, lowering their grade some.
Offseason grade so far: B