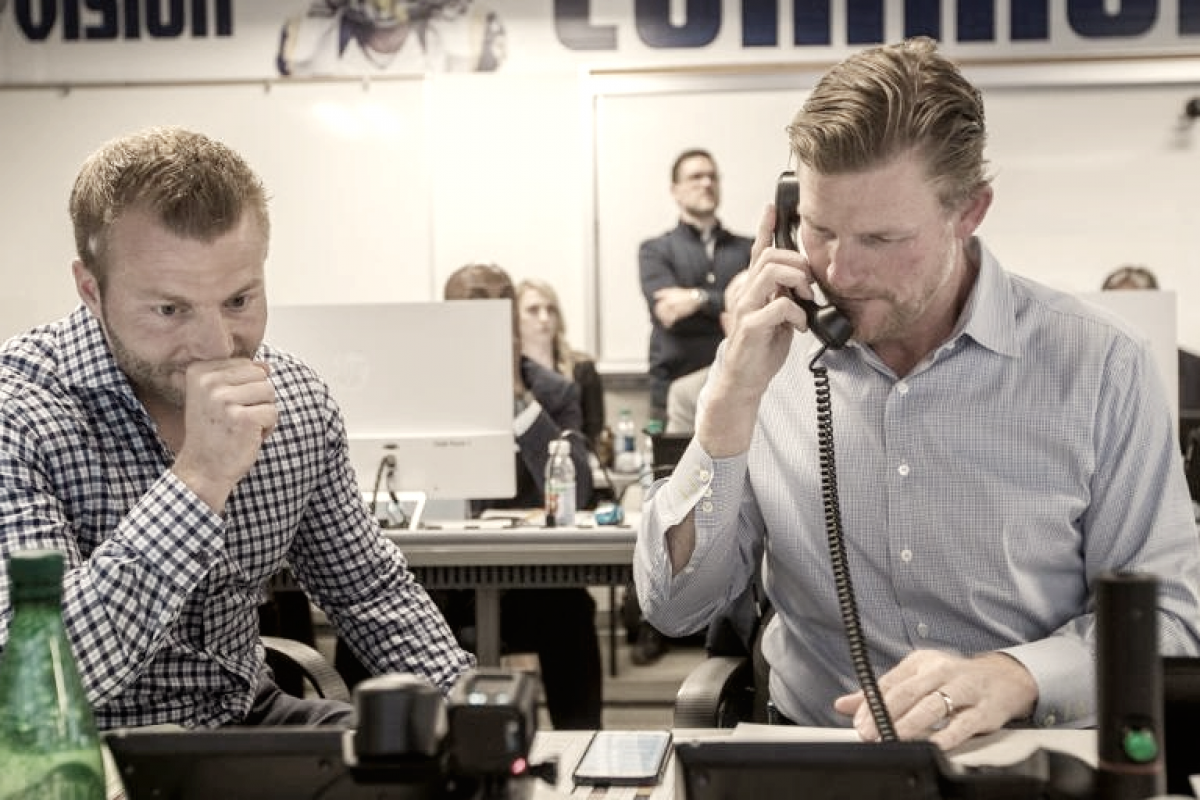 The Los Angeles Rams made a tremendous leap in the National Football League last year going from 4–12 to 11-5. This is mostly due to head coach Sean McVay. The Rams have made a huge impact on free agency throughout the last two seasons acquiring keys players who contributed towards the Rams' success. Even with this newfound glory, the Rams still have some holes to fill.
Round 3 (Pick 87) C/G Frank Ragnow: Arkansas
The Rams had the sixth-ranked offensive line in 2017 (Pro Football Focus). A large part of success came from the veterans, Andrew Whitworth and John Sullivan, but both are in their mid-thirties and will likely be retiring at the end of their contracts. Having good depth will help with injuries and sitting behind these two amazing veterans will create perfect replacement starters. Frank Ragnow is 6'5, 310 pounds and will give versatility at centre and guard. Frank is not the most athletic interior lineman in this year's draft but he makes up for it in size and strength. Shifting from the first to the second block and finishing with a gritty toughness is what Ragnow is known for. He will have time with the offensive line coaching staff to work on defending quick interior d-linemen.
Frank Ragnow had an amazing career with Arkansas earning Phil Steele All-SEC First Team (2016), Athlon All-SEC First team (2017) and Athlon Preseason All America First Team (2017)
Round 4 (Pick 111, via MIA) Edge Ogbonnia Okoronkwo: Oklahoma
The Rams selected an inside linebacker with the first pick, now they are addressing the outside edge rusher. Ogbonnia Okoronko is 6'1, 240 pounds and has been largely criticized for his lack of size, length and height. This has sunk Ogbonnia on many draft boards making him a fourth-round steal. Ogbonnia has incredible athleticism, quick off the ball and able to hesitate and then attack the pocket.
Ogbonnia has shined in his last two seasons, sharing Defensive Player of the Year award with Malik Jefferson in 2017. Ogboonnia recorded 76 tackles: 17.5 for loss. 8 sacks. 2 pass breakups and 3 forced fumbles in 2017. Obo also had very similar numbers in 2016. This to me makes Ogbonnia a fourth-round steal.
Round 4 (Pick 135, via NYG) OLB Malik Jefferson
There is no question that the only position that is lacking strength is the Rams linebacker position. The Rams will look to double dip on linebackers and grab both Defensive Player of the Year recipients making this defence a formidable force. Wade Phillips has an attack style defence playing tight man to man coverage with big bodies coming up the middle, the only piece missing is the athletic outside linebackers.
Malik Jefferson is 6'3, 240 lbs. Jefferson hasn't known anything but success being the nations top linebacker in high school. His statistics and awards speak for themselves. He may lack some instincts as an inside linebacker, but would excel using his explosive speed on the outside edge.
Round 4 (Pick 136, via NE) S DeShon Elliott: Texas
The Rams arguably have the best defence in the National Football League. The only way to make it better is to add depth. I have the Rams picking up a Safety with the 135th pick. They may choose to take one in the sixth round instead, but I believe DeShon Elliot would be a great rotational player to help guys like breakout rookie star, John Johnson III and Lamarcus Joyner. DeShon is 6'2 and 202 pounds which is a well-built frame for a safety. DeShon is extremely undervalued, being projected as a fifth or sixth round pick. He was awarded first-team All-American and All-Big 12 honours. DeShon was also a finalist for the Jim Thorpe Award (Top Defensive Back). Rams Defensive Coordinator, Wade Phillips, could have fun because DeShon is a big hitter who is also a hybrid linebacker. He had an incredible 2017 year with Texas, recording 8.5 tackles for loss, 1.5 sacks, and 6 interceptions (2 for a touchdown).
Grabbing DeShon Elliot in the fourth round could be a steal for the Rams. Adding a potential star player to the defensive back rotation will help the Rams defence in the long run.
Round 6 (Pick 176, via NYG) WR Marcell Atemen: Oklahoma St.
Finally, in the sixth round, I believe the Rams will pick up a wide receiver and running back. With the departure of Sammy Watkins, Josh Reynolds is the first choice on the Rams roster to replace him; however, Sean McVay added speedy wide receiver Brandin Cooks to help blow the top off defences and to open the short game up. Marcell Atemen is 6'4 and 240 pounds. The Rams need more receivers with this size and strength on their roster. Marcell has amazing size and has a strong vertical game built for a west coast offence. Marcell can run every route and is a major red zone threat.
Marcell recorded 59 receptions, 1,156 receiving yards with 8 touchdowns.
A great backup behind an already good receiver core and will have the potential to jump up the depth chart.
The Rams address their linebacker need and help add some talented depth on their offensive line. The Rams add some young depth to their backfield and talented wide receiver core. I believe the Rams will add a running back later in the sixth round to help solidify their run game.